7 Awesome Reasons to Love Mila Kunis ...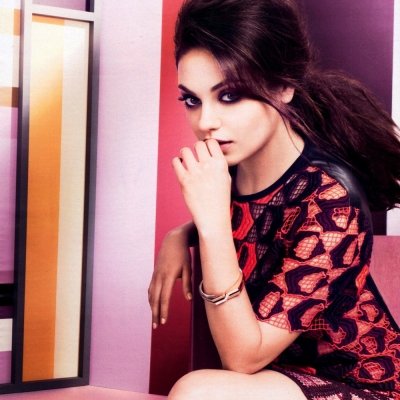 There are countless reasons to love Mila Kunis. She's a fantastic role model for women of all ages. She's always been one to fight for what she believes in and she's never been afraid to let her voice/opinion be heard. I think she's insanely talented and I love that she hasn't let any of that get to her head. She seems so sweet and genuine! Check out some of the cool reasons to love Mila Kunis.
Mila's got beauty AND brains. The actress is incredibly witty, self-aware, and very politically-active. She never downplays her intelligence and I think that's awesome. A woman who owns her brain is exactly what this world needs! This is just one of the awesome reasons to love Mila Kunis.
Mila Kunis is engaged to one of the hunkiest men in Hollywood, Ashton Kutcher. As we all know, the two first met and worked together on the set of That 70s Show. Rumor has it that the two did not get along very well back then.. LOL who would've thought Jackie and Kelso would end up together after all?! I'm so glad that they did - I absolutely love Mila and Ashton as a couple.
In case you haven't seen any of her adorable baby bump pics, Mila's a mom-to-be! Can we just take a minute and think about how genetically blessed this child is? Mila and Ashton are going to be first-time parents and they seem thrilled about it. I can't wait to stalk Ashton's Instagram (@aplusk) profile once the baby is born to see all the cuteness!
Can you believe that some people are still unaware of the fact that Mila Kunis is the voice of Meg on Family Guy? I think it's the most awesome thing. Of the show, Mila says, "It's relevant to today's times: its smart, it's poignant, and yet it has poop-fart jokes for your 12 year old to enjoy."
Mila moved to the US from the Ukraine at a young age, which means she's fluent in Russian! She doesn't really broadcast it but back in 2011, Mila totally used her Russian language to defend Justin Timberlake at a press junket. A reporter asked Justin why he was acting and not recording music and Mila did not approve of the question. The actress replied to the reporter (in Russian), "Why movies? Why not? What kind of question is that? Why are you here?"
6.

Accepted Marine Corps Ball Invite
Back in 2011, Mila was invited to the Marine Corps Ball in Greenville, N.C. via a YouTube video. Being the type of person that she is, she said yes! She attended the Ball as Sgt. Scott Moore's date. How sweet is that? I don't think many people would have accepted the invite as graciously as Mila did.
A lot of people don't know this, but Mila totally lied about her age to get the role on That '70s Show. LOL! She was only 14 years old when she auditioned. When producers asked her age, she misled them with "Well, I'll be 18 on my birthday." Of course, she never said WHEN her 18th birthday was... Clever girl, huh? I'm glad she did what she did and got the role because she was great as Jackie Burkhart!
Well, there you have it! These are just seven out of many awesome reasons to love Mila Kunis. She's incredibly talented and probably one of my favorite actresses. What's your favorite thing about her?
{{#comments_count}} Show Commnents ({{comments_count}}) {{/comments_count}}