Did you go to Comic Con 2013? The Comic Con events always seem like so much fun, but choosing what to wear must be a nightmare. It has to be stylish and comfortable, but you get definite brownie points for getting the whole Comic Con vibe in there too…. If you are lost for outfit inspiration, check out what these celebs chose for Comic Con 2013.
---
1

Hailee Steinfield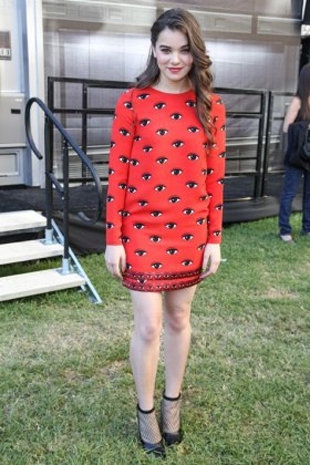 Hailee definitely picked a great outfit for Comic Con 2013 – I love this long-sleeved red dress, complete with eye-detailing and lace print. By teaming it with black shoes, loose hair and red lips, Hailee looked casual yet stylish, and very pretty. I'm not quite sure what the strange fishnet socks are, but we'll ignore those for now!
---
2

Scarlett Johansson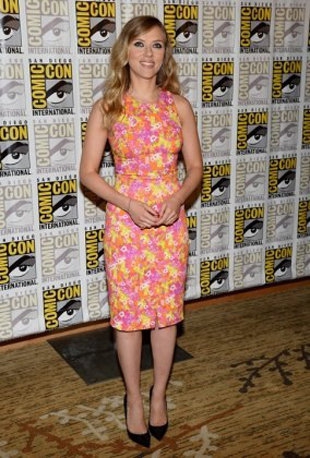 Scarlett was at Comic Con to advertise Marvel's Captain America: The Winter Soldier, and boy did she look good. Her bodycon dress is right on trend, and the yellows, oranges and pinks are really Summery. Plain black shoes, loose hair and natural make-up have finished the look perfectly again. I can't get over how gorgeous this Versace dress is!
---
3

Zoe Saldana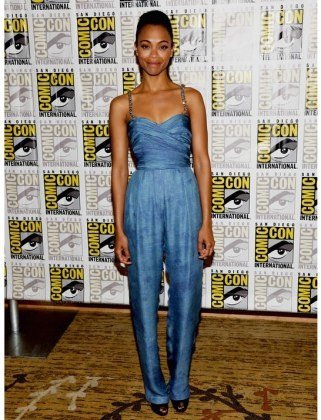 Zoe went for a shiny blue jumpsuit when promoting Marvel's Guardians of the Galaxy film, and she seemed comfortable and cool all night. The embellished straps and chic updo add just enough class to her casual look, and the cross-over cami-style top is uber flattering – this is definitely an easy look to steal!
---
4

Jennifer Morrison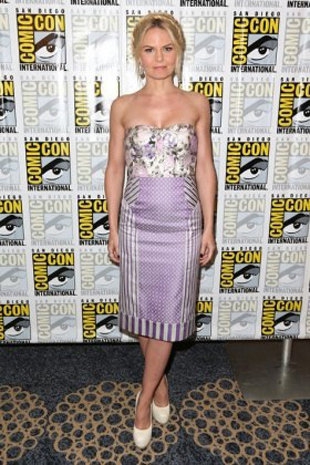 Jen gave the Once Upon A Time press line a glamorous make-over by opting for this girly dress. The floral bustier and stripy skirt are carefully coordinated in the same purples and creams, and Jen teamed it with cream shoes and no jewelry. It's by Philosophy di Alberta Ferretti, and while I'm not overly keen on the weird polka-dot panel, it's a great way to mix prints.
---
5

Jennifer Lawrence

Who isn't looking forward to the next installment of The Hunger Games?! Catching Fire is due out very soon, and Jen made sure everyone knew about it with this eye catching outfit. A retro wrap skirt in bright white is updated with lace-style cage shoes and a stomach-baring striped crop top – and the whole look is a very on trend monochrome.
---
6

Lily Collins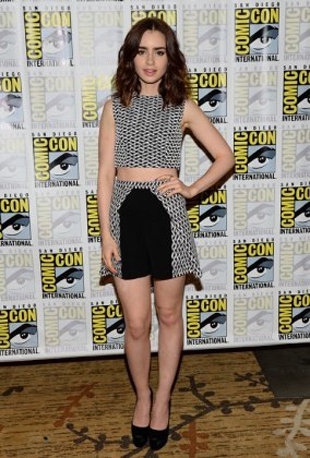 Lily is definitely better known after choosing this outfit! She rocked a Paper London outfit while promoting The Mortal Instruments: City of Bones, and boy does she look good. It's monochrome again, and another a crop top, but this time combined with shorts. The pattern is designed to look like chainmail, without the weight, and the shorts feature side patterning that stop the outfit from being too busy. Lily just added black pumps – it's all a really bold, patterned outfit needs to look amazing.
7

Hayley Atwell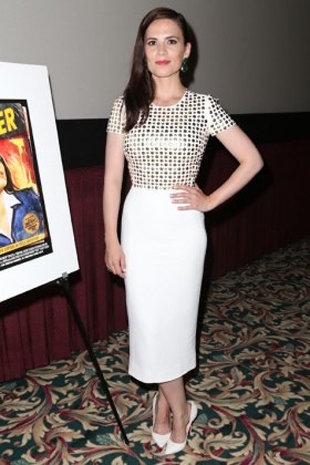 Hayley ditched the crop top trend in favor of a stylish pencil dress in eye-catching white. The skirt fell to below knee-length, while the top was much more fitted and featured gold embellishments all over. Worn with white heels and red lips, Hayley totally owned the look. The top detailing gives the illusion of a really nipped in waist, and I love the splash of color the green earrings provide. Just gorgeous – this is one of my favorite Comic Con 2013 looks!
It wasn't just these celebs who looked great, either. Emily Blunt caused a storm in a bright purple lace-pattern dress, and Elizabeth Olsen went classic in a tight black mini and loose white top. If you want to steal a Comic Con 2013 look, though, go with one of the above. They are so trendy and now, and so easy to replicate! Did you spot a great style at Comic Con 2013? Let me know!
---
Comments
Popular
Related
Recent