7 of Michelle Obama's Best Looks ...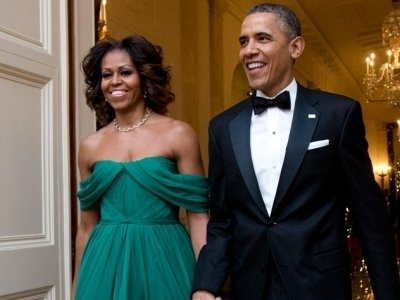 The first lady tends to be a political fashion icon and Michelle Obama's best looks show that she is following in the footsteps of those before her. My favorite thing about Michelle Obama is the attention she puts into all of her outfits. Not just in terms of appearance or accessories, but in the designers she chooses and how she presents herself. She is called the "Jackie O" of our generation because of her trendsetting ability. While all of her looks are stunning, here are some of Michelle Obama's best looks.
I always consider some of her formal looks Michelle Obama's best looks simply because she looks so regal in them. She looked stunning in this Vera Wang gown, which she wore to the Kennedy Center Honors reception in 2011. This dress is elegant and plays up her best features, such as her arms.
While some past First Ladies have strayed away from color, Michelle Obama embraces it fearlessly. Michelle wore this Doo-Ri Chung dress to a State Dinner with the President of the Republic of Korea. I applaud her decision to wear a dress by an Asian-American designer while hosting an Asian diplomat. Small details like this prove that Michelle uses her wardrobe as an extension of her First Lady duties and to create a cultural connection with those around her. Her wardrobe has many more uses than just to simply look stunning.
Meeting such an incredible humanitarian like Nelson Mandela (RIP) must be pretty intimidating. But Michelle Obama handles it with grace in this red-orange suit and patterned top. The pattern of her shirt and color of her suit reflect African culture, which seems appropriate when you consider she was meeting one of the most important men in South African history. She combines her incredible fashion sense with a culturally appropriate outfit to both celebrate Mandela and look amazing.
Michelle continues to be a fashion icon with this Ralph Lauren gown she wore during a dinner with the Queen in London. The gown is simple with a fitted off the shoulder bodice. Michelle accessorizes perfectly with a statement necklace, large sparkly bangle, and chic updo.
This dress is straight out of Olivia Pope's wardrobe. Michelle looks positively flawless in this white Tom Ford gown she wore to the England State Dinner in 2011. Like she usually does, Michelle features her incredible arms but also adds in long white gloves to pull the entire look together. She pulls her hair up to pull focus to the criss-crossing top of the dress and the detailed waist.
Even while respecting other cultures, Michelle Obama looks fabulous. While visiting a mosque in Jakarta, Indonesia, Michelle respects the Muslim religion and covers her heads with a printed scarf. She wears a loose fitting green suit to cover her figure while still showing a sense of professionalism in her appearance.
A White House portrait is somewhat of an introduction of the First Lady into the political world. It has to show professionalism, but also personality. Naturally she nailed it and her White House portrait is one of Michelle Obama's best looks. Her black dress is simple, yet elegant and she keeps her accessories to a minimum with a pair of pearls. This look set the tone for almost every other outfit she wore during her time as First Lady.
Just by looking at a few of her outfits, you can tell that Michelle Obama has a sophisticated and refined sense of style. She wears outfits that are perfect for every occasion she is in, and she never has a hair out of place. What did you think of Michelle Obama's best looks? Do you like her style or do you think she could improve her wardrobe?
Sources: stylebistro.com
{{#comments_count}} Show Commnents ({{comments_count}}) {{/comments_count}}