7 of Mindy's Best Outfits from the Mindy Project Finale ...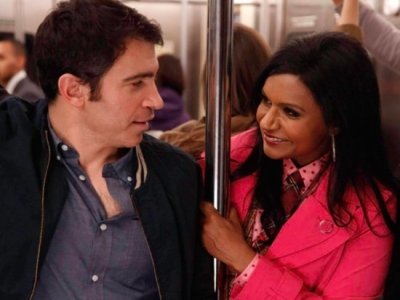 If you're a fan of The Mindy Project, you probably adored that season finale, but even more, you probably adored the outfits from The Mindy Project finale. If you've never seen The Mindy Project, there were a staggering twenty-three outfits from The Mindy Project finale, and they're all gorgeous, custom-made and designer outfits. What we would give for Mindy Lahiri's wardrobe! Sure, the episode was good, but twenty-three outfits is an amazing feat that needs to be recognized!
1.

The Green Skirt Ensemble
Mindy's green skirt look may be one of my favorite outfits from The Mindy Project finale, if not the series, and in true Mindy form, it was custom-made. It's perfectly dressy while also perfectly casual. She pairs a custom-made sequin green skirt with a simple baseball tee, and she makes it work so well.
So many looks make appearances in the finale, but this outfit is the real final look. Mindy posted that she was channeling her co-star, Chris Messina, in Argo. While that may or may not be true, this outfit is so different yet so perfect for Mindy Lahiri that you can't help but adore it.
I usually stay far away from plaid. I blame it on my Catholic school past. A plaid on plaid ensemble is especially something that I would usually stay far away from, yet on Mindy Lahiri I'm suddenly wondering where I can find my own version of the dress. It's a simple dress, yet loud enough for Mindy Lahiri's taste.
This outfit is a quiet star out of all the looks of this episode. Mindy pairs different shades of coral with darker hues. It's such a different look, yet it's classic Mindy Lahiri. It's exactly the type of outfit that we love to see on TV but could never imagine putting together ourselves.
Although we only see a quick glimpse of it, this outfit is one of my favorites from the episode. Mindy's seen at the Lincoln Center with Danny, wearing a black and white jumpsuit, paired with an amazing leather jacket and bright blue heels. Mindy Lahiri is rarely seen in black, so it only makes sense that she'd pair it with a gorgeous, bright blue heel.
Mindy Lahiri's floral Dolce and Gabbana dress is so perfect that I'm sad it only got a few minutes of screen time. Not only is the dress perfect, but also she pairs it with a bright yellow coat that completes the look. In any other circumstances, a bright yellow coat with a muted dress like this would almost look garish, yet when Mindy Lahiri does it, we're left wondering why we all don't wear bright yellow coats regularly.
Mindy's pink on pink on pink outfit is another outfit that unfortunately only got a few seconds of screen time. The pink lace dress is not only very Mindy Lahiri, but also so adorable. This is an outfit we all need in our lives.
What was your favorite outfit from The Mindy Project finale? I'm torn between the floral Dolce and Gabbana dress and the custom-made green sequin skirt, but they're all so amazing that it's hard to pick! Let me know what you loved in the comments!
{{#comments_count}} Show Commnents ({{comments_count}}) {{/comments_count}}