7 Reasons to Love Theo James ...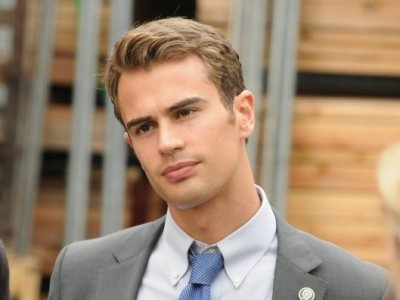 With the recent hype surrounding the movie Divergent, there are plenty of people out there are who finding reasons to love Theo James. He is obviously gorgeous, but there is more to this man than meets the eye. Whether you admire him for his role in Divergent or for his real life personality, there are an abundance of reasons to love Theo James.
1.

He is the Perfect Four
After seeing him play Four in Divergent, I knew that there would be even more reasons to love Theo James. He perfectly embodied Four in the movie and was able to convey the many sides that Four has, and tries to disguise. Even as I read the second and third books in the series, I could picture Theo embodying Four perfectly till the end. Not to mention that his chemistry with Shailene Woodley was undeniable.
2.

He Was on Downton Abbey
If you were thinking that Theo James look familiar in Divergent, that is probably because you recognized him as Mr. Pamuk from Downton Abbey. He was Lady Mary's lover, who happened to croak in the middle of the act. It is strange to see him transform from the exotic British gentleman to a Dauntless solider.
Along with his awesome acting chops, Theo James has an awesome voice. He was the lead singer for his band, Shere Khan, and also played guitar. Unfortunately for fan girls around the world, his band broke up sometime ago. But fear not, you can still find videos of him singing on YouTube.
He plays a Dauntless in Divergent, but he is actually Dauntless in real life. When he is not busy being gorgeous and talented, he spends his free time free diving - diving in deep oceans without a scuba tank. He has claimed that he can go as deep as 18 meters without a tank. If that is not Dauntless behavior, I don't know what is.
If you have ever watched an interview with Theo James, you know he doesn't take things too seriously. He gives ridiculous answers to questions and can usually be found messing with interviewers. Any girl knows that a guy who can make you laugh is a guy worth keeping around.
6.

His Name Makes Me Laugh
Not only is he hilarious in interviews, his name kind of makes me laugh. His full name is Theodore Peter James Kenneth Taptiklis. He changed it to Theo James when he got into the industry because he was worried nobody would be able to pronounce his last name. I guess one name just isn't enough for some people.
When you look at him, all these other reasons to love Theo James just seem irrelevant. He is the definition of tall, dark, and handsome. All of these other reasons to love Theo James are just added perks to his incredible good looks.
Theo James is breaking into Hollywood with a huge fan base. His incredible talent is definitely a factor in this, and his good looks don't hurt. What are your opinions on Theo James? Did you like him in Divergent? Do you think he is talented or just another pretty face?
Sources: yourtango.com,
{{#comments_count}} Show Commnents ({{comments_count}}) {{/comments_count}}