11 Super Sweet Celebrity Couples in 2014 ...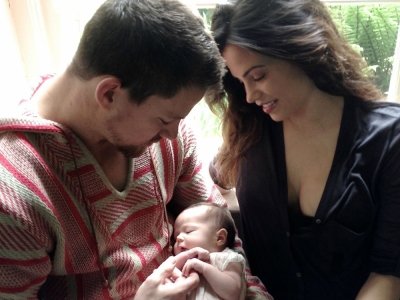 Celebrity couples in 2014 are way too cute! It's always hard to say who'll last and who won't, but fingers crossed that all the relationships on this list last forever. Some of them are sure to have their ups and downs, especially being in the public eye 24/7, however, these relationships have lasted a pretty long time so far! Check out the sweetest celebrity couples in 2014.
1.

Joe Jonas and Blanda Eggenschwiler
I love Joe and Blanda together! They've been through a lot of scrutiny but have overcome all that and have become stronger than ever. The two hit up NYFW (New York Fashion Week) together and looked fantastic front-row at all the shows. I love that they always post photos together, it's so sweet! They're definitely one of my favorite celebrity couples in 2014.
2.

Channing Tatum and Jenna Dewan-tatum
How perfect are these two?! I've been obsessed with their relationship ever since Step Up. I love how supportive they are of each other. This is probably my favorite photo of them!
3.

Adam Levine and Behati Prinsloo
Behati, you are one lucky girl! The two are so cute together. Adam even popped the big question to Behati, making her his fiancé! Did you see the size of her ring?! Sigh. I hope these two last forever.
4.

Alexa Vega and Carlos Pena
Newlyweds Alexa Vega and Carlos Pena are one of the sweetest couples in 2014! They got married in Mexico and had one of the most beautiful weddings. Carlos' band, Big Time Rush, were all there to show their support! The couple post the most adorable photos together on social media. I love their love!
5.

Ashton Kutcher and Mila Kunis
This is the couple I've been rooting for! Ashton and Mila are seriously so perfect together. I mean, we all knew Jackie and Kelso were going to end up together right? I love that they keep their relationship low-profile. They don't need to show off their love and that's really refreshing. I'm keeping my fingers crossed for them!
6.

Kim Kardashian and Kanye West
They're probably one of the most talked about couples, but in a way, they're still super sweet together. Some claim that it's all a publicity stunt but for North's sake, I hope not. These two actually make quite the power couple. I think they could do SO much if they really wanted to. How do you feel about them?
7.

Nick Jonas and Olivia Culpo
Nick Jonas snagged himself the former Miss Universe! They're super adorable together. They're always posting silly photos together and tweeting out encouraging words to one another. I love how supportive they are of each other!
8.

Gisele Bundchen and Tom Brady
Aren't they just the cutest thing?! I love seeing all their cute pictures together. They always look so comfortable with one another, and that's really what love is all about! I don't know who the lucky one is, Tom or Gisele!
9.

Jessica Biel and Justin Timberlake
And the winner of the most flawless celebrity couple.... these two! They're incredible together. I love the way they talk about each other in interviews - it's so sweet! They're definitely a power couple!
10.

Sofia Vergara and Nick Loeb
I love Sofia and Nick! I think they're such an adorable, goofy couple. They're always supporting each other and it's so cute to see.
11.

Gerard Pique and Shakira
Can you imagine if Gerard and Shakira had a baby? That child would definitely hit the gene jackpot! These two are so cute together!
Well, there you have it! These are just some of the many sweet celebrity couples in 2014! Which couple is your favorite?
{{#comments_count}} Show Commnents ({{comments_count}}) {{/comments_count}}