Celebrities are pretty lucky; they make movies, star in TV shows, win awards and get free stuff! Well now you can too, well win free stuff that is! How would you like to have the chance to win a Golden Globe Celebrity Gift Bag that is filled with 34 handmade items worth a total of about $1,500! We have two gift filled bags from The Artisan Group to giveaway to two lucky winners; open to US only please...
---
1

Clutches...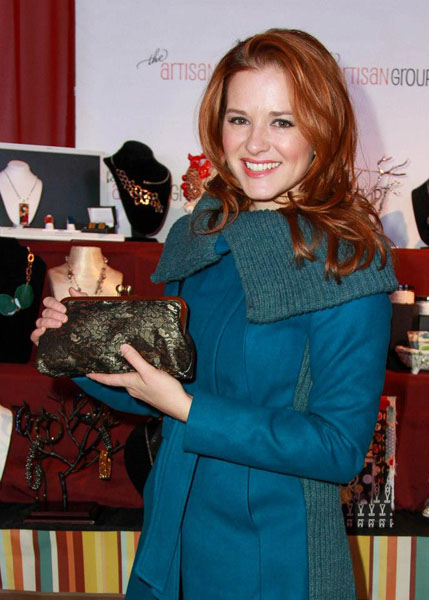 Do you recognize this celeb, she's Sarah Drew from "Grey's Anatomy"! She's holding a clutch by Girl by Aileen, etsy.com, that will be in the Celebrity Gift Bag that you can win! Why do celebs love handmade gift products, because they are unique, original, and one of a kind. Nothing here is mass produced, it was made for you by this artist and not by a machine.
For your chance to win one of two Golden Globes Celebrity Gift Bags please tell us in the comment section that you like The Artisan Group on facebook.com and that you follow them on twitter.com!
---
2

Glass Jewelry...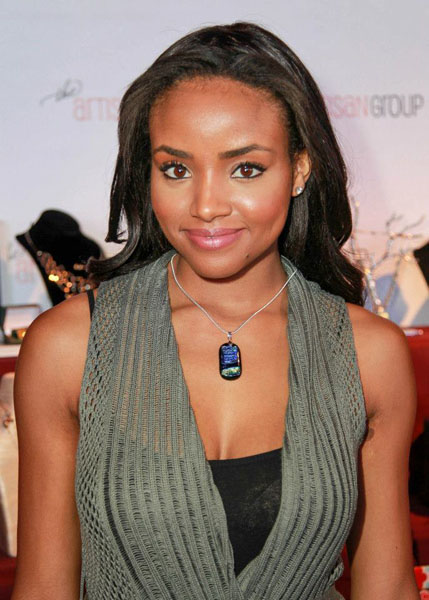 Celebs love handmade gifts because they can call the designer and personalize a gift for a loved one. There is no computer to talk to on the phone, no waiting while listening to elevator music, and no frustration. You get to talk one on one with the artisan and share with them the story of who the gift is for so it comes out just as perfect as you imagined. I love this gorgeous glass pendant that Meagan Tandy of "Jane by Design" is wearing, it's handmade by artboxdesigns.com.
---
3

Beaded JEwelry...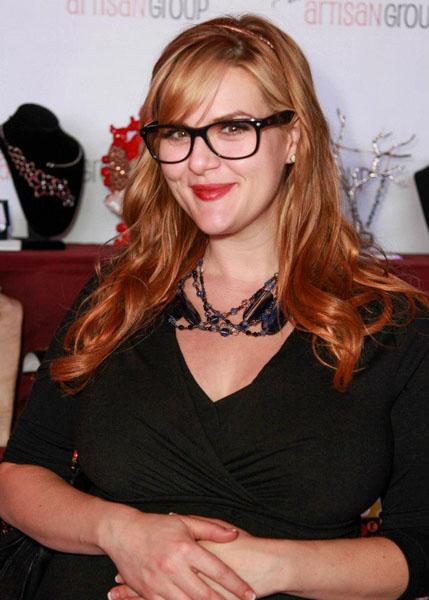 Do you remember Sara Rue from the show "Popular"? She's now on "Malibu Country" with Reba and is wearing a beautiful beaded necklace from tiffanyvictoria.com. Can you believe that you have the chance to win all of these incredible pieces, from jewelry and handbags, to photography prints and handmade soaps. Just call me jealous!
---
4

IPad Covers...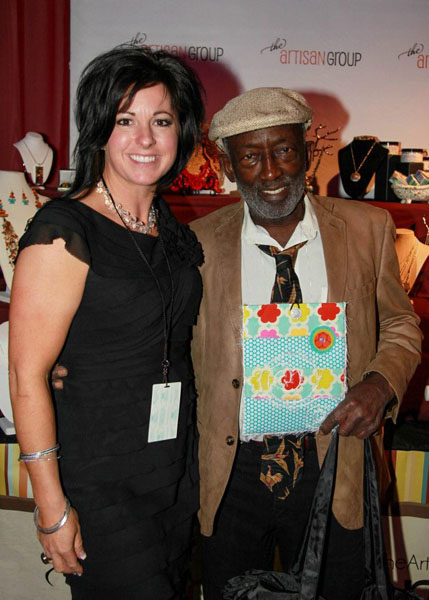 Did you know that celebrity Garrett Morris was once on "General Hospital"! I remember him from "Martin", he's now on "2 Broke Girls"! He is seen here in the Golden Globes Celebrity Gift Lounge with designer Tara, etsy.com. She creates iPad, iphone, and kindle covers as well as wallets, coffee cozies, and more! Inside the celeb gift bag is a coffee cozy just waiting for you when you comment below that you follow The Artisan Group on facebook and twitter!
---
5

Handmade Soaps...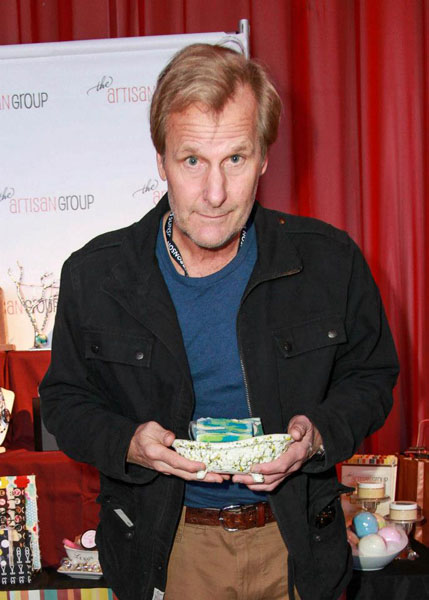 I'm so happy to see Jeff Daniels working again, it's terrible when you see a good character die in a movie! Do you watch him on the HBO drama "The Newsroom"? So much for being nice, his character seems like an angry guy on there! So what does an angry guy need, handmade soap to wash his mouth out with!! Just kidding. Daniels is seen here with scentability.net handmade soaps, which is in the celebrity gift bag as well!
---
6

Rings...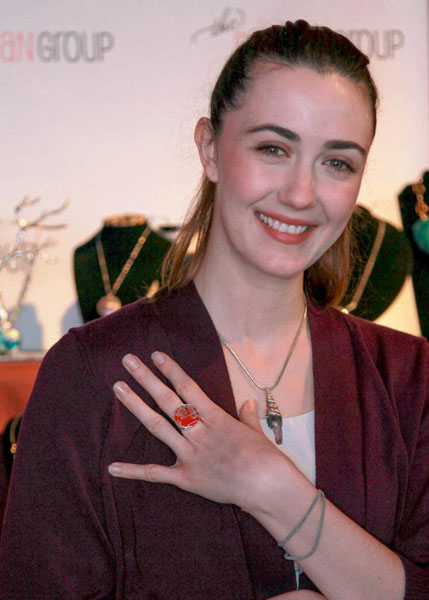 Many of The Artisan Group's featured product has been seen on TV shows like "The Vampire Diaries", which is where celeb Madeline Zima (seen here) is from. You have to check out the ring she is wearing by motherboredjewelry.com, the artist takes recycled computer motherboards and turns them into unique jewelry pieces! Not only can you walk around saying you have celebrity gift bag items from The Golden Globes, but also that you are wearing one of a kind, handmade pieces!
---
7

Hand Stamped Jewelry...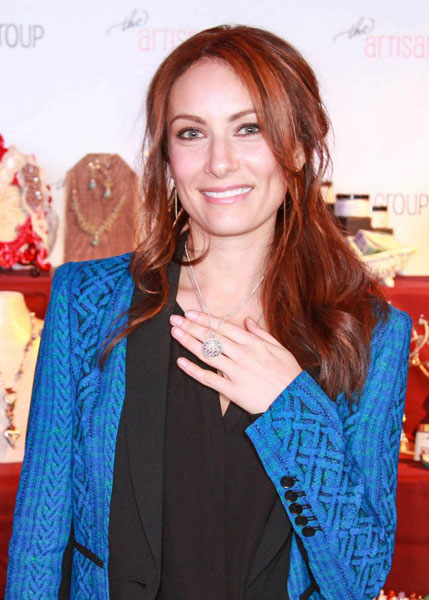 I love hand stamped jewelry, it can be personalized with names, dates, locations, etc. Laura Benanti of "Go On" is wearing a hand stamped necklace by Brag About It etsy.com. You can check out The Artisan Group's pinterest.com to see all of the items that you can have a chance to win too when you leave a comment below.
---
8

To Enter...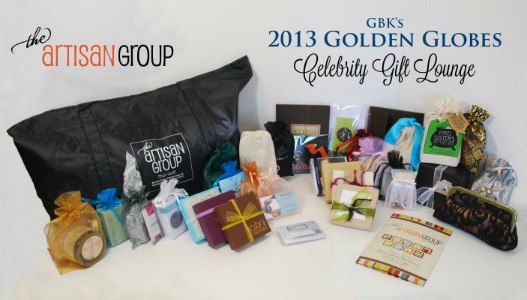 Be sure to leave a comment below that you like The Artisan Group on facebook.com and that you follow them on twitter.com, that's it!! There will be two winners chosen, US entries only please. We will run the giveaway for a week, ending on 2/8/13 and email the winners as well as announce them on our facebook page, so please be sure to follow our facebook.com.
Other Artisans featured in the Golden Globes Celebrity Gift Bag include...
Andrea Bernstein abglassjewelry
Beauty Land beautyland.us
Rachel Mulherin etsy.com
FonteNoir etsy.com
Bubbles Bath Boutique bubbles-bath-boutique.com
Magic Senses magicsenses.com
Art by C. McDonald etsy.com
Klings & Things etsy.com
Minabea minabea.com
Soap Cauldron etsy.com
E Couture Designs ecouturedesignsonline.com
Fotini Designs fotinidesigns.com
J Jewelry etsy.com
Kath's Elegant Accessories artfire.com
Scrabble Babble etsy.com
Rew Elliott etsy.com
Energy Shop Jewelry etsy.com
Bizzy Fizz bizzyfizz.com
Lisa Burek Jewelry etsy.com
Got Sparkles gotsparkles.com
HPL Jewelry hechoporliz.com
Golden Plume goldenplumejewelry.com
Kolohe Gurl kolohegurl.com
Jewels for Hope jewelsforhope.net
Zoe and Piper etsy.com
Tina Tang tinatang.com
Simply Caprine simplycaprine.com
The Artisan Group theartisangroup.org is an elite art promotions group representing talented small-business artisans at the best celebrity gift lounges. The organization provides a collective sampling of handcrafted products to celebrities and members of the press at top luxury gift lounges such as those leading up to The Academy Awards, The Golden Globes, The MTV Movie Awards and The Primetime Emmys. Membership in The Artisan Group is juried and by invitation-only. The Artisan Group also offers its members guidance in the areas of sales, marketing, social media and public relations.
More
Comments
Popular
Recent