7 Understandable Reasons Why We Love Dr. Oz ...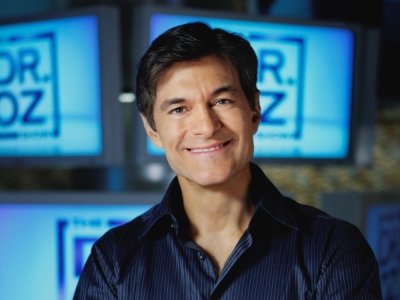 Have you ever wondered why we love Dr. Oz so much? Le'ts talk about it. He was named one of the most influential people of the 21st century by Esquire Magazine. He's also been an inspiration to millions of people all around the world. Many people also refer to him as "America's Doctor". Here's 7 more reasons why we love Dr. Oz
One of the main reasons why we love Dr. Oz is his show. The Dr. Oz Show premiered in 2009 and now has millions of regular viewers. On the show he covers a wide variety of topics and doesn't have any that are off limits. I love that he will answer your most embarrassing questions. The show has also helped provide people with health information that they may not have received if it weren't for Dr. Oz.
Dr. Oz is the co-author of six different books. Several of them have even been best sellers. The topics of his books are things like pregnancy, stress, and staying young. Dr. Oz also writes regular columns for several different magazines including O, The Oprah Magazine.
Did you notice that I said websites instead of website? Dr. Oz is a one of the co-founders of a great website called youbeauty.com. On this website you can find many great articles about nutrition, makeup, fitness, and love. While there, you can also take some neat quizzes on all of these topics. doctoroz.com is also great place to find recipes, read some good articles, and catch up on episodes from his show.
Dr. Oz was first broadcast into our homes on a regular basis when he appeared on The Oprah Winfrey Show. Since then they have remained close. Many of his celebrity friends also appear on his television show. We have saw guest appearances from stars Charlie Sheen and Rosie O'Donnell. Fitness experts including Shaun T and Tony Horton have also visited with Dr. Oz on his show.
I love that Dr. Oz has some many great tips. There are actually several of them that I try to incorporate into my life. One of my favorites is " How About Trying The No Excuse Workout", which is perfect for me because I constantly find reasons to avoid exercise. Dr. Oz also has great tips on losing weight, health warnings to look for, and getting in shape.
If you are looking for motivation to improve your health or to lose weight, Dr. Oz is very motivating. Many people have credited him with helping them lose weight. Others have stated that he has inspired them get health screenings that have saved their lives. I think Dr. Oz is very motivating because he actually does the things he tells us to do. If he has a fitness expert on his show he exercises right along with them, instead of sitting back and watching.
Dr. Oz has recently decided to branch out by starting his own magazine. It's called "The Good Life". If you haven't already, be sure to pick up your copy soon. I recently got the first issue to it and it's really good. It's similar to many other health magazines and features similar topics to those seen on his show.
These are just some of the reasons why we love Dr. Oz. Are you a fan? I can't wait to see why you love Dr. Oz.
Sources: oprah.com, en.wikipedia.org, doctoroz.com, youbeauty.com
{{#comments_count}} Show Commnents ({{comments_count}}) {{/comments_count}}