Although I haven't yet found one whose work I would ever consider buying, I like to keep up with at least knowing who the most influential contemporary artists are. I don't profess to know anything about art but I know what I like, and am a massive fan of Van Gogh and other Post Impressionists and a couple of the Impressionists too. I don't really "get" contemporary art but I like to see how it changes as time moves on. Here are 7 contemporary artists whose names and works you should be aware of if you want to stay in touch with the art world today.
---
1

Banksy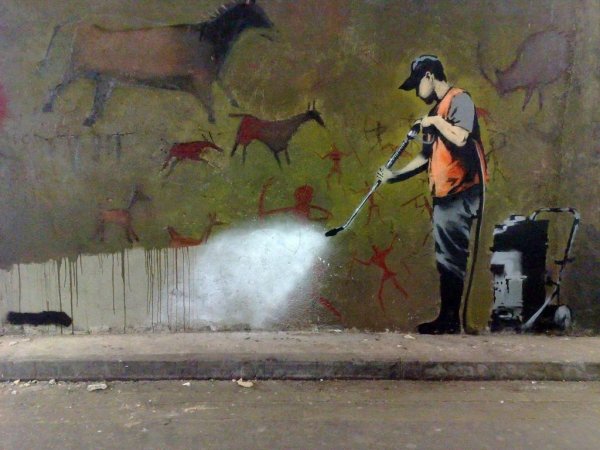 Let's kick off with Bristol born Banksy. This elusive man is probably the most talked about in the current crop of contemporary artists. There is a mystique about him because no one knows his real name. Banksy started out as a graffiti artist in Bristol and there are still many examples of his works on the walls and buildings of the city. As his fame grew, his works started to appear all over the world. Some works have been purloined from their original locations, while he also now accepts commissions and shows his work in galleries and exhibitions. Maybe one day, we'll learn his name.
---
2

Ai Weiwei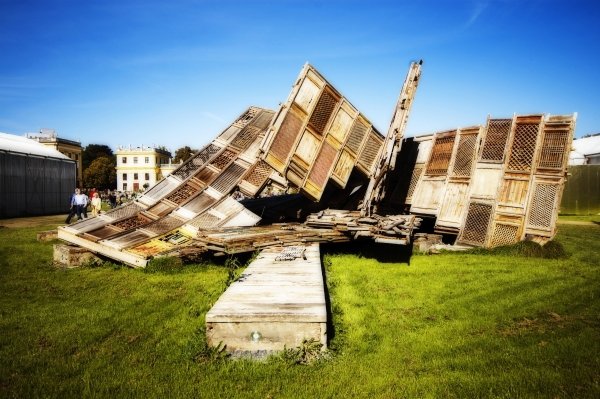 I'm not sure but it does seem that shock factor or being outspoken is one of the traits that gets contemporary artists noticed. It has certainly enhanced the name and reputation of Chinese artist Ai Weiwei. Weiwei majors in sculpture but dabbles in photography, architecture and film directing. He was the artistic consultant on the famous Birds Nest stadium in Beijing that was built for the 2008 Olympics. His most famous work to date is Sunflower Seeds – a collection of 100 million porcelain seeds that was exhibited in the Tate Modern in 2011. Labeled as a deviant and a plagiarist by the Chinese Government, against whom he is very outspoken, Ai Weiwei has spent time in jail.
---
3

Damien Hirst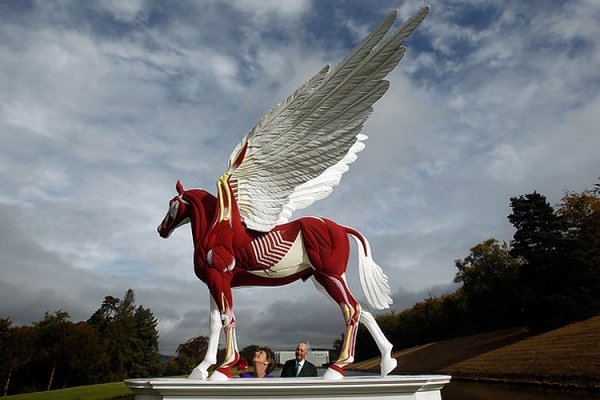 If you were asked to name one contemporary artist, it's very probable your answer would be Damien Hirst. He totally dominated the British art scene in the 1990s with his works that usually had death as the theme. These days we're not so shocked by half a cow or a shark suspended in formaldehyde and encased in vitrine. Hirst's works command some of the highest prices in today's art world, and not surprising as he has moved on from dead animals in pools of blood to items such as platinum skulls encrusted in diamonds.
---
4

Jeff Koons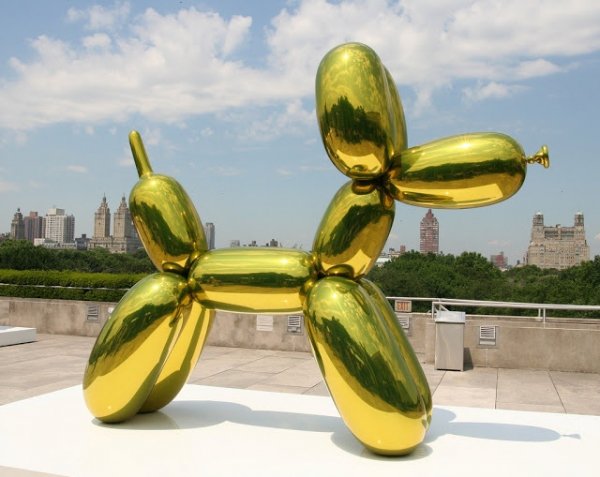 Along with Damien Hirst, Jeff Koons is one of the highest selling contemporary artists. Both of them have had single pieces fetch multi-million dollar prices, including each of them breaking records for the highest price paid ever for a work by a living artist. Whereas Hirst's work represents in the main death, and the presentation of the end of life in fantastical ways, American Koons' specialty is taking banal and everyday objects and recreating them in unusual materials – such as balloon animals made in stainless steel.
---
5

Julie Combal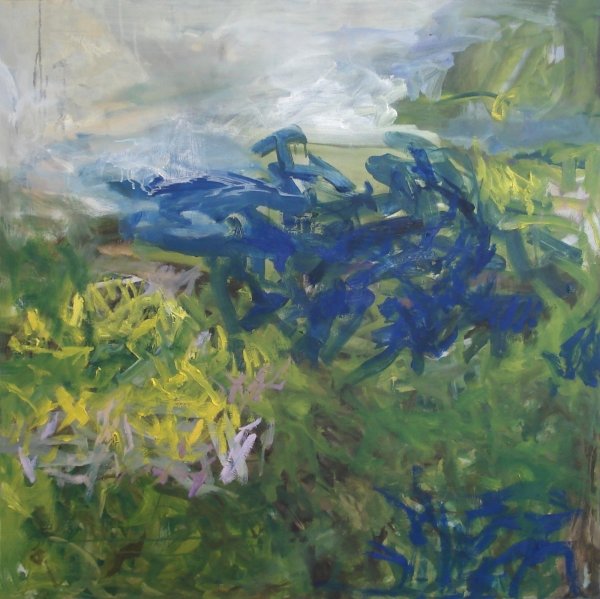 One of the few female contemporary artists other than Tracey Emin that I've actually heard of, Julie Combal is a native New Yorker. The reason I know of this painter is because of her associations with and support for environmental causes. Apparently, her works are an expression of the relationship between man and nature with particular emphasis on the issue of environmental pollution. I say apparently, because this is one concept of art I have never understood. I don't know whether it is abstractionism or expressionism or aestheticism, but to me it just looks like a load of colors on a canvas (yes, I may well be an art heathen! Sorry Julie!).
---
6

George Condo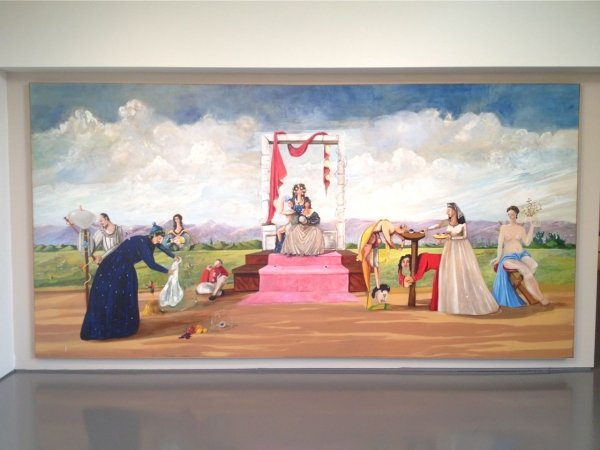 I think the success of some of the more influential contemporary artists is their ability to cross media and someone who can reach into popular culture with their work is a case in point. Enter George Condo. Condo's works straddle art, literature, illustration and more recently, graphic design. He has worked with literary greats such as Jack Kerouac and William Burroughs, but you are probably familiar with one of his major pieces of recent work even if you don't know it is by him. George Condo designed the cover for Kanye West's My Beautiful Dark Twisted Fantasy.
7

Kara Walker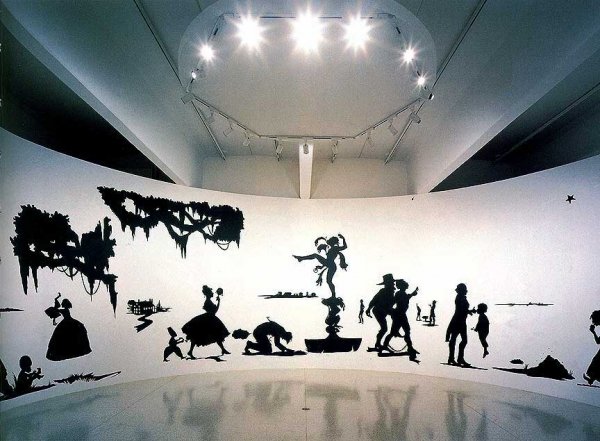 I had seen works by Kara Walker even though I had never known the name of the artist. Named as one of the 100 Most Influential People in the World by Time Magazine in 2007, and as one of the youngest people ever to be awarded a MacArthur Genius Grant, Walker's works speak to us of racial division and injustice. The message is most often delivered in shades of black and white for emphasis, and her most recognized works are her cut-out silhouettes. If you'd like to see Ms. Walker's work you'll find examples in the Guggenheim New York, Chicago's Museum of Contemporary Art, and the UK's Tate Modern.
Are you an admirer of any of these contemporary artists or do you have other favorites? Do you "get" contemporary art or is it a pretty unfathomable area to you as it is to me?
---
Comments
Popular
Related
Recent