Celebrity street style looks are something that's becoming more and more documented. They're a popular and accessible way to get outfit inspiration for your own wardrobe. There are a few celebrities who have become well known for their off-duty outfits. From models to actresses to musicians, a well put together celebrity street style look can catapult them into fashion icon status. Have a browse over a few chic street style looks from celebrities, below.
---
1

Elizabeth Olsen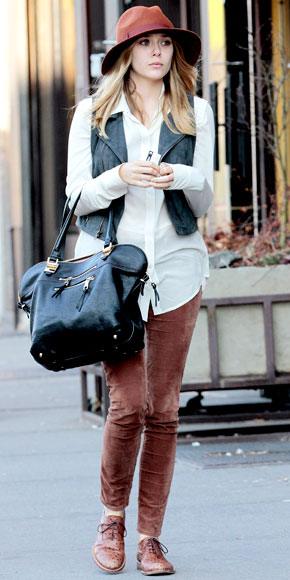 She's the newest Olsen on the block, but she's becoming just as well known for her street style outfits as she is for her acting abilities. This outfit of cognac coloured pants, loose white shirt, leather vest, and brogues oozes off-duty cool.
---
2

Kate Bosworth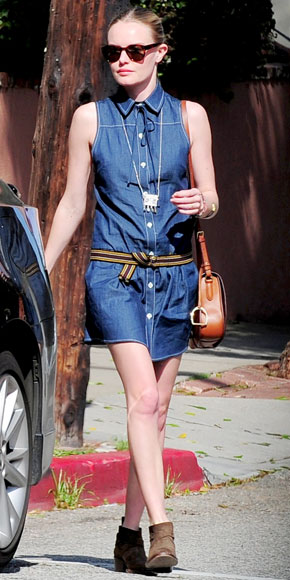 Kate Bosworth is a popular choice when it comes to inspirational celebrity street style looks. This sleevelss denim dress is accessorised her trademark minimalist manner with a simple side bag and beaten up boots.
3

Kate Moss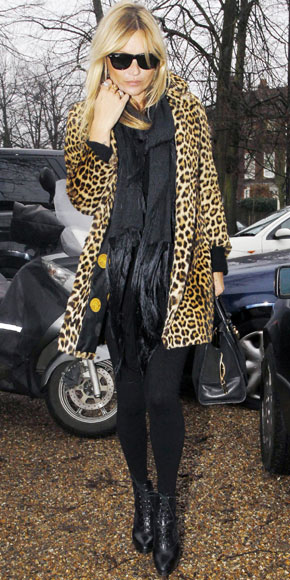 For a lesson in how to wear leopard print, look no further than Kate Moss for outfit pointers. She's a style icon in her own right and here she shows that a leopard print coat is all you need to liven up a dreary winter outfit.
---
4

Nicole Richie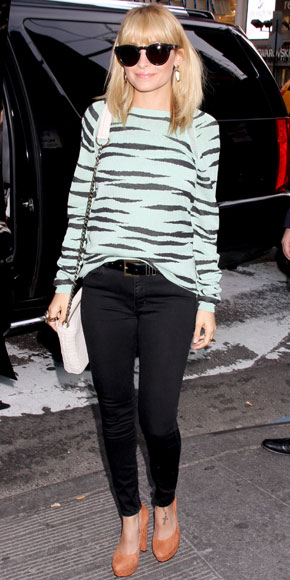 Nicole Richie is a favourite of the paparazzi so her outfits are well documented. This outfit of black skinny jeans, tiger print sweater, and coloured pumps is a lot more sophisticated than the boho celebrity street style looks she was once more famous for. The oversized sunglasses, however, are a mainstay.
---
5

Miranda Kerr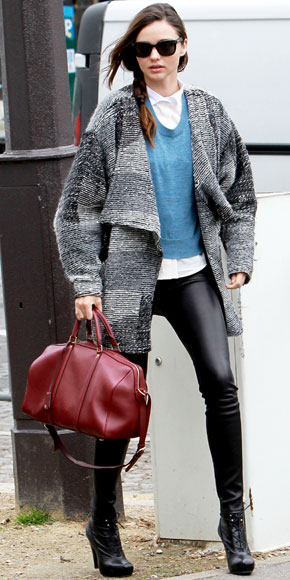 Mirander Kerr has the model-off-duty look down to a tee. Here she is between runway shows working an artfully layered look complete with killer leggings and boots.
---
6

Taylor Swift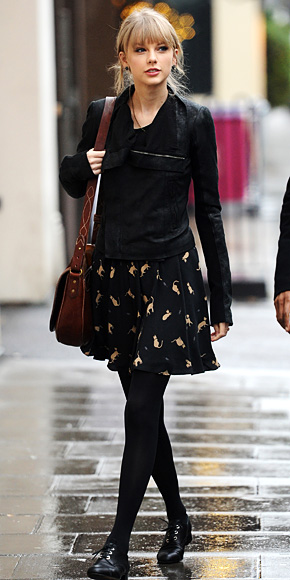 She's the darling of the music industry and her outfit choices are usually just as sweet. This cute cat print skirt, however, has been toughened up with a motorcycle jacket and lace-up shoes. This is one of those celebrity street style looks that could be easily emulated.
---
7

Alexa Chung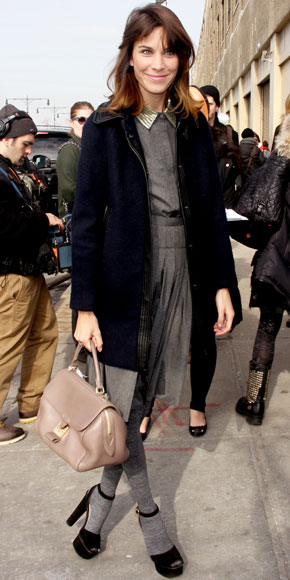 There are entire websites dedicated to Alexa Chung's outfits. This girl has definitely made a name for herself as a contemporary style icon. This outfit of grey separates, leather-trimmed jacket, and Mary-Jane platforms is an example of her offbeat, preppy style.
---
8

Olivia Palermo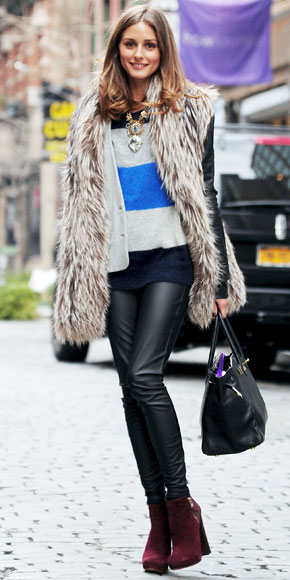 She made a name for herself on the reality TV show 'The City' but now Olivia Palermo is just as well known for her impeccable style. Here she works a typical celebrity street style look of leather leggings and a fur vest. The colour blocked sweater and burgundy ankle boots are a nice touch.
---
9

Liv Tyler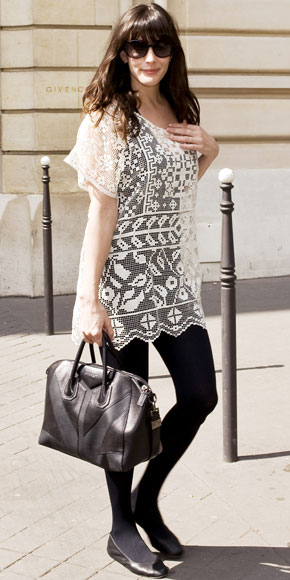 This outfit that Liv Tyler is wearing is feminine but with a little bit of a rock edge. The white lace tunic really stands out against black separates. Like most celebrity street style looks, dark sunglasses are a must.
---
10

Rosie Huntington-Whitely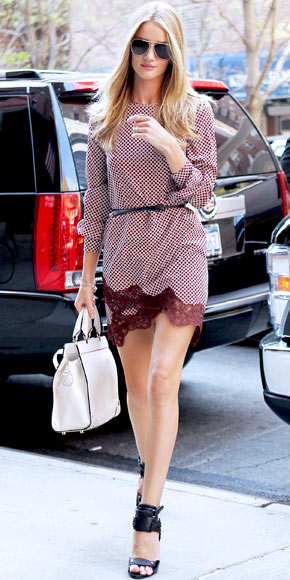 In a look straight off the runways, Rosie Huntington-Whitely wears a bevy of designer threads. Usually well known for her model-off-duty style of jeans and biker jackets, here she's given a Stella McCartney dress a bit of edge by teaming it with Alexander Wang heels.
These are only a few examples of what some stylish celebrities have been wearing lately. Celebrity street style looks are a great way to have a peek at what celebrities are wearing when they're not being styled for the red carpet. What's your favourite celebrity street style look?
Top Image Source: pinterest.com
More
---
Popular
Recent