Dresses Tyra Banks Shouldn't Have Worn have become legendary in celebrity gossip media, somehow this super model/media diva manages to make these fashion faux-pas on a regular basis. I personally love Tyra Banks despite her super self-involvement and all the egocentric things she does and says, as at heart I believe she really wants to help others. But that being said, from 2000-2008, girlfriend does not seem to know how to dress to go out in public, and there are dozens of pictures of the disastrous dresses Tyra Banks shouldn't have worn to prove it. Well, let's learn our fashion lesson and make sure we do not make the same mistake by wearing something similar to these** 7 Dresses Tyra Banks Shouldn't Have Worn**!
---
1

The Purple Dress, the 72nd Oscars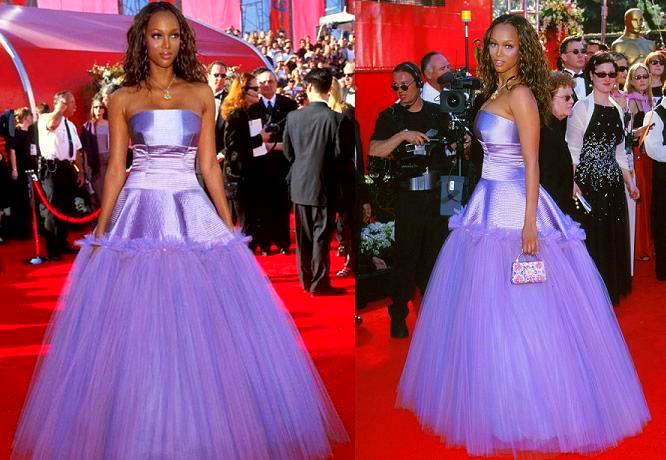 This is definitely a dress Tyra Banks shouldn't have worn. The one good thing is that she agrees. She's made fun of this dress so many times, it's become a running joke – and good for her. She knows when she makes mistakes, and fully admits them … most of the time, anyway. The sad thing is that, back in 2000 or so, I probably would have clamored for a dress like this. What? I love tulle.
---
2

The Red Jersey, Fashion Rocks 2008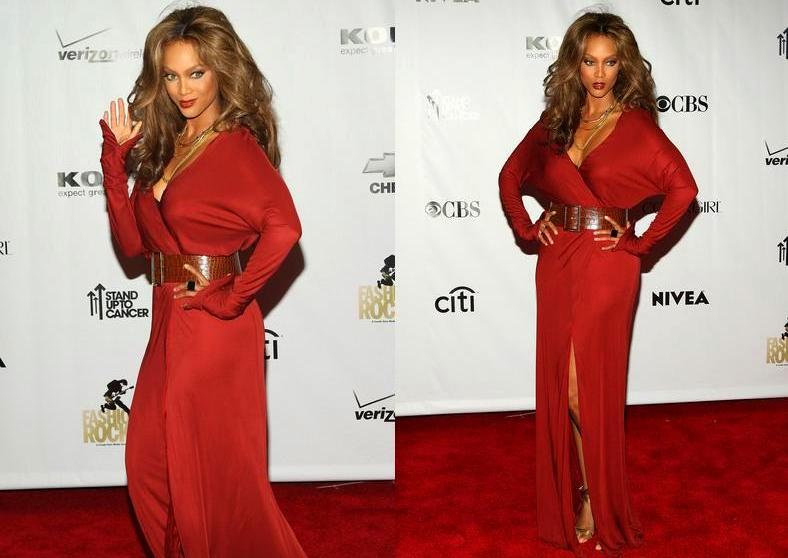 Tyra wore this dress to a Fashion Rocks during that phase where she was a little more booty-licious than she was used to being. She was all about cinching her waist in public and on ANTM. I think this dress was a mistake with that because the top is so baggy. It made her arms and her shoulders look far larger than they actually were. Honestly, this dress made her look like she could fly.
3

The Gold Dress, 2009 Daytime Emmy's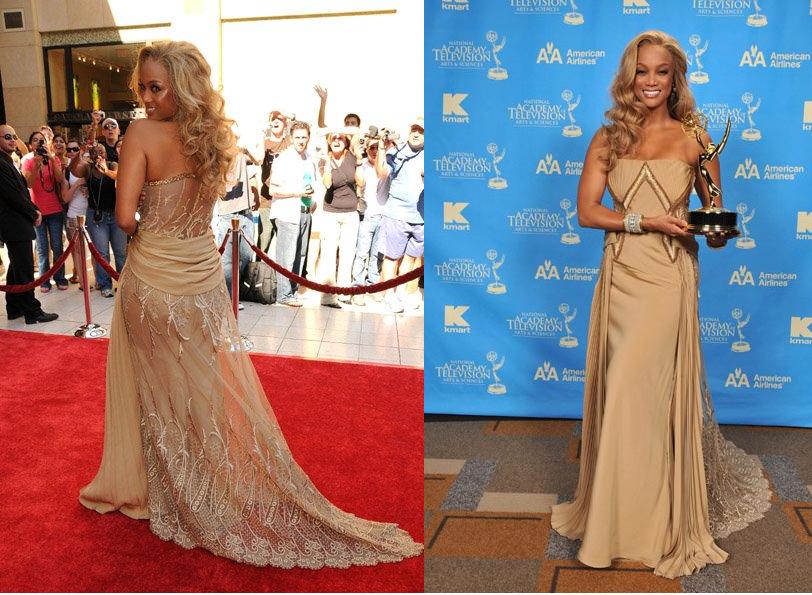 In addition to being another dress Tyra Banks shouldn't have worn, this is another squeezed-in, cinched dress, and that's the main reason I don't like it. I don't know how she could even breathe in this thing! If it looks like a herringbone corset from the outside, I wonder what it actually felt like. It's actually a beautiful dress, but I think it would have served her better if it hadn't been squeezed quite so tightly.
---
4

The Rust Dress, 2007 Daytime Emmy's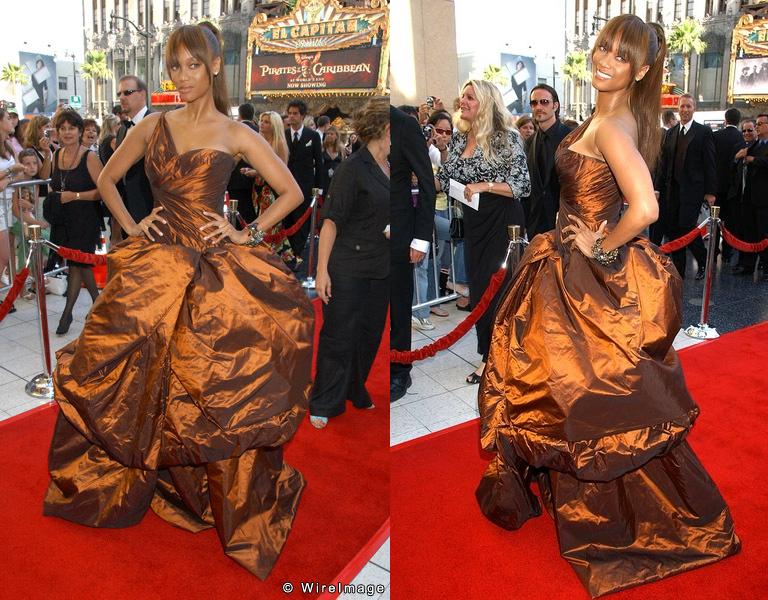 Do you know what makes me sad about this dress? I really want to like it. I think it's incredibly dramatic, I think the color is beautiful against her skin, and I love the top. It's the bottom that kills me. It's like she's trying to hide something. Worse, it kind of looks like she was trying to do a Scarlett O'Hara bit, but her seamstress was way off. That is so much fabric!
---
5

The Black Dress, 2007 Fashion Rocks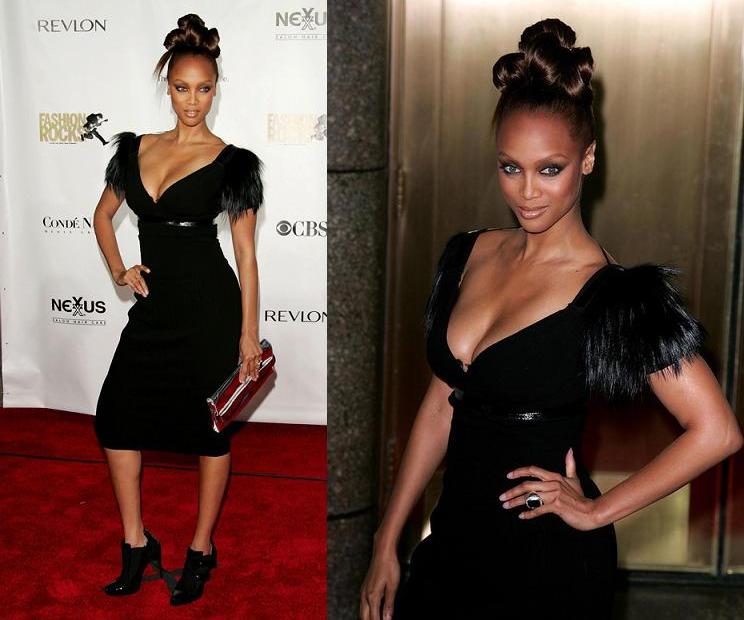 I wouldn't think you could go wrong with a little black dress – and really, you can't. Still, I don't like this one, which Tyra wore to another Fashion Rocks event. The thing is, it fits her beautifully, and I actually love most of it. What makes me think this is a dress Tyra Banks shouldn't have worn is the shoulders. Something about the way they're made makes her shoulders look broad as a linebacker's, and they're really not.
---
6

The Feathered Dress, 2008 BET Honors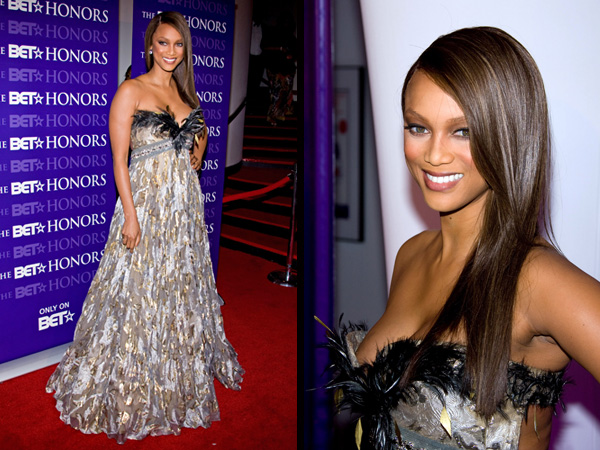 This dress just has a lot going on. I mean, a lot. I actually really love the feathers – it's the rest of the dress I'm not loving. This is during that same time period, when you can tell Ty-Ty wasn't comfortable with her weight. The A-line was taken to extremes on this dress and, again, it makes her look like she's trying to hide everything. It's almost like a tent, and even when Tyra was heavier than she was used to, she was still beautiful – and so was her body.
---
7

The Red Satin, Vanity Fair Oscar Party 2007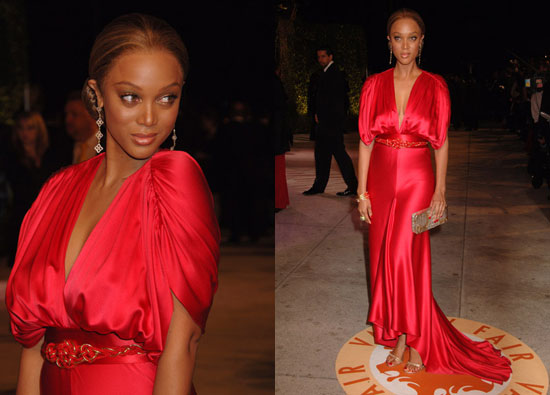 This dress, frankly, just made her boobs look really saggy. Like, super saggy. The way the top bloused over was too much, and coupled with the super tight waist, it looked weird. It was entirely disproportionate, and I think she could have found something much more flattering.
Now, although I think these are dresses Tyra banks shouldn't have worn, you might disagree with me, and that's totally okay. Like say, with some of these, the dresses were theoretically great, but there was just something about the way she wore them that rubbed me the wrong way. Just because I think they're dresses Tyra Banks shouldn't have worn doesn't mean you have to agree, but if you want to do a bit of Googling and take a look at some of these, I'd love to know what you think. She's gotten lots better in the past few years in choosing really gorgeous, flattering dresses, but you never know -- there might be another slip! So, about the dresses Tyra Banks shouldn't have worn -- do you have some opinions on Tyra's best and worst fashions?
Top Photo Credit: andy_57
---
Comments
Popular
Related
Recent