All the Reasons You Need to Fall in Love with R5 ...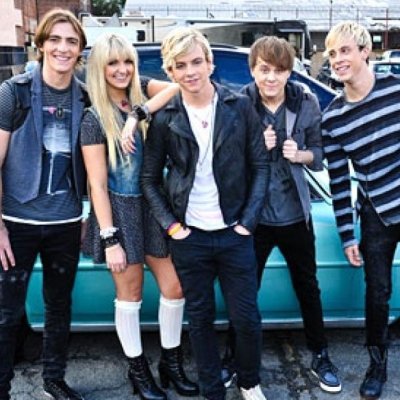 There are so many fantastic reasons to love R5! They're incredibly talented and are great role models. The band members are constantly encouraging their fans to follow their dreams and never give up on whatever makes them happy. Check out some of the reasons to love R5 and then let me know what YOU love most about them!
I love the fact that the band is made up of family members! Well, mostly family members. Ross, Riker, Rocky, and Rydel are all siblings while Ellington is a family friend! Honestly, he's so close to them he might as well be considered a brother. I think being related gives the band an awesome chemistry and bond. This is just one of the reasons to love R5!
If you haven't binge-watched all of their interviews on YouTube, you're missing out. Ross, Riker, Rocky, Rydel, and Ellington are super funny! They always say the most unexpected things that'll will crack you up. Their interviews do a really good job at showing their personality. They make it so easy to want to be their best friend!
I don't know how he manages to find the time but R5's frontman is also the leading man in Disney Channel's hit show, "Austin & Ally". It's actually really cool to see Ross in the show because it's like a different side of him. In case you don't know the show's storyline, Ross (Austin) is a singer so he's constantly showing off those vocals on the show! It's really funny so I recommend watching this show.
4.

They're Insanely Talented
To state the obvious, the band is incredibly talented. They all play their own instruments which I think is really refreshing to see in this industry. They also write their own songs which I feel creates a stronger bond with the band and audience. The band even covers popular songs sometimes which is always a treat to see. In London, they covered One Republic's "Counting Stars" with The Vamps!
5.

Their Live Performances
I got the chance to see the band perform to a sell-out crowd in New York City once and it was amazing! They really engage the audience throughout the whole performance. Their vocals are always on point and sound just like (if not better than) their studio recordings. Honestly, I can't even choose a favorite song to hear live because they're all so good. If you've seen the band live before, what was your favorite part about it?
6.

They're Heading on Tour
The band is always traveling and performing overseas. It's a great way for them to be able to see all of their international fans! In September, the band will be touring in the US starting in Florida and ending in October in California. You can check the tour dates and show info on the band's official site (r5rocks.com) to see if they're coming to a city near you.
The band is constantly interacting with their fans on their social media accounts. The band Twitter account (@officialR5) is the account to follow to keep up to date with them! They're always tweeting, following, and (trying their best) to DM fans! The band members also have individual accounts so don't forget to follow those too. You can find them all on @RossR5, @RikerR5, @RydelR5 @RockyR5 @RatliffR5.
Well, there you have it. These are just seven out of many awesome reasons to love and listen to R5. I love the fact that they are all genuine and humble musicians who credit their fans for getting them as far as they have come. If you're already an R5 fan, what do you love most about the band? Do you have a favorite member?
{{#comments_count}} Show Commnents ({{comments_count}}) {{/comments_count}}