British singer-songwriter and actress Paloma Faith is probably as well known for her quirky fashion sense as she is for her talent; there are loads of great Paloma Faith outfits that I absolutely adore! Whilst her unusual sense of style isn't to everyone's taste, there's no denying that these Paloma Faith outfits are a little bit quirky and off the wall - they're definitely not something you'd want to wear everyday!
---
1

Red Prom Dress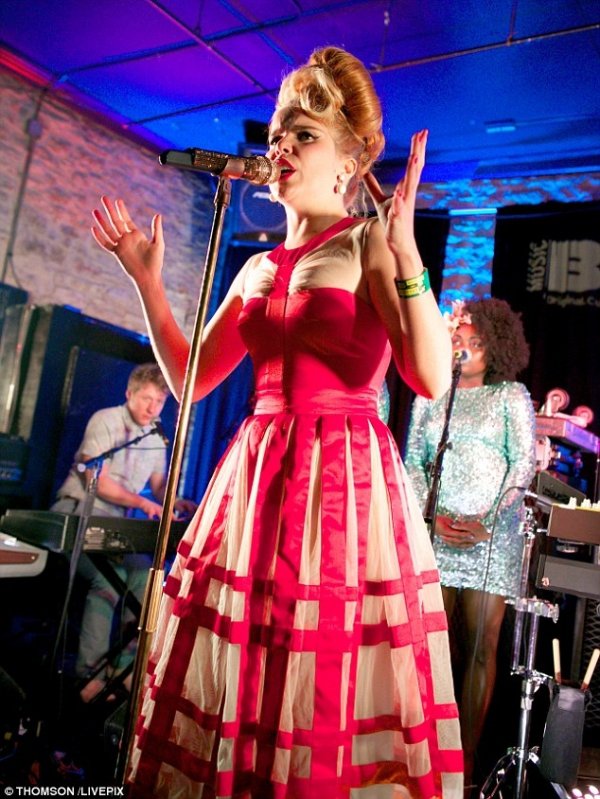 Paloma wore this quirky, retro 1950s style prom dress to perform in Texas in Spring 2013 - I think it looks great, and her vintage hairstyle and jewellery just add to the glamor of the look! This is one of my favorite Paloma Faith outfits.
2

Gold Skirt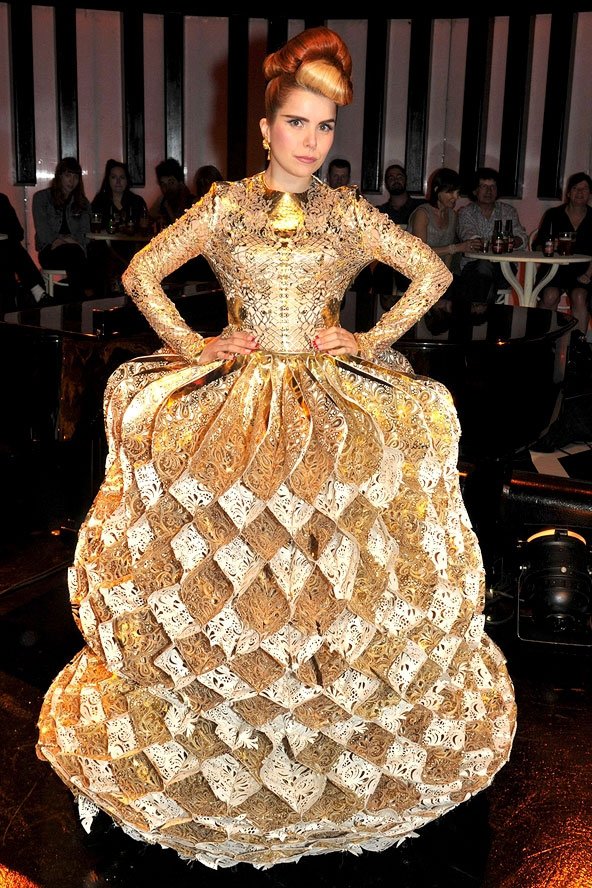 Many celebs wouldn't dream of turning up to an awards ceremony looking like this, but that's part of the reason why we Brits love Paloma Faith so much - her fashion sense is totally fearless! Whilst people have been known to question her sanity due to the way she dresses, I think she looks great in this gold number with its ruffled skirt and intricately detailed top - and her hair!
---
3

Southern Belle Dress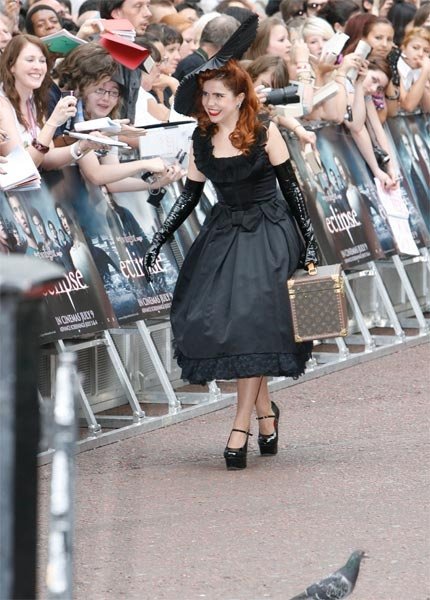 I totally love this Paloma Faith outfit - it has a hint of 'Gone with the Wind' and feels totally Southern Belle to me. The black dress, hat and Mary Janes combination just looks gorgeous against her red hair - quirky yet very cool!
---
4

Glitter Jumpsuit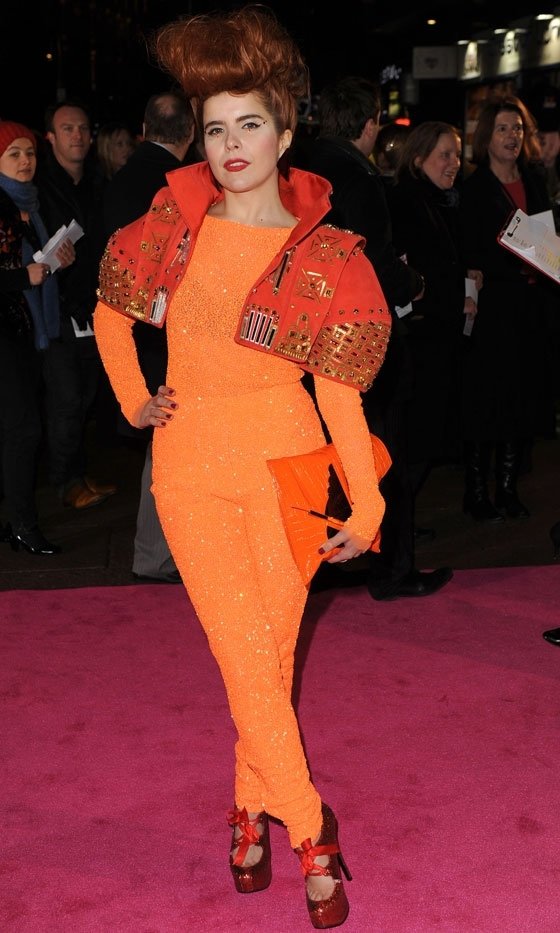 Not one of my favorite of Paloma's outfits, but definitely a quirky one! She wore this tangerine glittery jumpsuit to the St Trinian's premier, along with sparkly red Dorothy shoes and a strange Aztec design orange bolero/cape. The clash with her red hair makes this outfit really stand out - definitely an odd choice, but a bold one!
---
5

Hippo Frock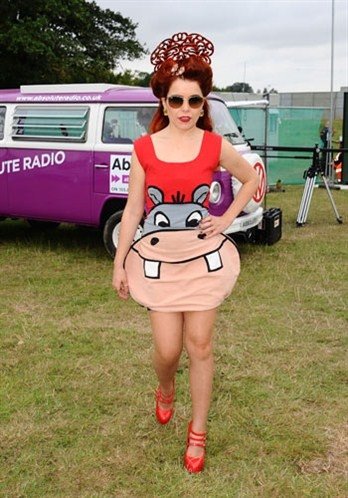 Probably not something I'd choose to wear myself, but Paloma's outfit to V-Festival was certainly unique! Her Hippo frock with red ankle-strap heels and a slightly odd headpiece, teamed with vintage shades and gold earrings is definitely one of the stranger things she's worn - I applaud her style!
---
6

Tim Burton-esque Striped Outfit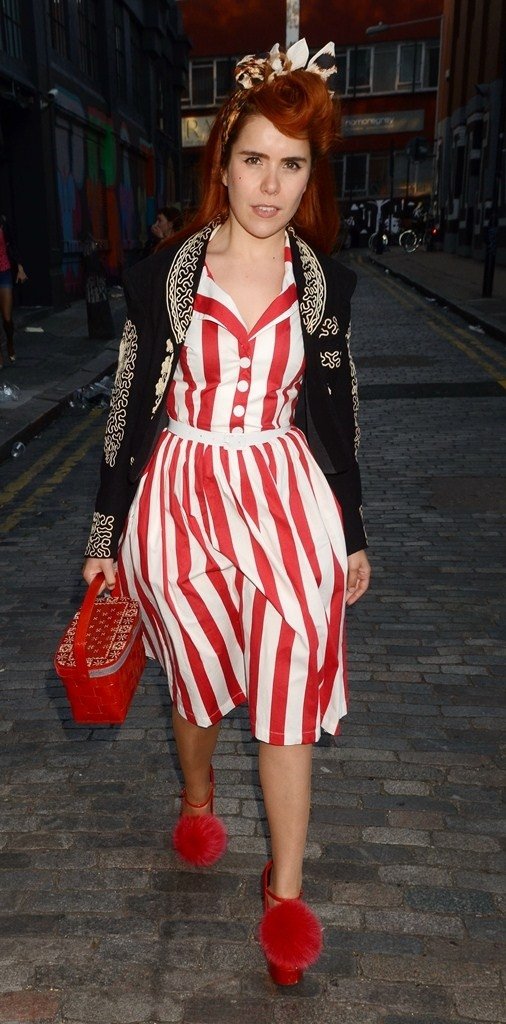 I can't decide if she looks like an extra from a Tim Burton movie (I'm a huge fan), a zebra or a giant candy cane, but overall I quite like this look. A red and white striped dress cinched in with a waist belt and a rather jaunty black jacket bring out the red of her hair and look rather unusual for a day of shopping!
---
7

Multi-colored Tights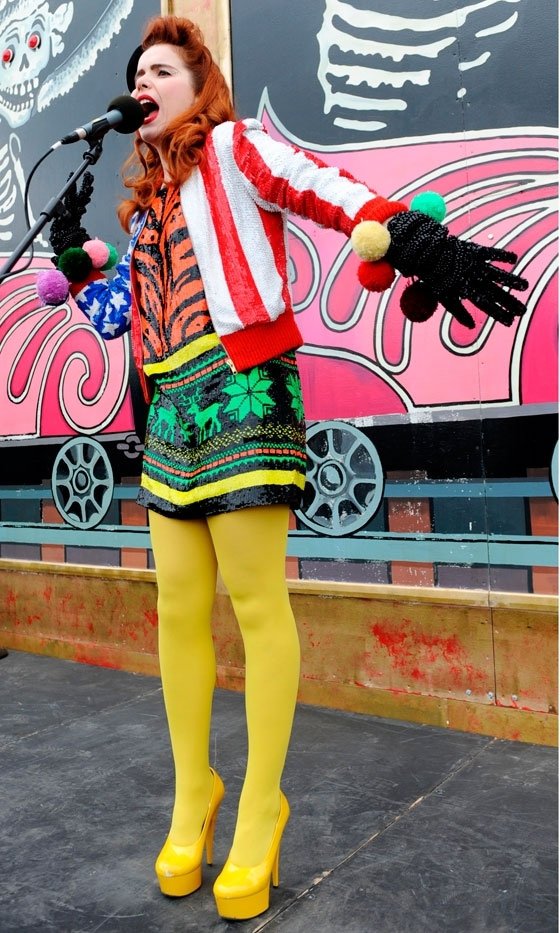 This '60s retro inspired outfit baffles me - there's so much going on that I don't know where to look first! From the retro zebra to the bright yellow tights to the Christmas-themed skirt, strange mittens and patriotic jacket, it's all a bit too much! I love this picture of Paloma as it really shows off her fun, creative approach to fashion - she's definitely a quirky girl.
Love her style or loathe it, there's no denying that Paloma Faith has some truly unusual outfits - but what do you really think of her style? Do you think she's crazy, or just taking an alternative approach to fashion?
---
Popular
Related
Recent