Celebrities wearing army green jackets seem to be dominating as far as street style trends go. An army green jacket, whether it's in the form of an anorak or a utility jacket, is a stylish and versatile option for your casual wardrobe. An army green jacket can look great worn with anything from jeans and a t-shirt to a summery floral dress. Check out the following images of celebrities wearing army green jackets and let us know who you think wore it best.
---
1

Kate Bosworth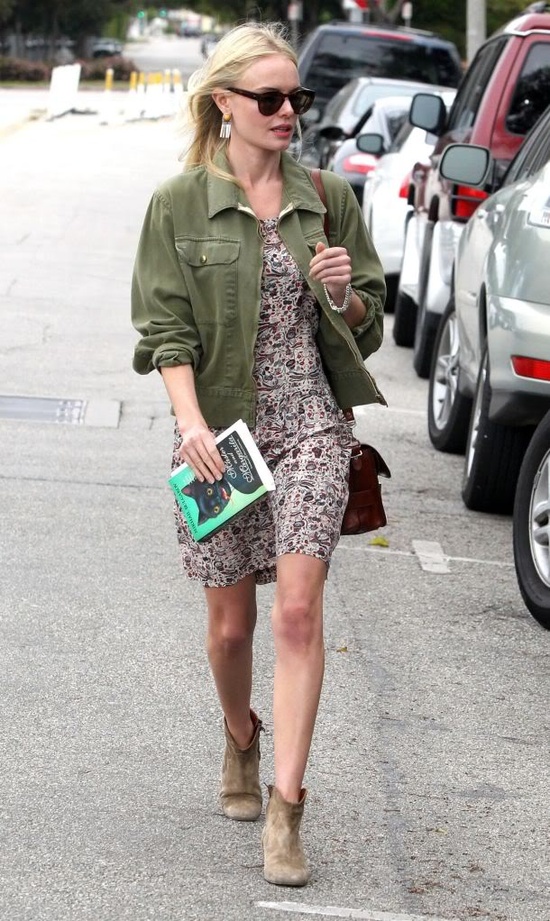 First up on our list of celebrities wearing army green jackets is Kate Bosworth. She's pretty much the queen of street style and her off-duty outfits provide just as much style inspiration as her red carpet looks. Here she wears a cropped army green jacket with a short printed dress and tan suede ankle boots. The statement earrings and silver bracelet add a little bit of bling to the overall look.
2

Jessica Alba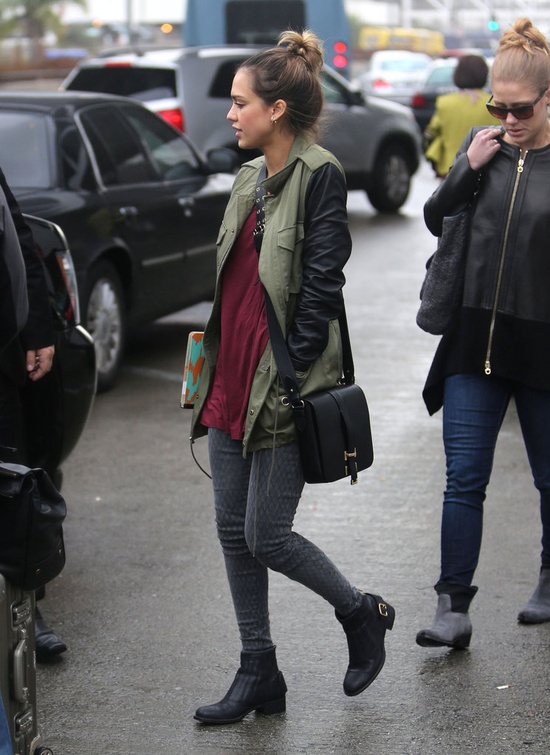 The faux leather sleeves on Jessica Alba's army green jacket are a stylish modern touch. The green jacket worn with a maroon t-shirt is a smart colour combination. The compact side bag, skinny jeans, and ankle boots complete the casual, off-duty look.
---
3

Vanessa Hudgens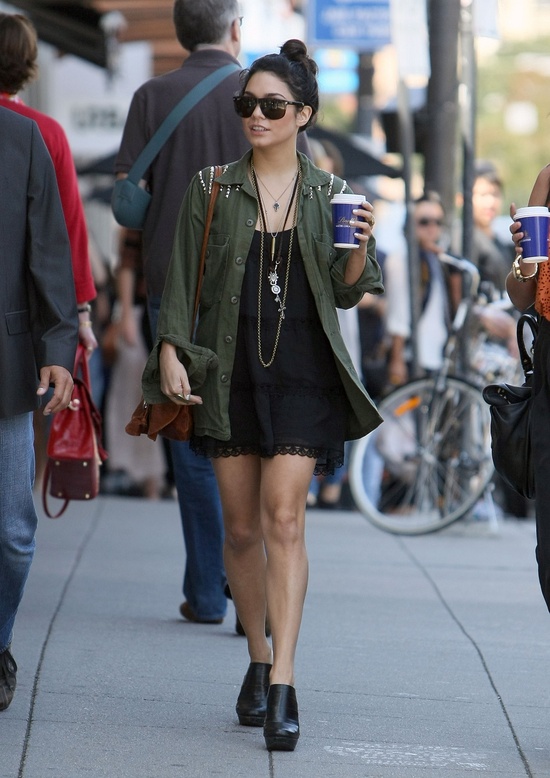 Army jackets look great worn over summer dresses. Here, Vanessa Hudgens teams her army green jacket over a simple black mini dress. Oversized sunglasses and a cup of coffee in hand finish off the typical celebrity look.
---
4

Alexa Chung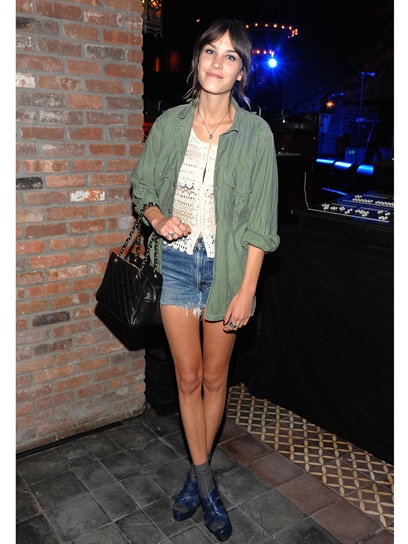 Alexa Chung works a cool and casual look in her army green jacket. The combination of crochet top and denim shorts is very festival-inspired and the addition of an anorak is perfect for protection from the elements. If you're not a fan of the socks and sandals look that Alexa is sporting here, opt for a chic ankle boot instead.
---
5

Katie Holmes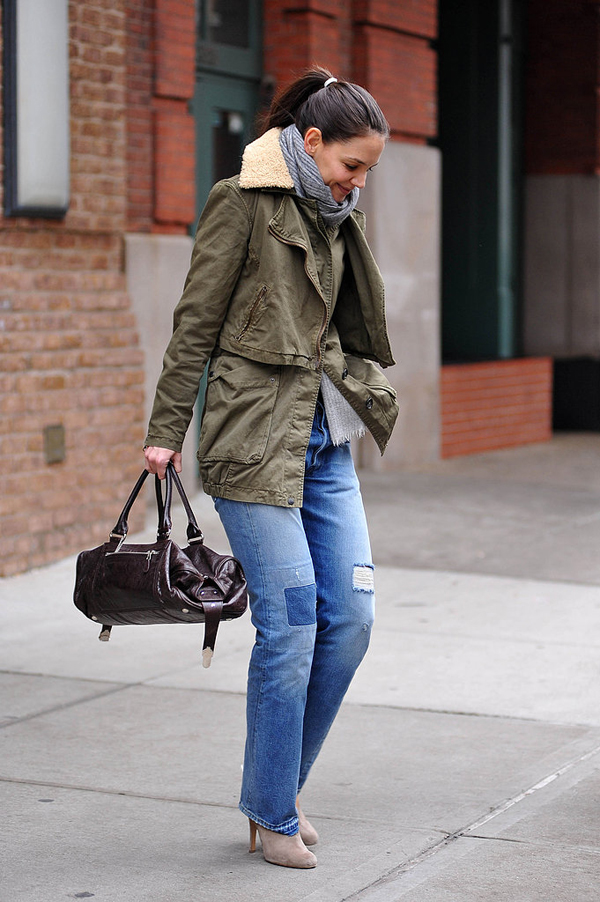 Katie Holmes wears her army green jacket with patched denim jeans, a grey scarf, and taupe heeled boots. As long as you stick to classic and tailored cuts – this is a combination that will hardly date. The addition of a shearling collar also gives this army green jacket a winter appropriate twist.
---
6

Maggie Gyllenhaal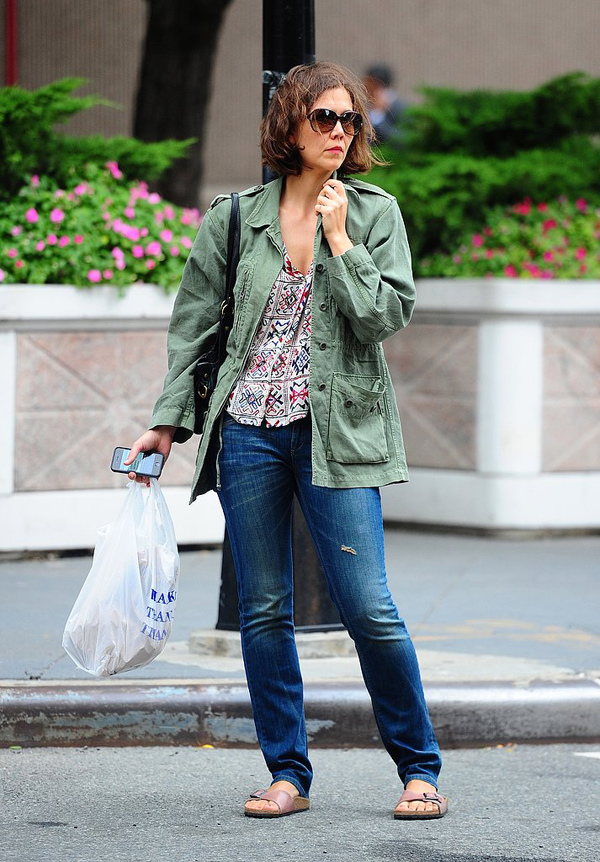 Maggie Gyllenhaal sticks to a fairly casual look in her army green jacket. She teams it with a printed top, blue jeans, and neutral sandals. It's a look that's easy to put together but still manages to stay on trend.
---
7

Diane Kruger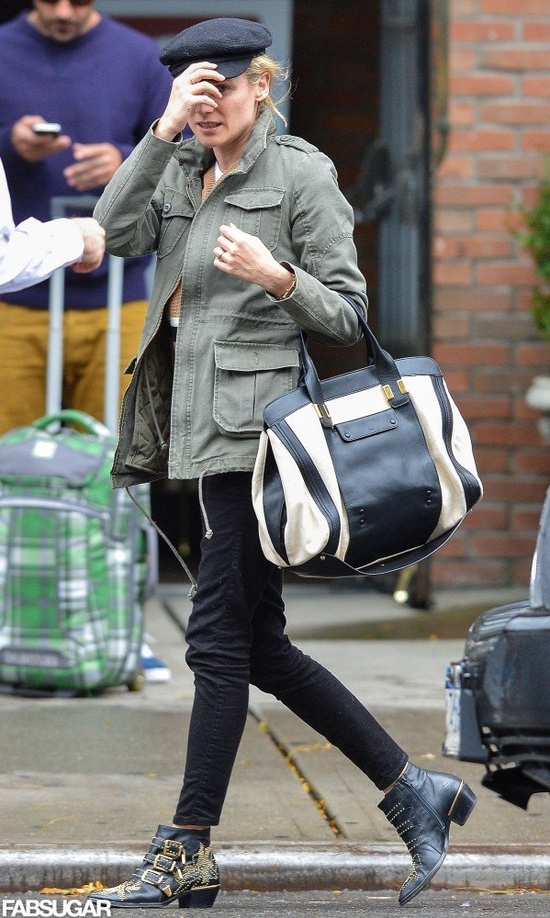 Here, Diane Kruger opts for the tried and tested outfit of an army green jacket and skinny jeans. She accessorises with a poor boy cap, two-tone bag, and chic studded ankle boots. It's the kind of outfit that you could wear to run your daily errands.
---
8

Karolina Kurkova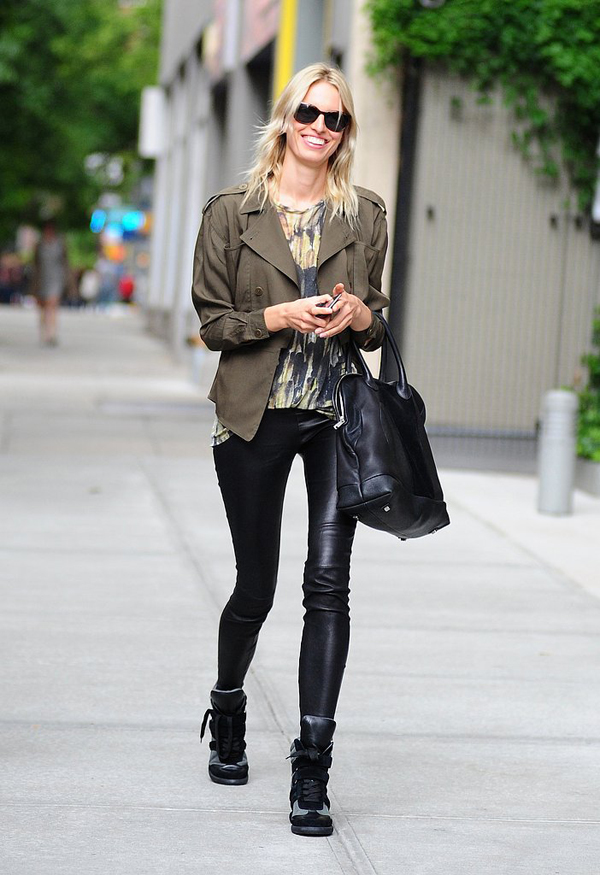 Karolina Kurkova works a typical model-off-duty look. She pairs her cropped army green jacket with leather pants, a printed t-shirt, an oversized bag, and hi-top sneakers. It's an outfit that you could easily imagine being worn on the streets of NYC.
---
9

Olivia Palermo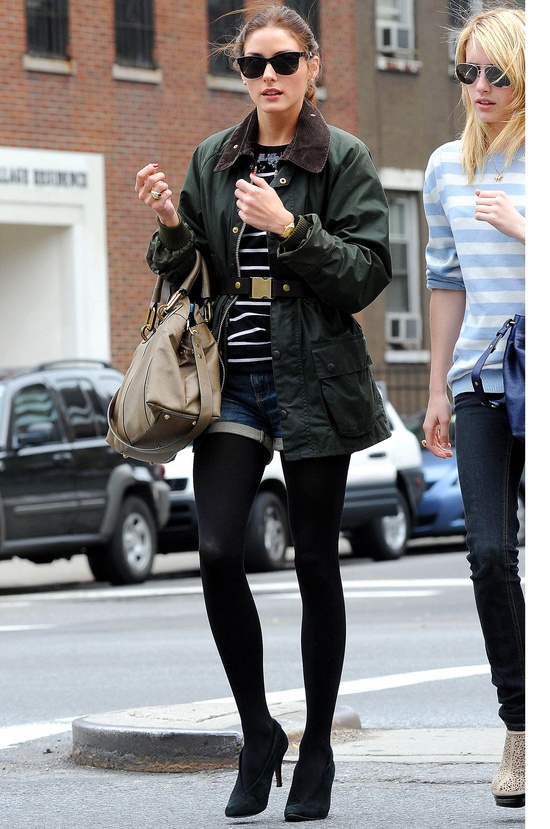 Despite wearing an army green jacket and denim shorts, Olivia Palermo dresses up her outfit by slipping on a pair of heels. She also belts her jacket at the waist to stop it from appearing too shapeless. This is just one example of how you can style an army green jacket in a more polished way.
---
10

Elle MacPherson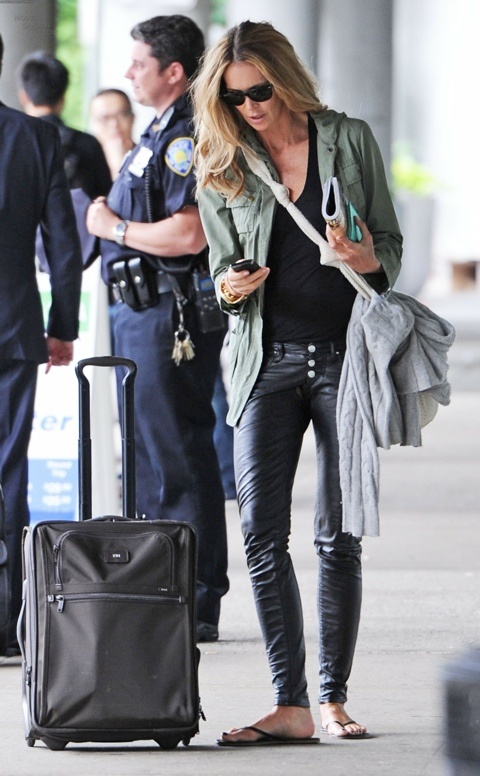 Elle MacPherson does airport dressing in her army green jacket and leather pants. She accessorises with the obligatory dark celebrity shades, but keeps her footwear casual in a pair of flip flops.
Army green jackets are perfect for wearing with your casual, off-duty outfits. These are just some celebrities who have embraced this item of clothing. Which of these celebrities do you think wore their army green jacket best?
---
Comments
Popular
Related
Recent