The band t-shirt has achieved its own form of fashion status over the years and we've spotted plenty of celebrities wearing band t-shirts. The band t-shirt has always been a way to show off your musical allegiances, but these days it's not unusual for wear one to up your street cred. Worn with ripped jeans, a leather jacket and ankle boots – it's the ultimate lesson in off-duty dressing. Check out our list of celebrities wearing band t-shirts to see how they styled them.
---
1

Alexa Chung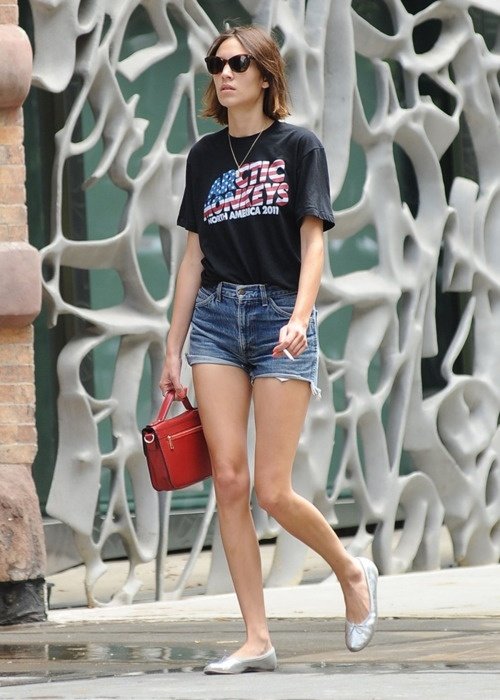 When it comes to celebrities wearing band t-shirts, there's always a chance that they're dating a member of said band. Alexa Chung was spotted wearing an Arctic Monkeys t-shirt, presumably from when she was dating front man Alex Turner. She worked a classic off-duty Alexa look in denim shorts, ballet flats, and cat-eye sunglasses. A structured handbag added a polished touch to this casual look.
---
2

Kristen Stewart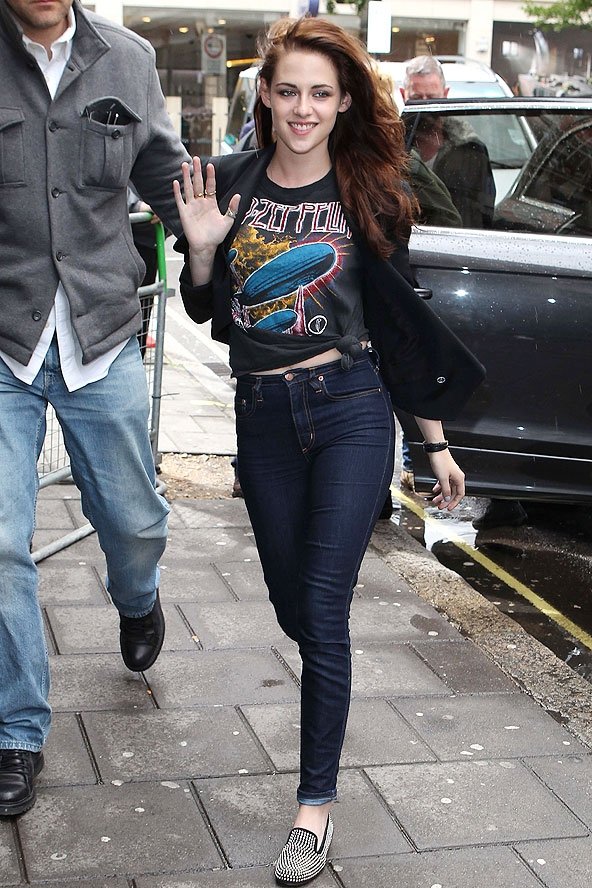 When she's not wearing haute couture on the red carpet, you'll most likely find Kristen Stewart in more casual gear. She's been seen wearing a number of band t-shirts in the past. Here she wore a Led Zeppelin t-shirt, tied at the waist, with high waisted skinny jeans. She dressed up the casual outfit with a black blazer and studded slippers.
3

Alicia Silverstone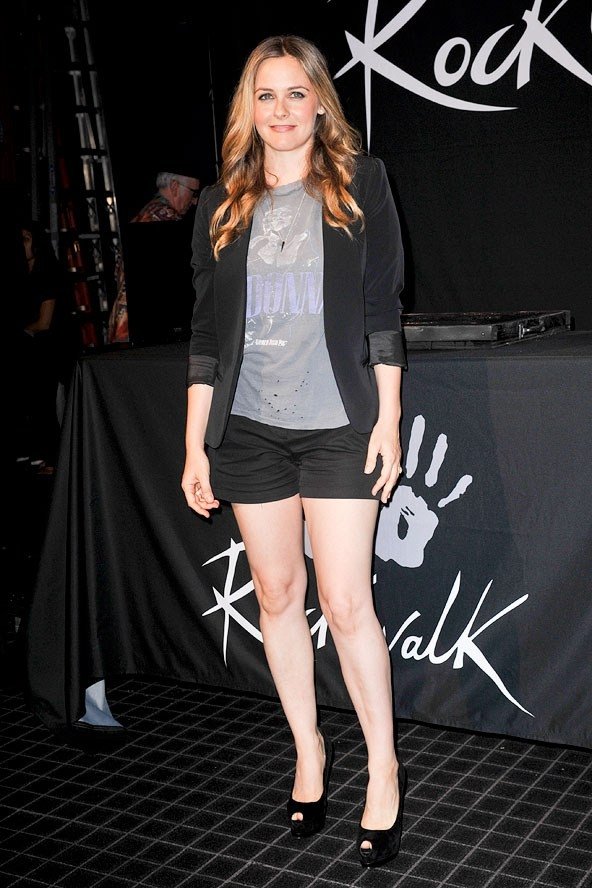 Here, Alicia Silverstone took a dressier approach to wearing the humble band t-shirt. She teamed a faded Madonna t-shirt with a black blazer, tailored shorts, and heels. The shorts suit has been a big trend lately and it hits that mix of casual and tailored dressing. It's a fun and flirty way of dressing up a band t-shirt.
---
4

Cara Delevingne
Model of the moment and It-girl Cara Delevingne looks every bit the model off-duty in this outfit. In a more alternative approach to the classic skinny jeans and a t-shirt combination, she wore a classic Guns N Roses t-shirt with statement striped pants. A leather biker jacket, lace-up ankle boots, and a slouchy knitted beanie completed this grungy look – perfect for wearing during the day or to a rock concert in the evening.
---
5

Fergie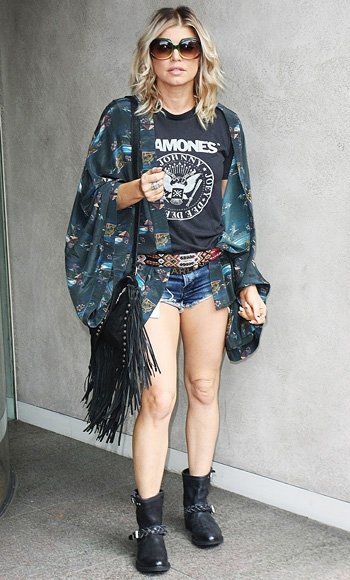 Fergie took a more bohemian approach to styling her Ramones t-shirt. She teamed her band t-shirt with a billowy kimono jacket and denim hot pants. A tribal patterned belt, fringed side bag, oversized sunglasses, and biker boots completed the look. This kind of outfit is one that's definitely worthy of the music festival circuit.
---
6

Charlize Theron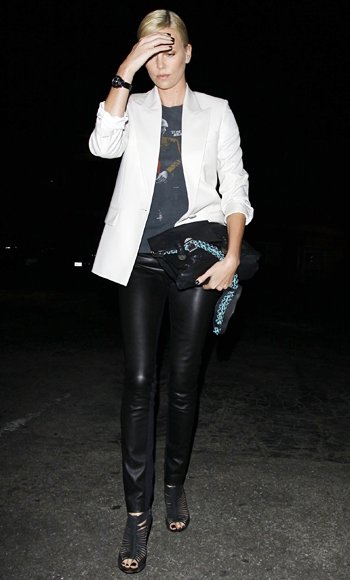 Charlize Theron styled up her Tom Petty and The Heartbreakers t-shirt with leather-look pants and a crisp white blazer. The tailored blazer and sleek hairdo kept this outfit in more sophisticated territory while the leather pants, band t-shirt, and dark nail polish added a rock star edge. The end result was an evening outfit that was elegantly edgy.
---
7

Nicole Richie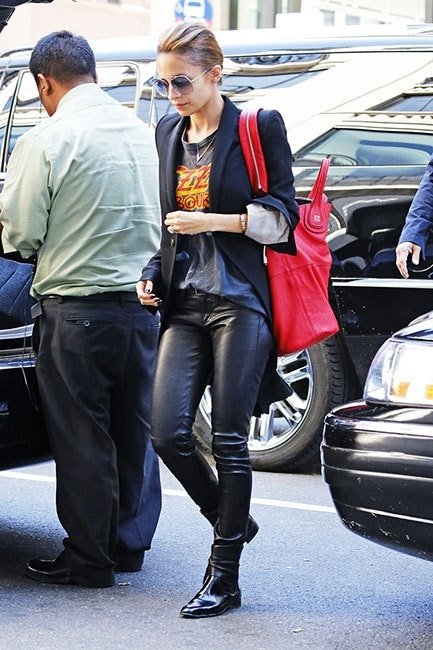 Nicole Richie was spotted out and about wearing an Ozzy Osbourne t-shirt. She wore her band t-shirt tucked into some skinny leather pants and with a tailored black blazer. Shiny black ankle boots and aviator sunglasses completed the grungy look while a bright red handbag added a statement-making pop of colour.
These are just some celebrities we've spotted wearing band t-shirts. Whether they're fans of the artists in question or are just in it for the street cred is another matter entirely. Which of these celebrities do you think rocked the band t-shirt the best?
---
Comments
Popular
Related
Recent