Celebrity fashion face offs are a certainty in a world where everyone is after the latest clothes and trends. While certain stylists and celebrities might try to ensure that they're the only ones to wear a piece of designer clothing, the likelihood is that someone else is bound to wear the exact same thing sooner or later. And it's always a bit annoying when you see someone wearing the exact same thing as you, right? Check out these celebrity fashion face offs and let us know who you think wore it best.
Table of contents:
1

Audrey Tautou in Valentino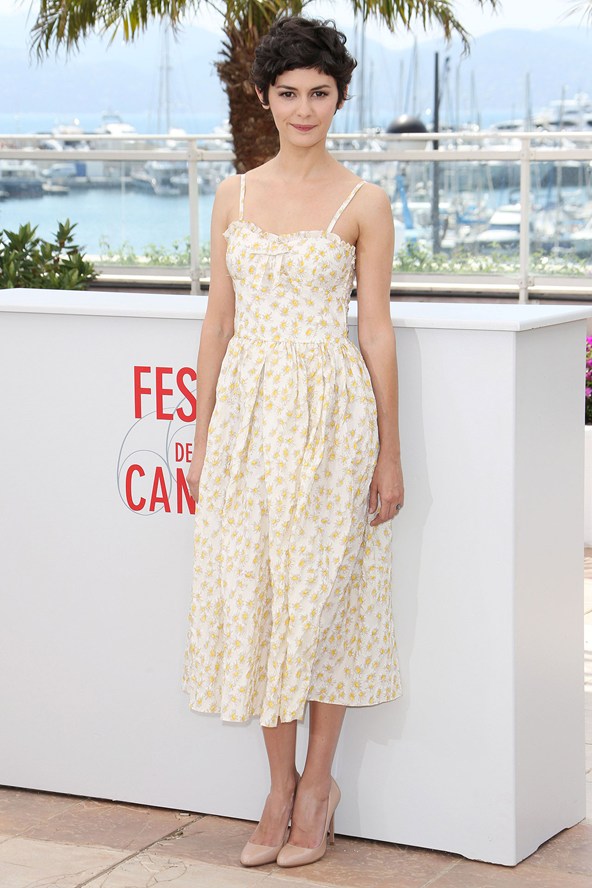 First up on our list of celebrity fashion face offs is French actress Audrey Tautou. Here she is at Cannes Film Festival wearing a Valentino sun dress. The dress is floaty and feminine, and perfect for summer. She keeps the rest of her outfit fairly simple with minimal jewellery and nude pumps. If this outfit looks familiar, you're soon going to find out why.
2

Alexa Chung in Valentino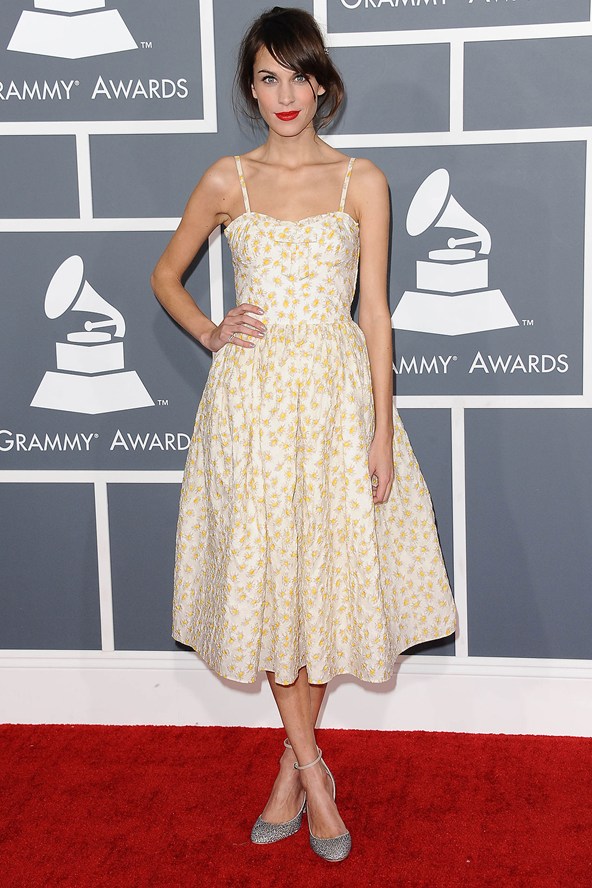 Our favourite It Girl Alexa Chung wore the same Valentino dress as Audrey Tautou earlier this year at the Grammy Awards. While Audrey goes for a simple daytime look, Alexa gives her dress the red carpet treatment. She glams her dress up by teaming it with glittery shoes and bright red lipstick.
3

Gwyneth Paltrow in Michael Kors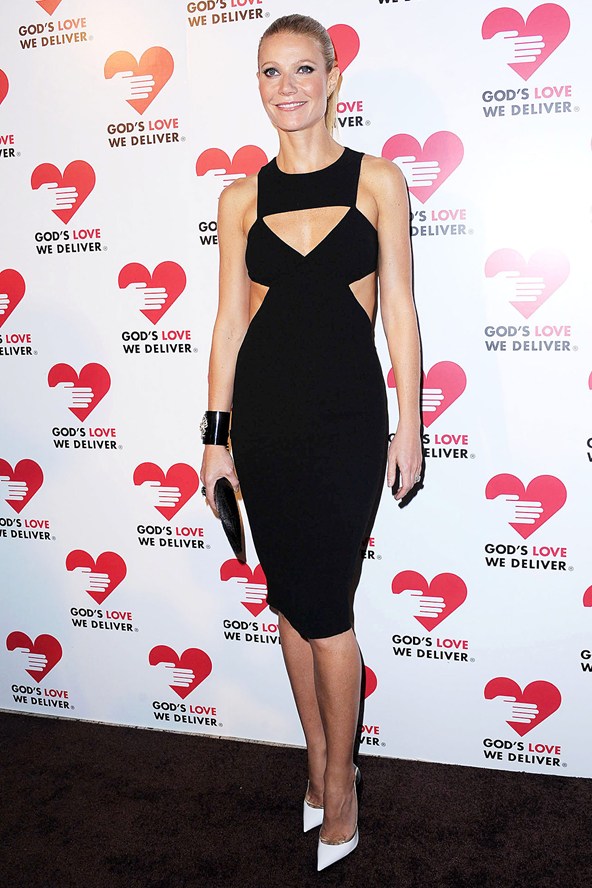 Cut out dresses are having a big moment right now and Gwyneth Paltrow definitely turned heads in this Michael Kors number. The knee-length black dress featured strategically placed cut out details around the chest and ribs. She completed the look with a slicked back high ponytail, compact clutch, and pointed pumps.
4

Myleene Klass in Michael Kors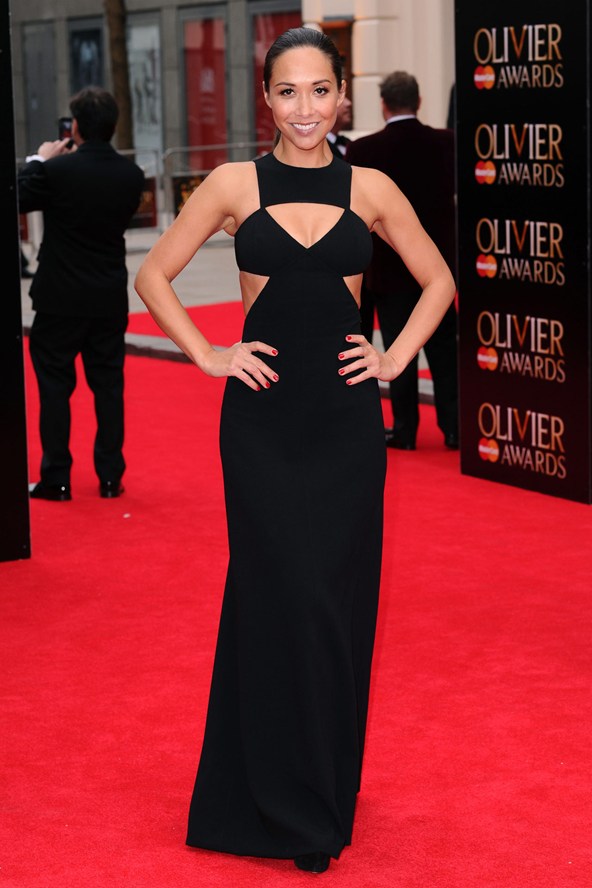 British media personality Myleene Klass wore a similar Michael Kors gown to the Olivier Awards. While Gwyneth's dress was knee-length, Myleene opted for a floor-skimming number. Like Gwyneth, she wore her hair in a slicked back ponytail. Who do you think pulled off this Michael Kors number the best?
5

Michelle Dockery in Peter Pilotto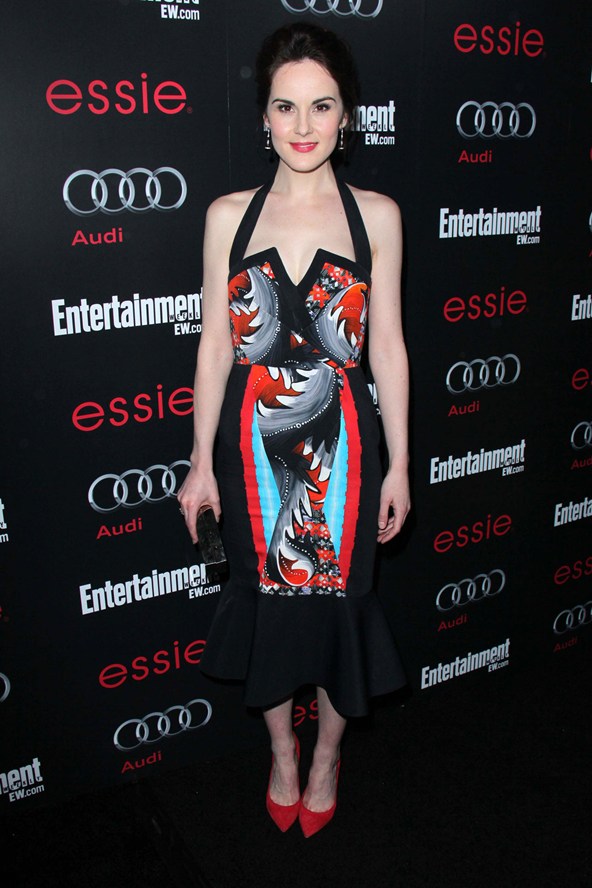 Downton Abbey's Michelle Dockery wore this statement-making Peter Pilotto dress at a Screen Actors Guild Awards event in Los Angeles. She teamed the dress with brightly coloured pumps, a structured clutch, and drop earrings. A coat of bright red lipstick completed the look.
6

Candice Swanepoel in Peter Pilotto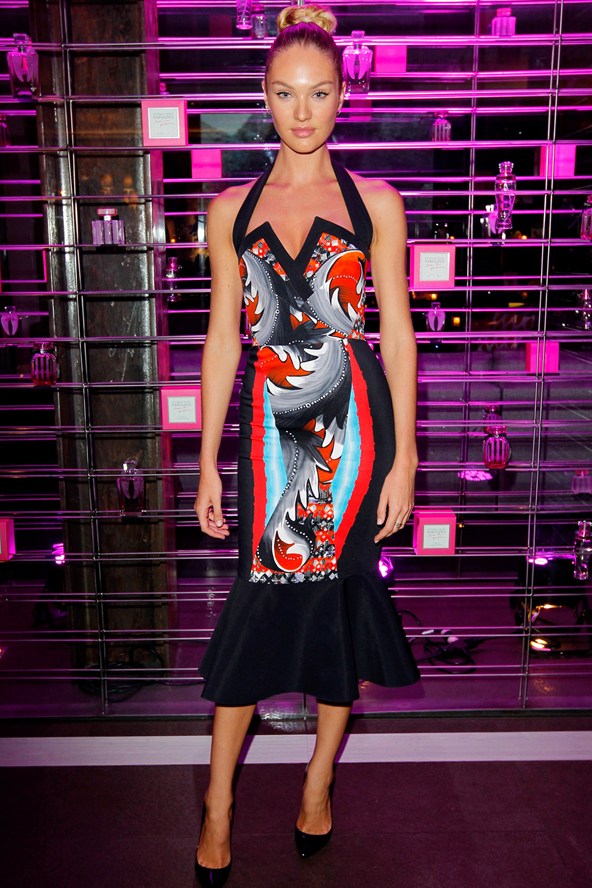 Facing off against a model is not a position most women would want to be in, but it seems Michelle Dockery ended up in that position when Victoria's Secret angel Candice Swanepoel wore the same Peter Pilotto dress as her. Candice opted to team her figure-hugging dress with patent black pumps and a tight, high bun.
7

Mia Wasikowska in Prada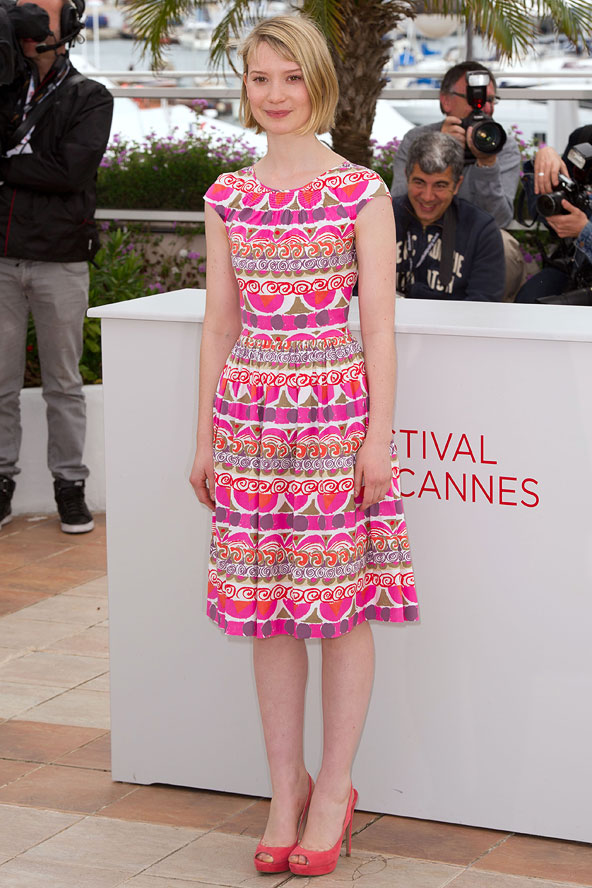 Actress Mia Wasikowska wore this printed Prada dress to Cannes Film Festival last year. The dress is bright and summery and certainly eye-catching. She kept the colourful theme going by teaming her dress with pink peep-toe pumps.
8

Dianna Agron in Prada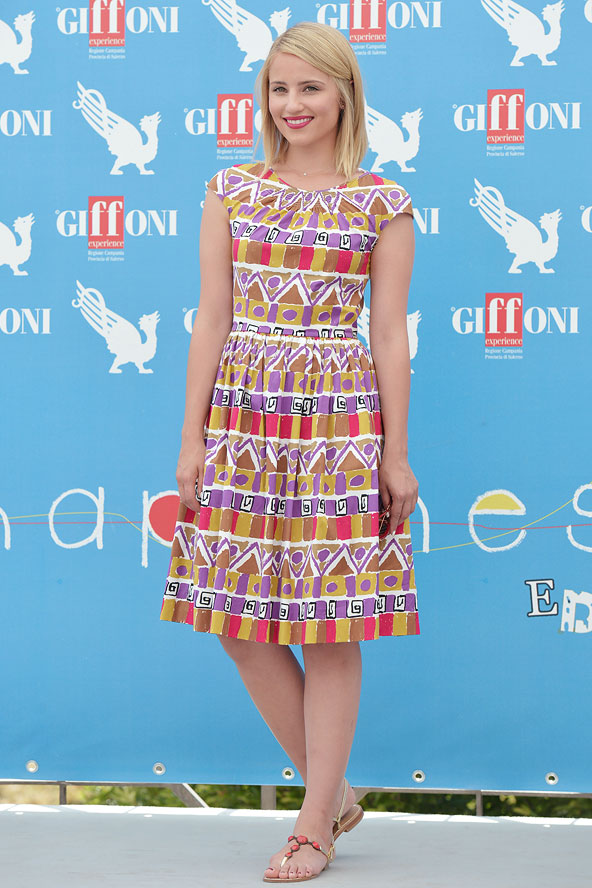 Dianna Agron wore a similar printed dress a few months after Mia did. While the colours are different, there's no mistaking that it's from the same Prada collection. Instead of opting for a glam look, Dianna teamed her dress with bejewelled flat sandals.
9

Kim Kardashian in Valentino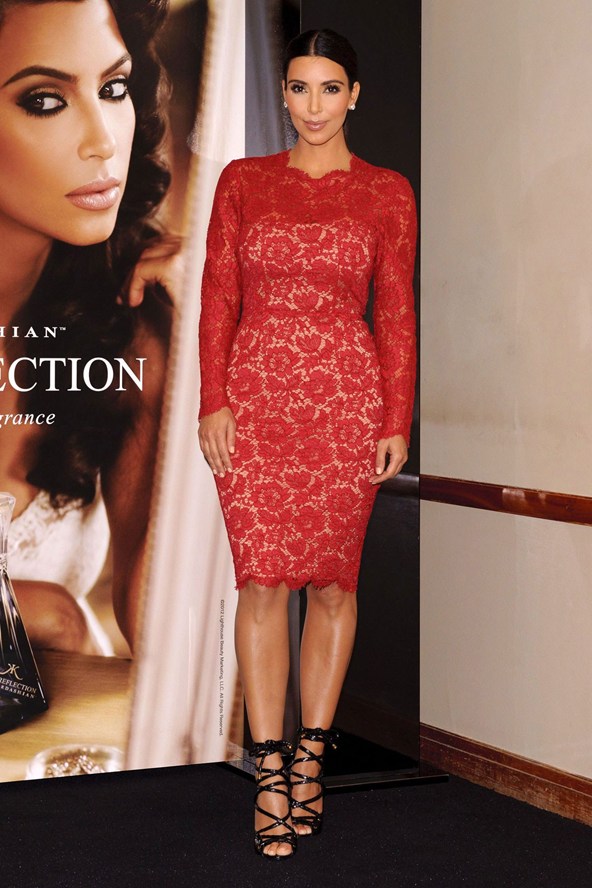 Kim Kardashian wore this Valentino dress to an event in London in September 2012. The red lace dress is quite statement-making, which is what you'd expect from a Kardashian. While she keeps her hair and makeup fairly chic and classic, the strappy lace up shoes add a risqué touch to the overall look.
10

Kris Jenner in Valentino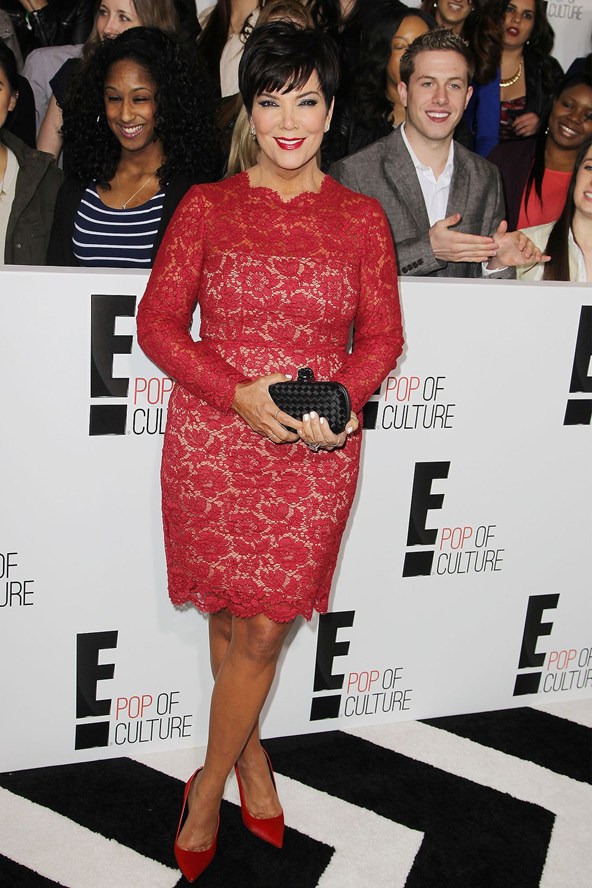 Seven months after Kim wore this lacy red dress, mum Kris Jenner was spotted wearing it to an event. I guess it's a case of keeping it in the family! Kris teamed her dress with matching red pointed pumps and a compact black clutch.
As you can see, even celebrities aren't immune to outfit copycats. Actually, they're probably even more likely to occur if you're a celeb! Out of these celebrities, who do you think won their fashion face offs?
Please rate this article