Leopard print can either be a fashion do or a fashion don't but this doesn't seem to stop the number of celebrities wearing leopard print outfits. The leopard print coat has become a must-have in recent years, but lately we're seeing celebrities branch out with their leopard prints. While leopard print is a staple on the fashion circuit, just how fashionable it is can depend on personal style and taste. Check out these celebrities wearing leopard print and let us know who you think styled it the best.
---
1

Rose Byrne
Rose Byrne is the first of our celebrities wearing leopard print. Here she wears a chic leopard print coat with a black top and skinny jeans. A small side bag and patent black pumps complete the outfit. As Rose shows us here, a statement leopard print coat is a great way of livening up a head to toe black outfit.
2

Miranda Kerr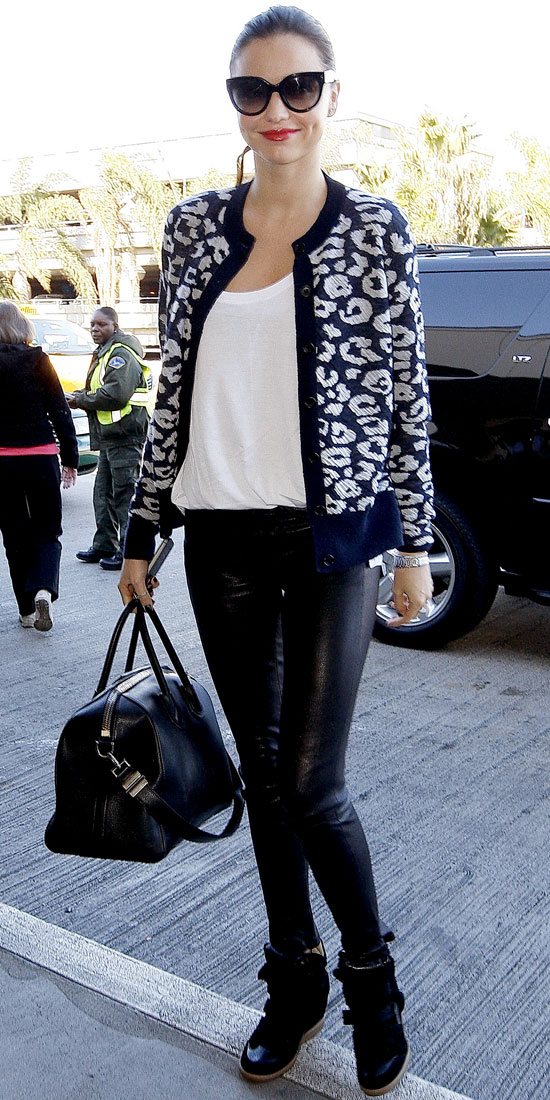 Miranda Kerr works a more modern look in her leopard print cardigan. She teams a dark blue leopard print cardigan with a slouchy white t-shirt and leather-look skinnies. She accessorises with large cat eye sunglasses and a structured duffel bag. Wedge sneakers add a sporty touch to the look.
---
3

Scarlett Johansson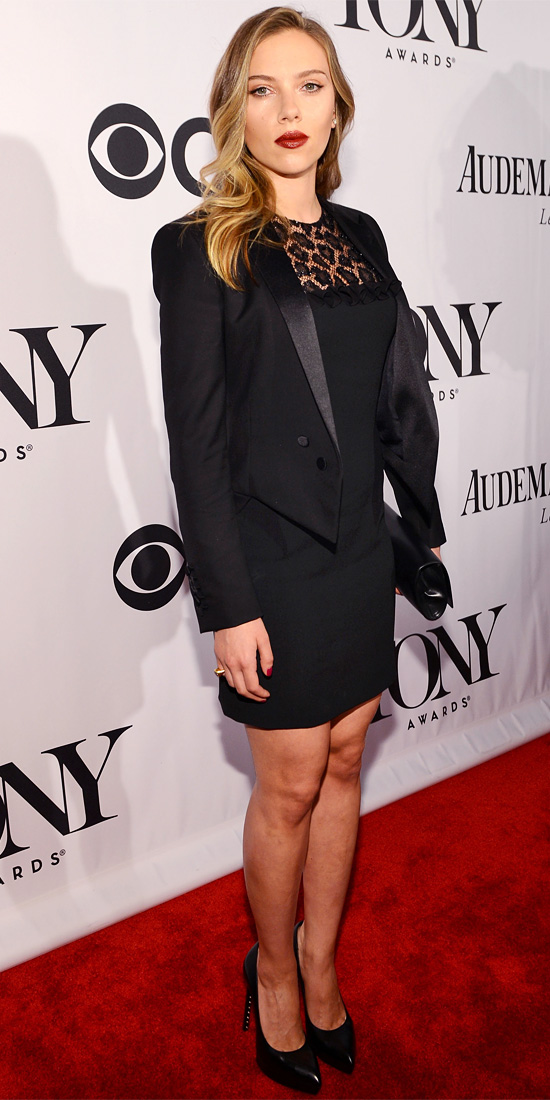 Scarlett Johansson goes for an understated look in a little black dress with leopard print trims. The lacy leopard print detail at the top of her dress isn't too overpowering and adds a little bit of extra interest to her outfit. She completes her look with a sharp tailored blazer and black platform pumps.
---
4

Jessica Alba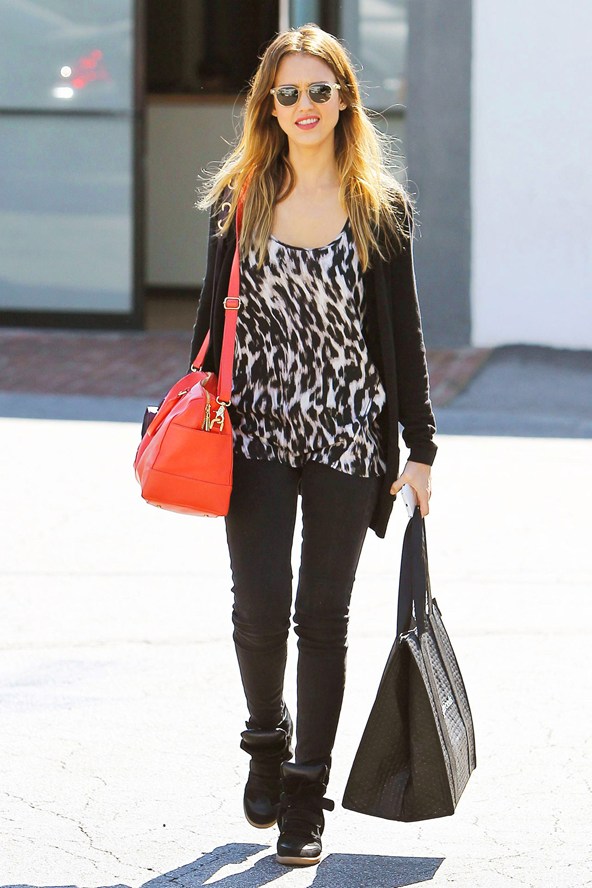 Jessica Alba works a more casual look in a leopard print singlet and skinny jeans. She also wears a long draped cardigan, wedge sneakers and light sunglasses. A bright red bag brightens up the entire look.
---
5

Kate Moss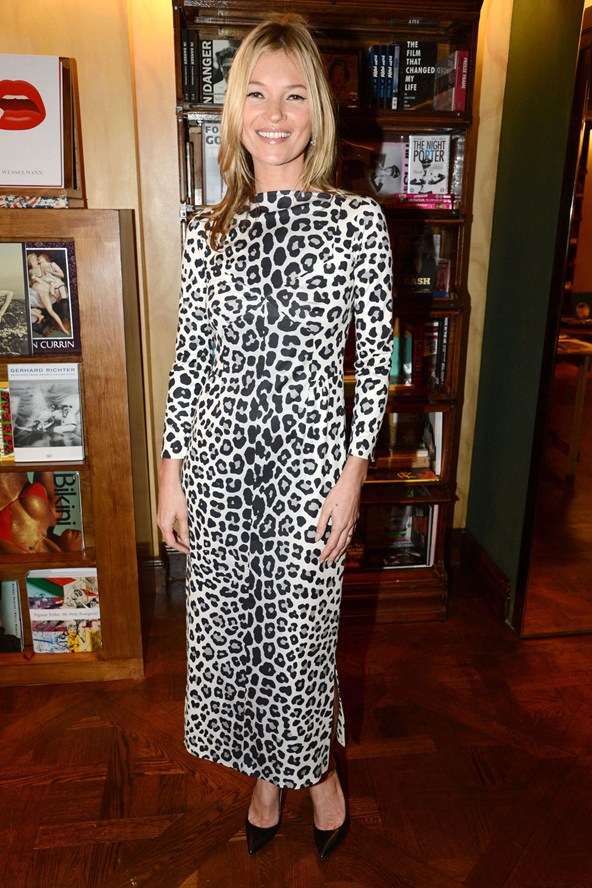 Kate Moss is no stranger to leopard print. She's probably the reason why leopard print coats have become must-have items in recent years. Here, however, she wears a bold leopard print dress. It's quite a statement-making print, so she keeps her accessories to a minimum and wears some black pointed pumps.
---
6

Vanessa Hudgens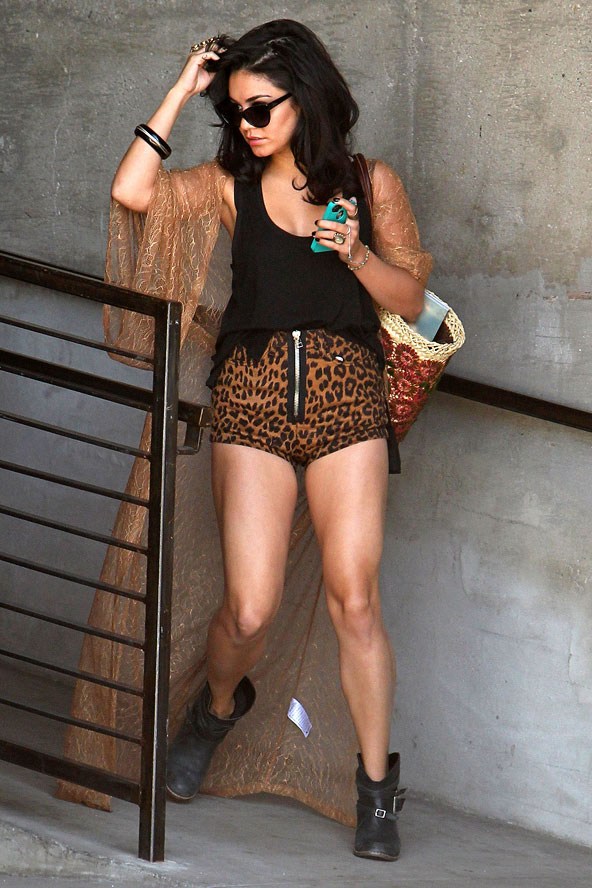 Vanessa Hudgens wears her leopard prints in the form of figure-hugging shorts. She teams her leopard print shorts with a black tank top, sheer floor-length coat coat, and biker boots. A straw tote, oversized sunglasses, and assorted jewellery complete her look.
---
7

Ashley Greene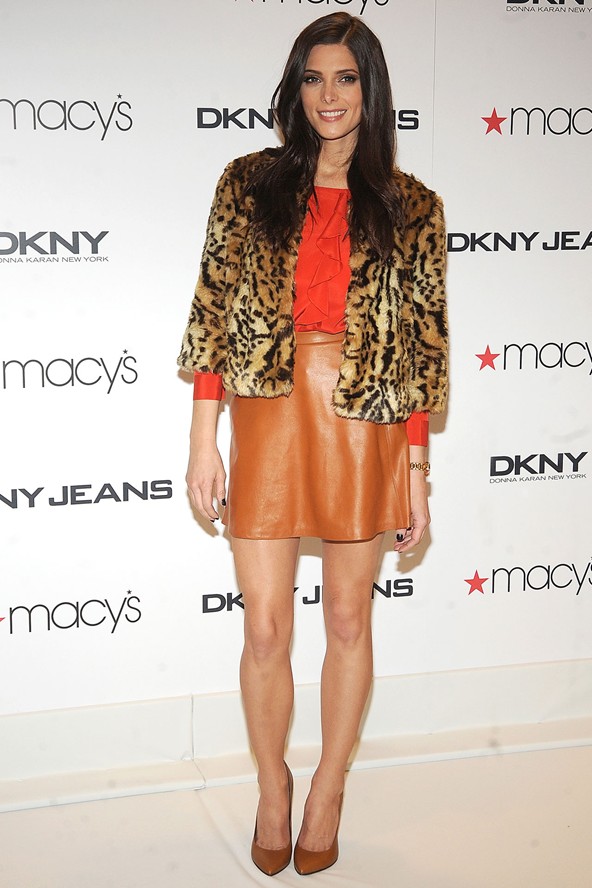 Here, Ashley Greene rocks a short leopard print coat. She teams the swing-style coat with a red blouse, tan leather skater skirt, and tan pointed pumps. It's a bold look but one that she wears with confidence.
---
8

Kylie Jenner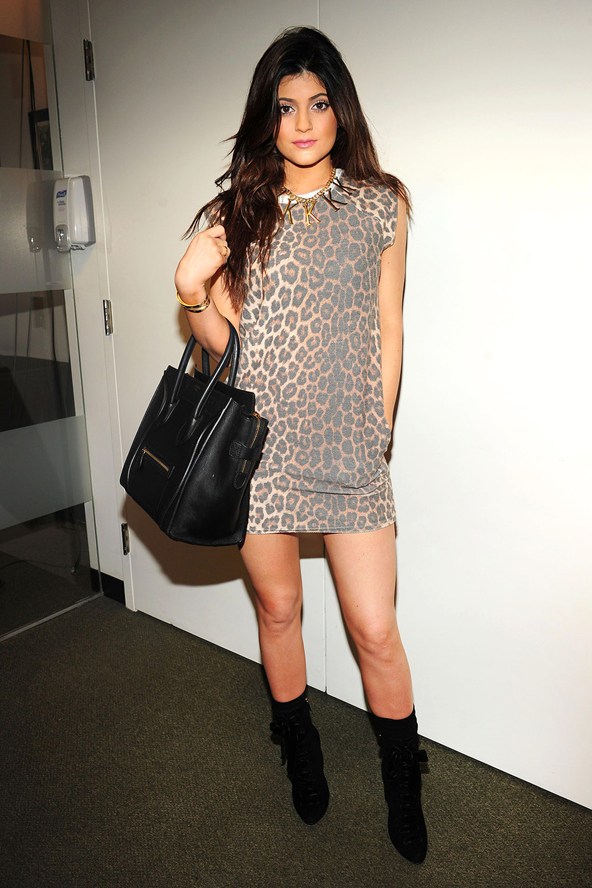 Kylie Jenner works a more rock chick vibe in this faded leopard print tank dress. She pairs it with an oversized black bag (designer, of course) and lace-up boots. If you look closely enough, you'll also notice a 'K' initial necklace.
---
9

Nicky Hilton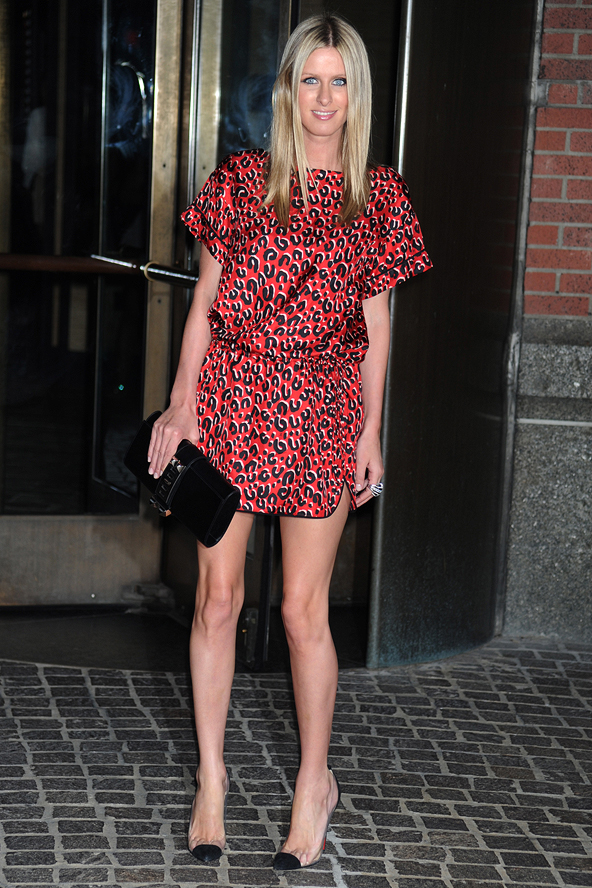 Nicky Hilton works a different angle in a coloured leopard print dress. She dresses it up with a long clutch and toe-capped shoes. The red printed dress has a relaxed design and could just as easily be dressed down with a floppy hat and sandals for a cool summertime look.
---
10

Emma Roberts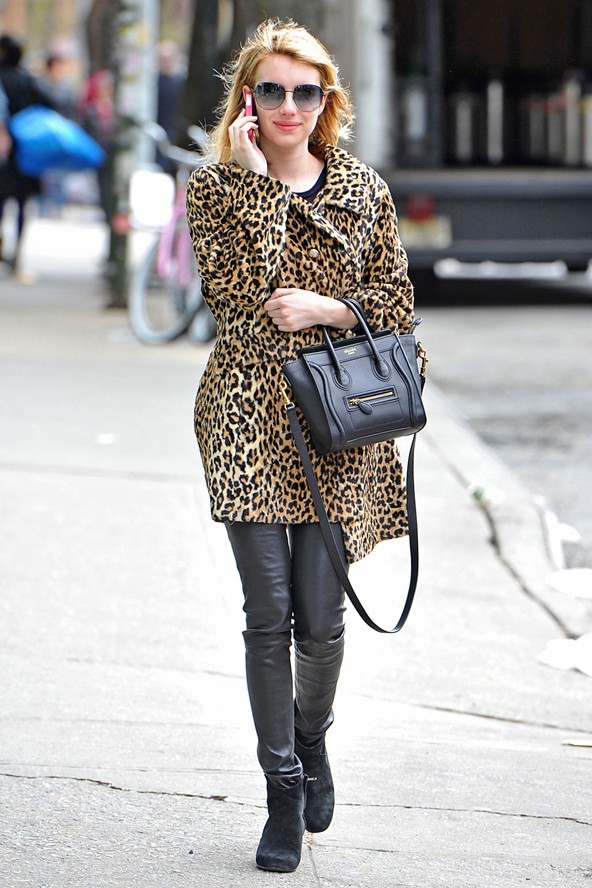 Here, Emma Roberts steps out in a long leopard print coat. She works a classic off-duty look and teams it with leather-look pants and short black ankle boots. A small Celine handbag and oversized sunglasses finish off her look.
These are just a few celebrities who have been snapped wearing leopard print outfits. Are you a fan of leopard print? Which of these celebrity leopard print looks do you like best?
---
Comments
Popular
Related
Recent