Celebrities wearing tuxedo stripe pants are onto one of the most popular trends at the moment. No longer limited to evening-wear, tuxedo stripe pants and jeans are an effective way to mix up your everyday look. Sure, they can look super stylish when teamed with heels and a dinner jacket, but they're also a fashionable option for working cool off-duty looks. Check out these celebrities wearing tuxedo stripe pants and just how they style them.
---
1

Blake Lively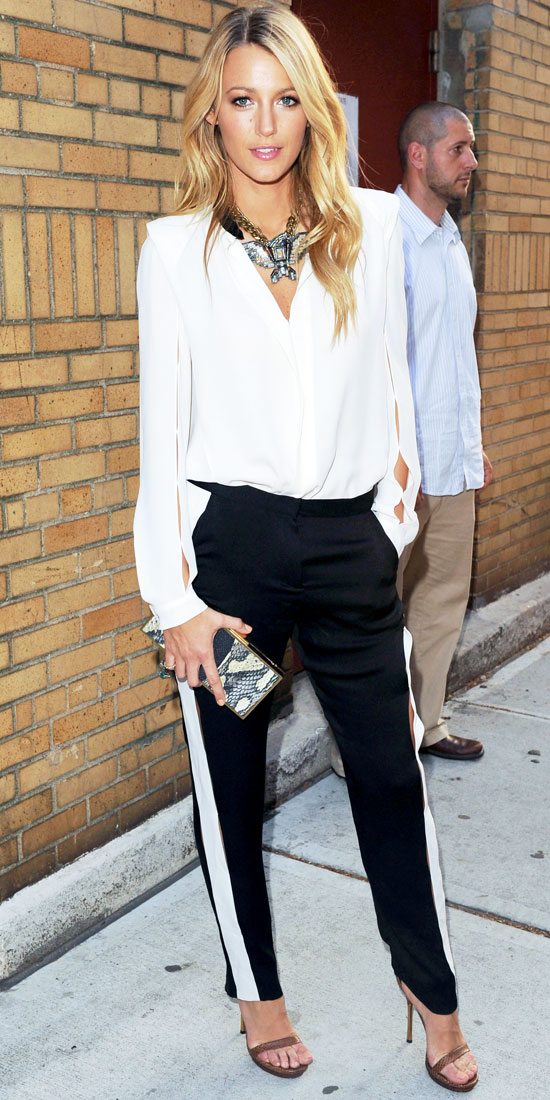 First up on our list of celebrities wearing tuxedo stripe pants is Blake Lively. Here, she sticks to a cool black and white colour palette. Her black tuxedo pants feature a contrasting white stripe down the sides, and she teams them with a white blouse and strappy heels. A statement necklace and snake-print clutch complete her look.
2

Miranda Kerr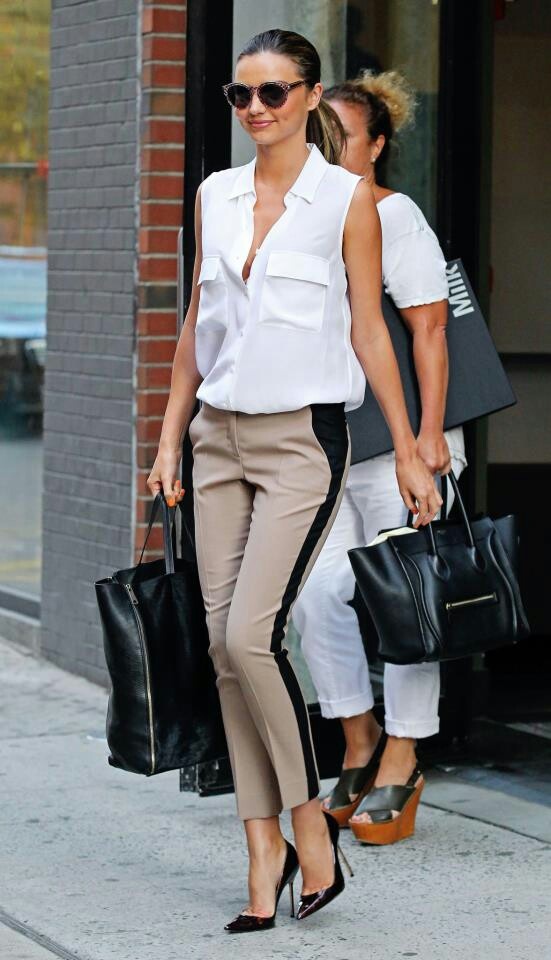 Model Miranda Kerr sure does know how put together off-duty outfits. She works a smart, polished look in a pair of taupe tuxedo stripe pants. She teams them with a sleeveless white blouse, pointy black heels, and a large black tote. This is a look you could easily transition into the office just by popping on a crisp blazer (and maybe by doing up a few more buttons on your blouse, too).
---
3

Olivia Palermo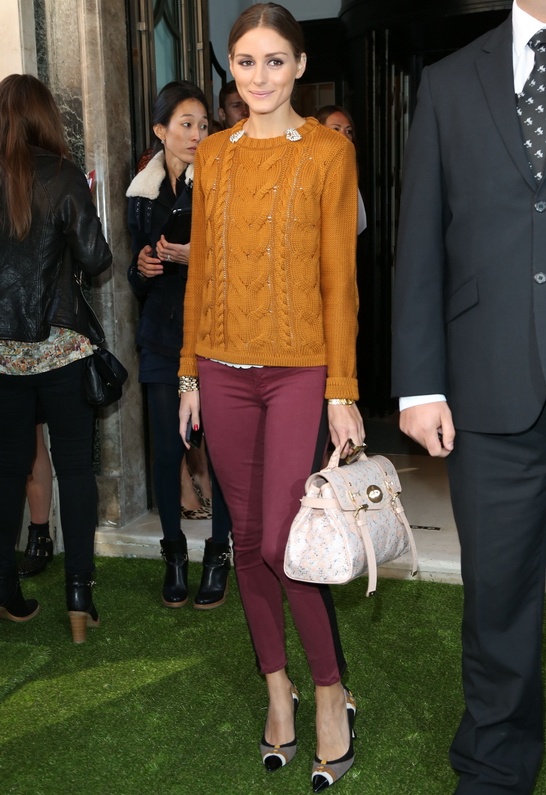 Olivia Palermo works an autumnal colour palette with this casual outfit. She teams a burnt orange cable knit sweater with maroon and black tuxedo stripe pants. She finishes off her look with colour-blocked heels and a neutral Mulberry satchel.
---
4

Cara Delevingne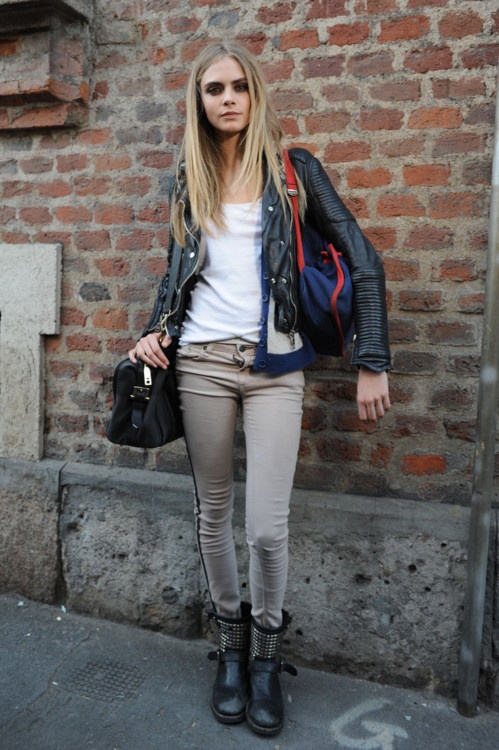 Model of the moment Cara Delevingne works a street-smart look in her tuxedo stripe jeans. The stripe is thinner than what we've seen so far, making these jeans a more subtle take on the trend. She wears them with a simple white tank top, black leather jacket, and studded biker boots. Her look is a youthful take on what's usually quite a grown-up trend.
---
5

Jessica Alba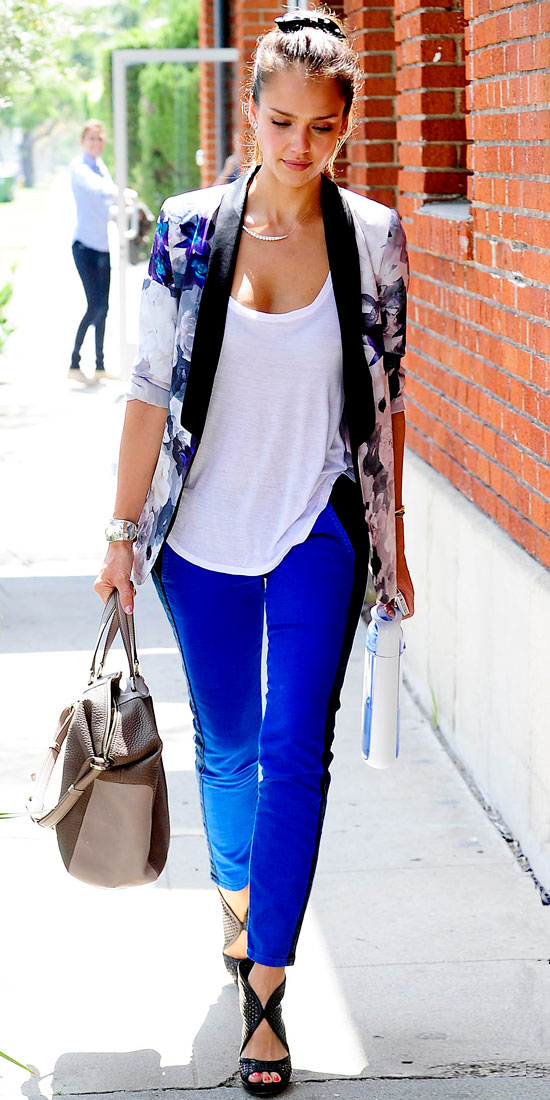 Jessica Alba works a more colourful look with her tuxedo stripe pants. While it's tricky to tell in this photo, her bright blue pants feature those trademark black tuxedo stripes down the sides. She wears them with a blue and white floral printed blazer, white singlet, and strappy black heels. A high ponytail keeps the entire look fresh.
---
6

Alessandra Ambrosio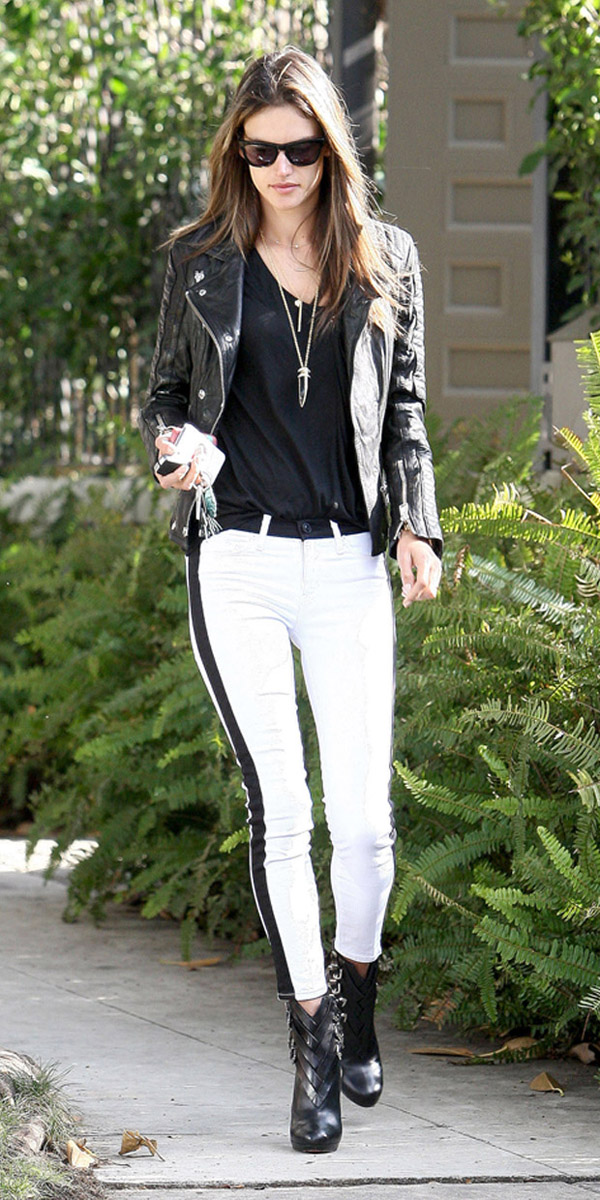 Alessandra Amrbosio does model-off-duty dressing to a tee in this black and white outfit. She wears her white tuxedo stripe pants with a slouchy t-shirt, black leather jacket, and black biker boots. She accessorises with some layered necklaces and oversized sunglasses.
---
7

Isla Fisher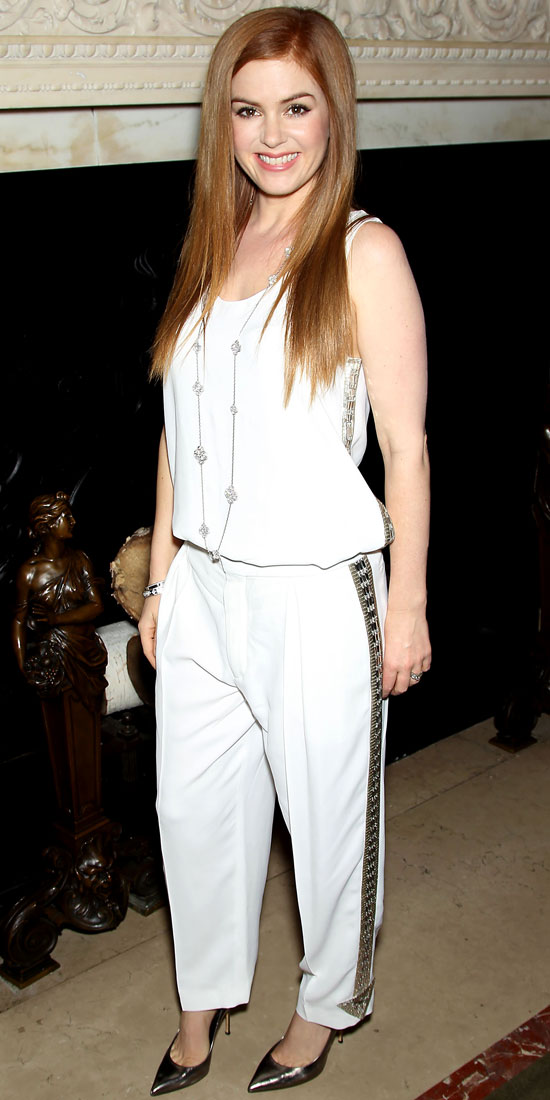 Isla Fisher goes for a different look in loose tuxedo pants. Her white pants feature embellished stripes down the sides, and she teams them with a matching singlet and metallic heels. She accessorises with a long necklace, assorted bangles, and rings.
---
8

Ellie Goulding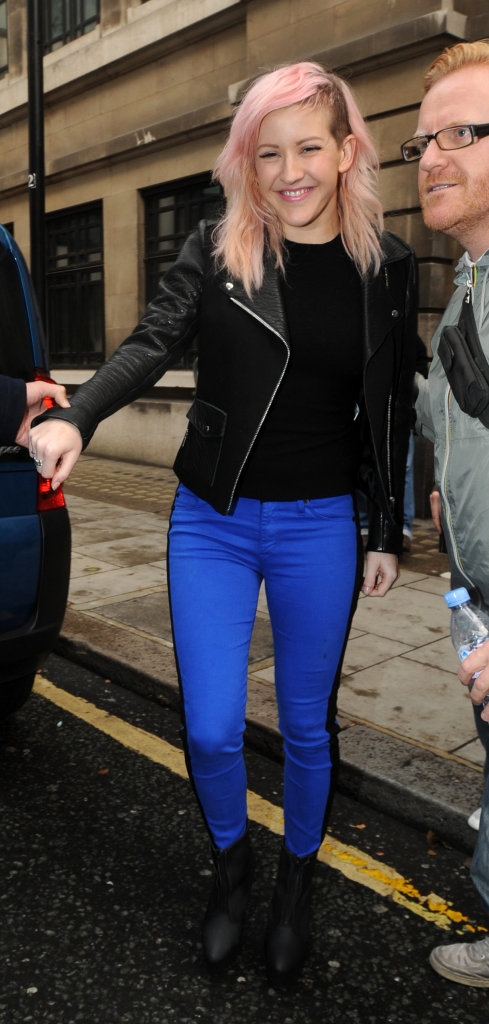 Ellie Goulding steps out in a pair of electric blue tuxedo stripe pants. Apart from the pastel pink hues in her hair, the rest of her look is anchored with black separates. The black leather jacket and ankle boots make this an outfit full of attitude.
---
9

Alicia Keys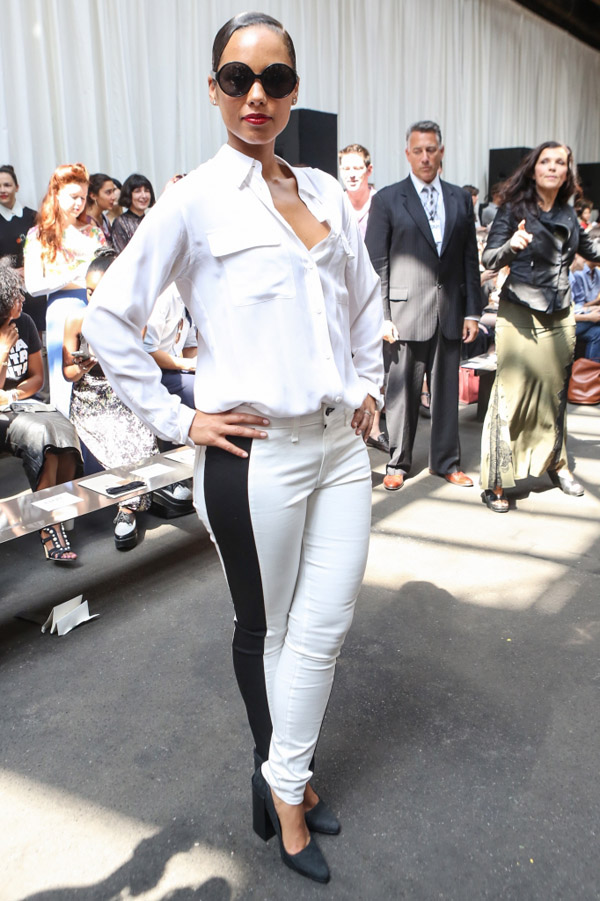 Alicia Keys works a monochrome look in her white and black tuxedo stripe pants. She pairs them with a silky white blouse, chunky heels, and round sunglasses. This is a sleek look that demands attention.
As you can see, the tuxedo stripe pant can be styled in all sorts of ways. Dress them down with a leather jacket and boots for a cool daytime look or dress them up with a silky blouse and heels. This trend also translates seamlessly for the office – just stick to pants in more tailored styles. Which of these celebrity looks do you like best?
---
Comments
Popular
Related
Recent