If you are a fan of edgy fashion then you have, no doubt, gazed upon many of Tilda Swinton's best looks. Tilda is a fantastic actress who manages to look great at nearly every event. Her style is edgy, structured, and modern. The looks are phenomenal and numerous! Below, I give you seven of Tilda Swinton's best looks.
---
1

2012 Golden Globes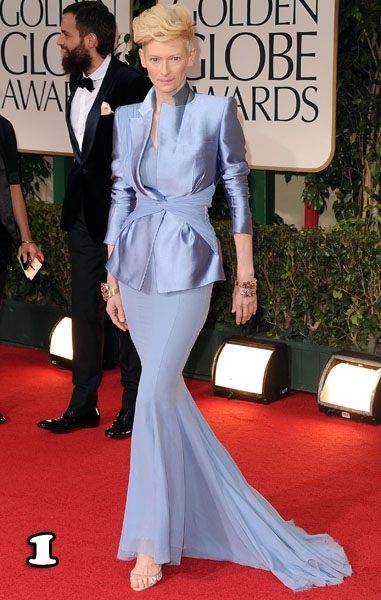 One of Tilda Swinton's best looks is the ice blue Haider Ackerman ensemble she wore to the 2012 Golden Globes awards ceremony. This gown is my favorite. She looks simply amazing. When she showed up on the red carpet wearing this, the look took my breath away. The color, dodgy collar, neutral shoes, and minimal accessories, wow! The hair is not her usual pompadour that I love, but this wavy version is phenomenal.
---
2

2013 Cannes Palais Des Festivals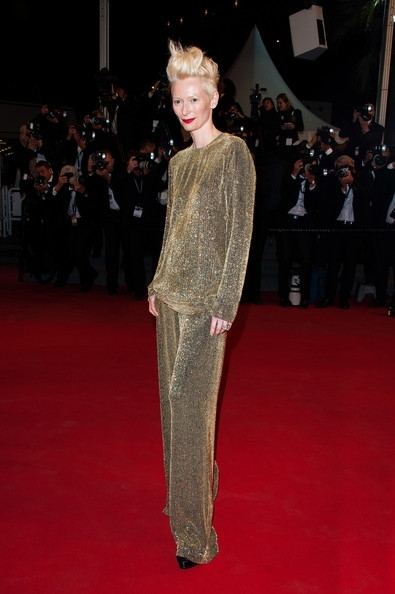 Tilda wore another Haider Ackerman creation on the red carpet at the 2013 Cannes Palais des Festivals. The color is great, the fabric is shimmery and elegant yet modern and structured. I love the super long trouser and beading detail. Her gravity-defying pompadour tops off this amazingly chic ensemble perfectly! This is a great example of how to use your hair as an accessory.
3

2013 Cannes Press Conference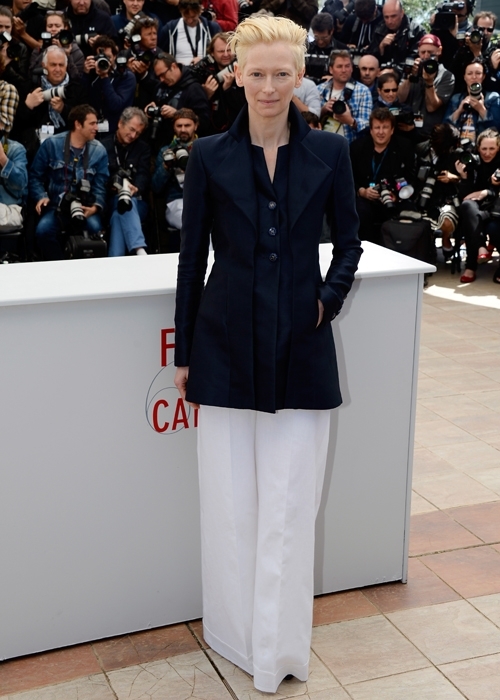 Okay, I admit that I am a tad partial to a modern, sleek, straight line, military style. The structured suit is Tilda's signature style and she is rockin' a Chanel number at the 2013 Cannes press conference. I'm totally droolin' over that jacket! The fabric is beautiful and the color totally compliments her skin tone. Her nude lip and minimal makeup point attention to the outfit. While this is a daytime press conference and the hair is tamed, so I do miss the nighttime pompadour!
---
4

65th Annual Cannes Festival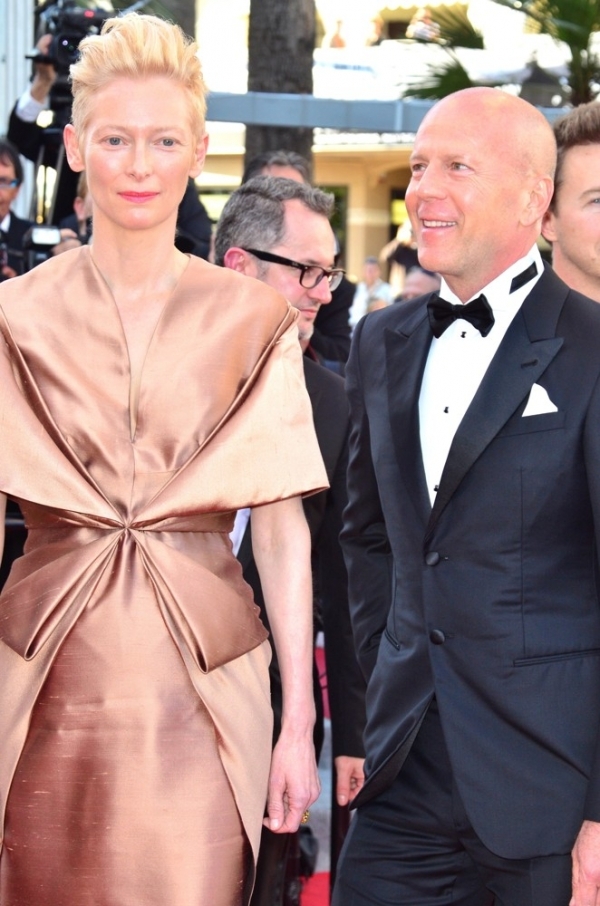 Tilda brings her fashion A-game to nearly every event, but in France she exudes a different, edgier look. At the 65th annual Cannes Festival Tilda wore another fantastic Haider Ackerman gown to the red carpet event. The length of this gown compliments her long frame. The cuts are interesting and intricate. Geometric shapes are everywhere! There is a test on angles in that photo, if you want one.
---
5

2009 Academy Awards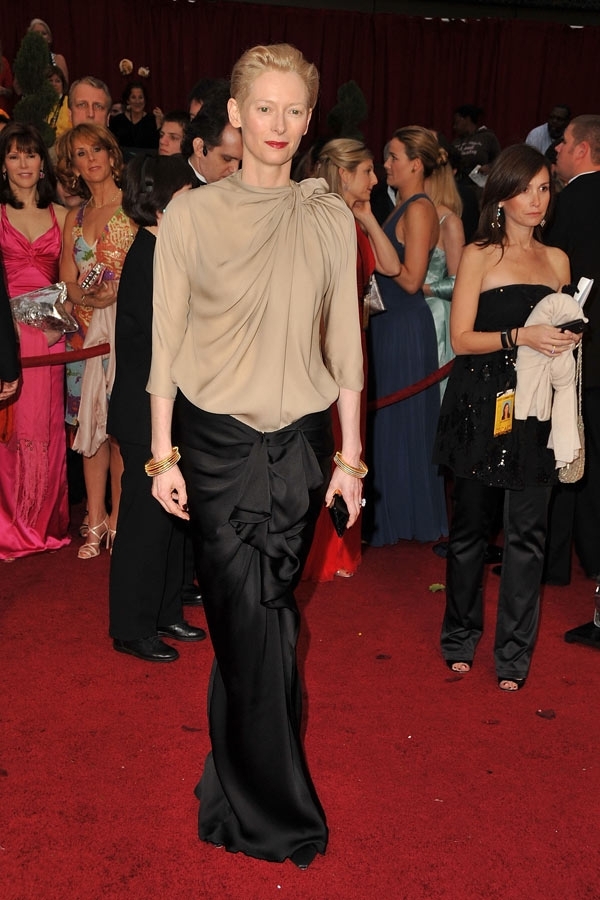 In 2009 Tilda wore an exquisite cream and black Lanvin gown to the Oscars. That Lanvin gown is two-toned perfection. I love the draping! The skirting is wonderful and the three-quarter length sleeves are lovely. I am a little disappointed that her usual evening pompadour is absent, though.
---
6

2011 Marie Claire Prix De La Moda Awards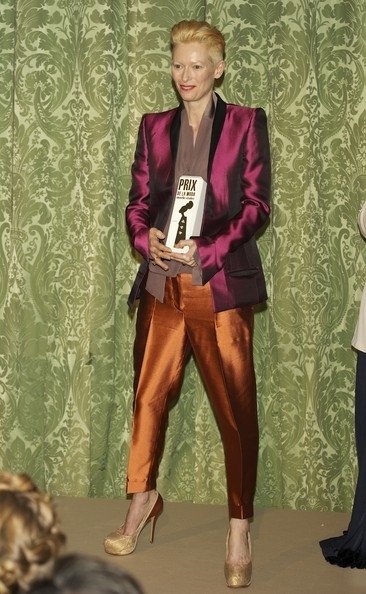 Tilda rarely sports vibrant tones in an outfit. So, when she wore a plum and orange Haider Ackerman combination to the 2011 Marie Claire Prix de la Moda awards, it was remarkable. This ensemble made my list because of the fantastic use of color! I love the cut, of course, but the lush fabric and earthy colors won my heart. Not to mention that her shoes are divine! If I wore sky-high heels, I would sport these with everything!
---
7

Victoria & Albert Museum in London, England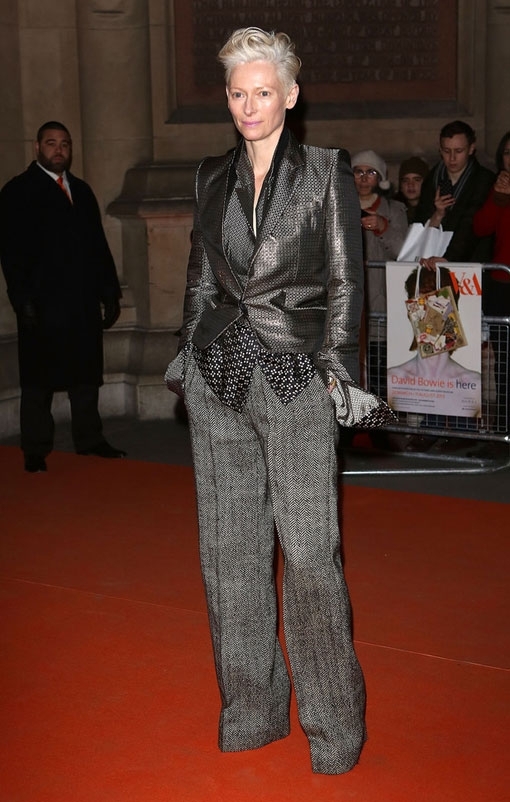 Every time I see Tilda in a tailored suit, I want one just like it! This neutral, layered Ackerman pantsuit is no exception. The extra long sleeves are great and I'm droolin', yet again, over that jacket! But, I have to ask, what is going on with the trousers? They are a little too wide. However, while I would love to see her in a stovepipe extra long leg this look is absolute Tilda. The pompadour is in effect and the nude makeup is given a wonderful twist with a pink lip. Fabulous, darling!
Tilda Swinton's style is fantastic! I think she is simply amazing! (I have a huge crush on her, by the way! *swoon*) While these are only seven of Tilda Swinton's best looks, the look she wears best of all is confidence! Do you have a favorite Tilda Swinton look? Please, share!
---
Comments
Popular
Related
Recent