9 Reasons to Love Anna Kendrick ...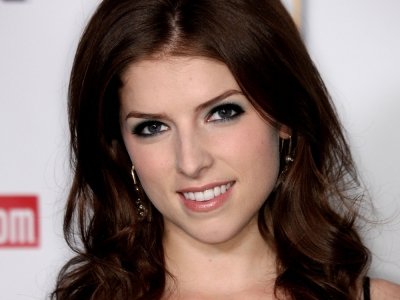 There are a million reasons to love Anna Kendrick – okay, maybe a little bit less than that but you catch my drift. Most of us fell in love with her after she sang and remixed her way into our hearts as Beca in Pitch Perfect. Yet there's so much to more to this 26 year old than her ability to make us fall in love with her by just being her awesome self. So without further ado, here are 9 reasons to love Anna Kendrick!
Like really, truly, this girl has an amazing set of pipes on her! She sang with Kristin Chenoweth – you know the singer, actress, theatre powerhouse who nearly sang circles around everyone on Glee? And she KILLED it. As if her musical talents aren't enough to add to the list of reasons to love Anna Kendrick, maybe the fact that she'll be back for Pitch Perfect 2 will change your mind. Beca, we can't wait to see what other amazing songs you're going to get stuck in our heads!
That's right, one song is one of the biggest reasons to love Anna Kendrick. Why? Because I was completely and totally mesmerized when she pulled this stunt out in the movie, so much so that I made it my ringtone. Then I saw her perform it on Letterman, then I realized she had a music video for this song and I was done. In fact I love it so much that my boyfriend and I learned the entire Cups routine on Thanksgiving, then got his entire family into it. It's addictive and quite easy to learn. Go try it!
How do I know this? Because I follow her on Twitter and her comments and Tweets make me giggle and laugh, instantly making me want to be best friends with her. Her humour definitely runs high on the list of reasons to love Anna Kendrick. Plus the fact that often times it's self-deprecating humour mixed with thoughts us regular folk have in our heads – such as drooling over Ryan Gosling in any movie he's in – makes her that much more relatable, and that much cooler in our eyes!
She's been in some of the best movies out there, and her resume truly reflects her range of talents. Let's take a look: Twilight, Up in the Air, Scott Pilgrim Vs. the World, 50/50, Drinking Buddies and of course, Pitch Perfect. One of the most legitimate reasons to love Anna Kendrick is simply due to her sheer talent. Oh, and she was nominated for an Oscar too.
5.

She's Totally down to Earth
She loves Ikea, prefers to stay at home and chill in her sweatpants, she considers bottles of liquor to be an acceptable care package, and thinks Corgis are the most adorable things ever. Do we see now why her awesome personality is one of the best reasons to love Anna Kendrick?
6.

Her Interviews Are Awesome
Another thing on the list of reasons to love Anna Kendrick is that her interviews are awesome. She was on Conan and revealed her love for Taco Bell and even did a little rap, and when she appeared on Letterman she blasted through the Cups song and proved to the world that she also had legs to die for. Anna, we love you!
7.

Her Funny or Die Video
She teamed up with the K-Pop ground F(x) to show us what it would be like if she were part of their band. Another item on the list of reasons to love Anna Kendrick has now been checked off. Go search for it now!
Yes, her being beautiful is one of the reasons to love Anna Kendrick. But the thing about her is that she seems to be both beautiful on the inside and the outside. I say this because anyone who is in her shoes and doesn't take herself too seriously has to be a pretty amazing person!
9.

Her Tweets Are Amazing
I realized that I wasn't the only person in the world who thought her Tweets were utterly awesome. In fact, the Internet is filled with lovely compilations of the best Tweets from this lovely lady! As if we needed more reasons to love Anna Kendrick, right? Going through her list of hilarious Tweets will make you instantly want to become best friends with her, or at the very least follow her on Twitter! You can see some here: huffingtonpost.com.
Really, I could probably go on for a long, long time because Miss Kendrick is clearly a new girl crush of mine! And it's so refreshing to have a Hollywood celebrity seem so down to earth and so cool at the same time. So tell me ladies, did I miss out on any other reasons to love Anna?
{{#comments_count}} Show Commnents ({{comments_count}}) {{/comments_count}}