Celebrity Men in Skirts are not something you get to see every day unless you're a famous kilt maker, a famous photographer who specializes in celebrities wearing kilts photo-shoots only or something like that. That, of course, doesn't mean you can't get your fair share of info regarding hot celebrity men in skirts and I mean it now, ladies! So check out this list of the hottest, the sexiest, the manliest celebrity men in skirts and you'll never think about a skirt as a girls-only item again!
Table of contents:
1

Vin Diesel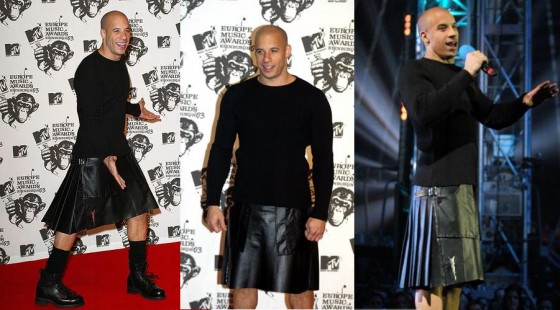 Men skirts are the newest trend but Vin has every right to just smile and say, "been there- done that" as he totally rocked the skirt waaay back in 2003! His fellow celebrities, numerous members of the press and pretty much everybody who attended or tuned in for the MTV awards in Edinburgh got to see exactly how well a leather skirt goes with boots and, girls, let me just say that was one bold public appearance! The "leather skirt" I'm talking about was actually a modern kilt and since Vin has some Scottish blood running through his veins, you can rest assured this isn't the only one he owns!
2

Brad Pitt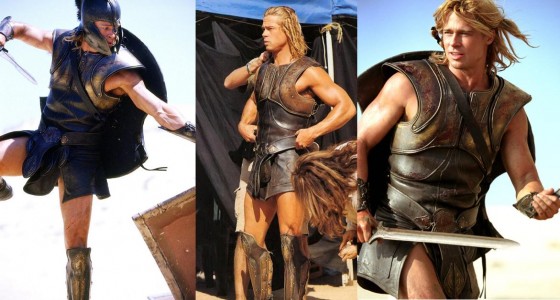 Brad might not be famous for his public skirt wearing appearances but, if you've seen the movie Troy (and I'm sure you did), then you certainly understand what's he doing on my list of celebrity men in a skirt! The costume Brad wore wasn't really a skirt but it sure resembled one plus it gave us all a chance to verify that Brad's workout involves a whole lot of squats and running.
3

Marc Jacobs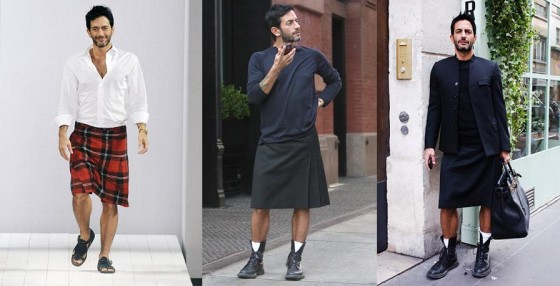 Marc Jacobs is probably the only guy on this planet who can pull of a skirt and a Birkin bag better than any female celebrity and I'm not just saying that because he's one of my favorite designers. And, unlike most skirted male celebrities, he doesn't wear this garment because of his heritage or as a costume, he wears it because skirts are comfy and make him feel happy. Yes, ladies and gents, these are his words and I really have nothing to add except that he looks great!
4

Ewan McGregor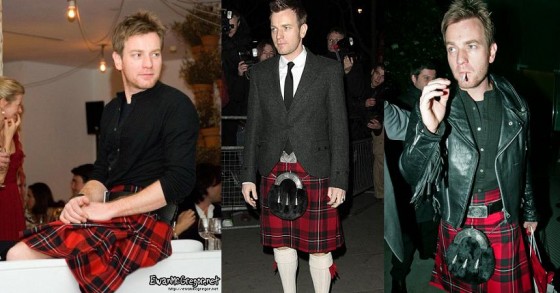 This handsome Scotsman has no problem with showing off his calves in a kilt and I certainly approve of that. Now, I know a kilt is technically not a skirt but since it's not exactly close to pants either, I believe Evan is more than qualified to be listed as one of the hottest celebrity men in skirts. Now, what do you think about this kilt wearing hottie, ladies?
5

Thom Evans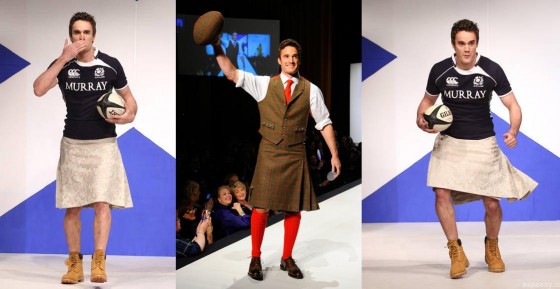 Well. I must give it to Kelly Brook– she certainly has a great taste in men and since Thom's rugby career is over, he definitely should consider modeling. Oh, wait, he did some modeling and from what I've seen it had nothing to do with clothes. But let's get back to celebrity men in skirts, Thom, of course, being one of them, which he proved by showing off his legs in a kilt at the popular, Dress to Kilt fashion show.
6

Marcus Schenkenberg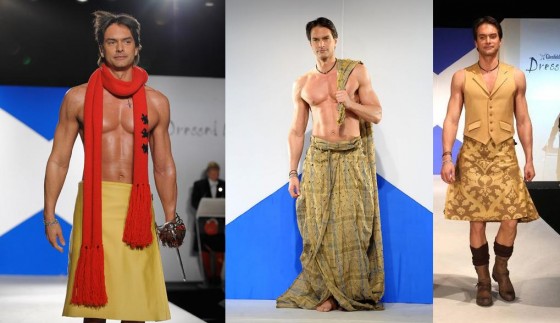 Celebrity men in skirts are hard to miss at the annual Dress to Kilt runway show which, of course, leads me to my hot number 6 - Marcus Schenkenberg, a Swedish supermodel who proudly walked up and down the runway wearing something that was neither a kilt nor a sarong. Now, you might think that was strange but with that sixpack, I bet Marcus would look manly even in a pink tutu!
7

Mel Gibson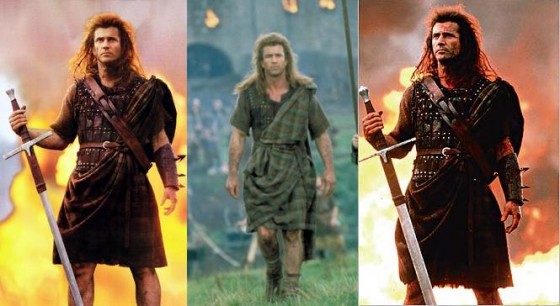 Some might have something to say about his bad language, others might bring up the issue of his religious beliefs but I bet you'll all agree that he looked great in Braveheart! Maybe not as great as Brad looked in Troy but still – a very sexy man in traditional attire that… oh… guess what? – looks nothing like pants! Rent a movie and check it out yourself if you don't believe me and then raid the comment board as I'm really anxious to hear what you think about Mel and his legs, of course.
8

Russell Crowe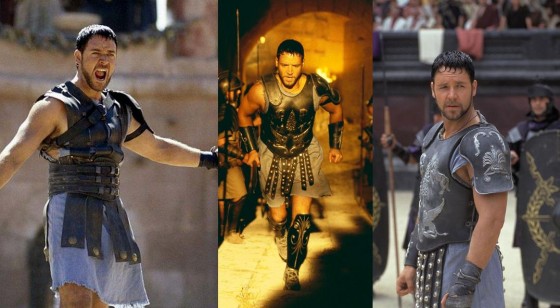 Speaking about celebrity men in skirts, don't tell me you haven't watched Gladiator! Oh, you did! Then you certainly know just how well Russell Crowe handled this role! The Gladiator costume, or a skirt, if you prefer, has made a lot of women all across the world say, "Oh!" and, quite honestly, It kind of made me wish men would still dress that way.
Aren't these celebrity men in skirts absolutely gorgeous? After all, you got to love a man who isn't afraid to stand out and is masculine enough to pull off just any type of clothes. A skirt sure is one comfy piece of clothes and, with so many celebrity men in skirts today, I bet it's only the matter of time until regular guys decide to give it a shot, too!
Top Photo Credit: mugley
Please rate this article