Whether or not you like her music, one thing's for sure: Taylor's got style. She's constantly taking fashion risks but always manages to stay true to her girly/preppy side! We've rounded up forty of Taylor's best street style looks - ones that we would LOVE to recreate!
---
1

Winter Ready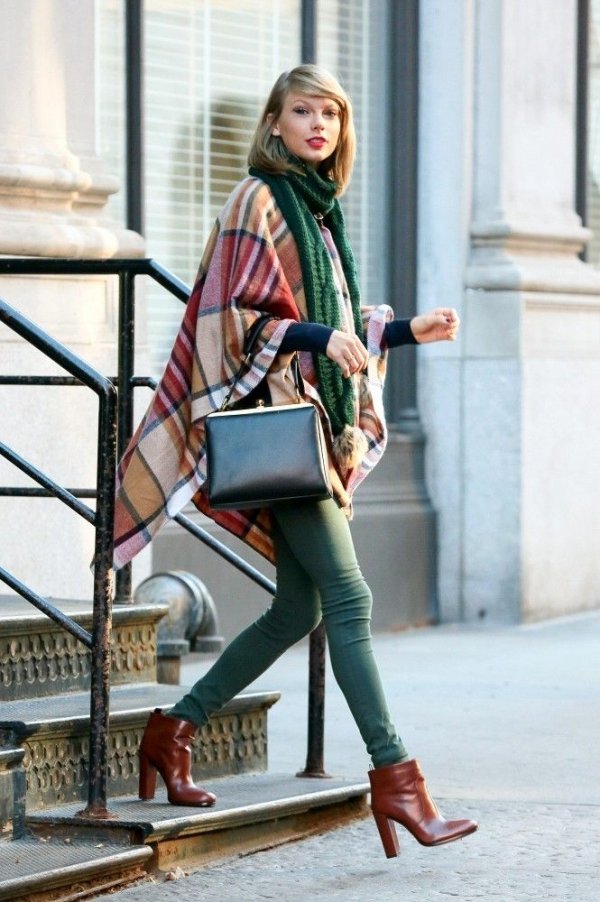 With the weather in NYC being so cold, Taylor keeps warm in a poncho and scarf!
---
2

Green with a Side of Pink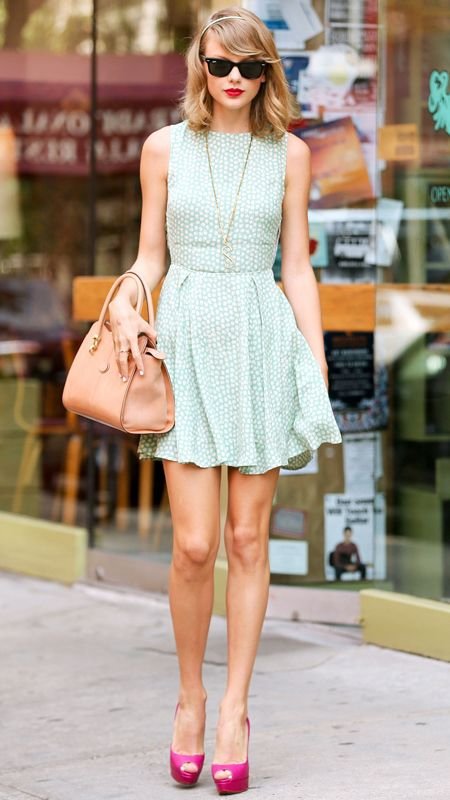 I love how she paired her green mini with a tan purse but my favorite part of the outfit has to be those hot pink heels!
---
3

Denim and Leggings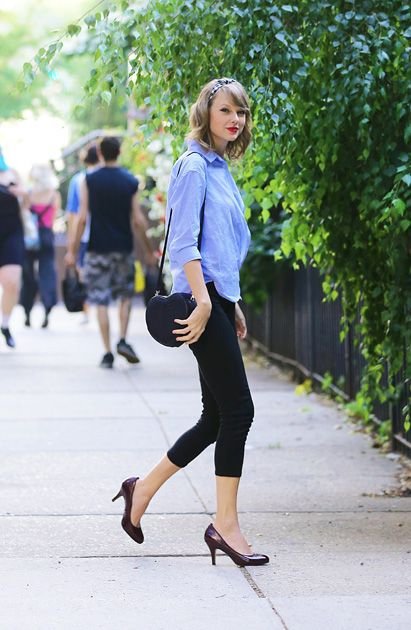 Taylor looks super relaxed and stylish in some leggings and a chambray button down! The heart-shaped cross body bag is the best addition.
---
4

Floral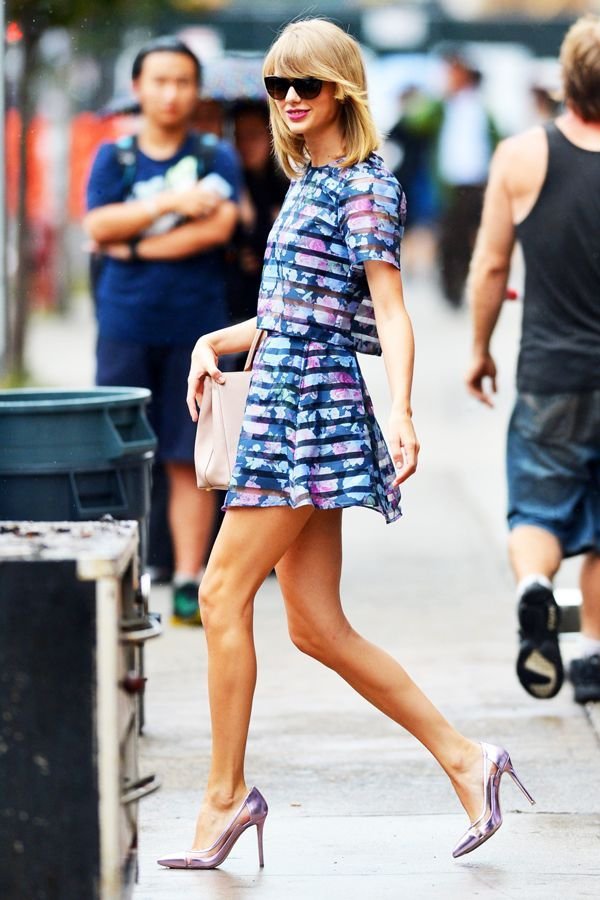 This floral/sheer outfit is awesome - pink and blue go great together!
---
5

Floral Two Piece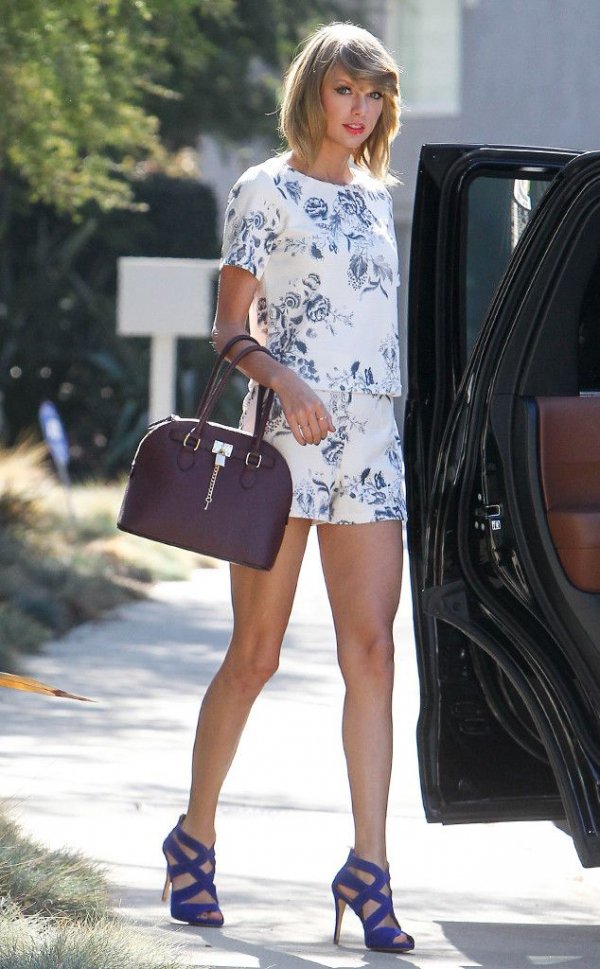 I'm obsessed with this outfit! The colors and floral patterns are great. I love the matching shirt and shorts!
---
6

Floral Blue Mini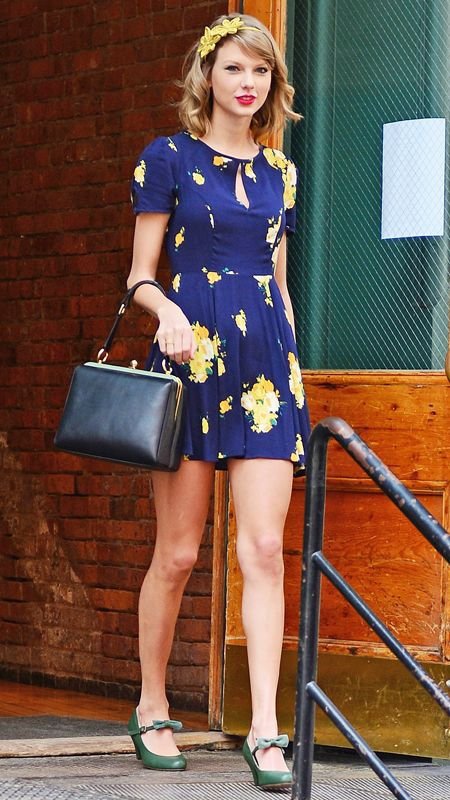 Here's another floral look! This outfit makes me want/need a dress just like it!
---
7

Pop of Color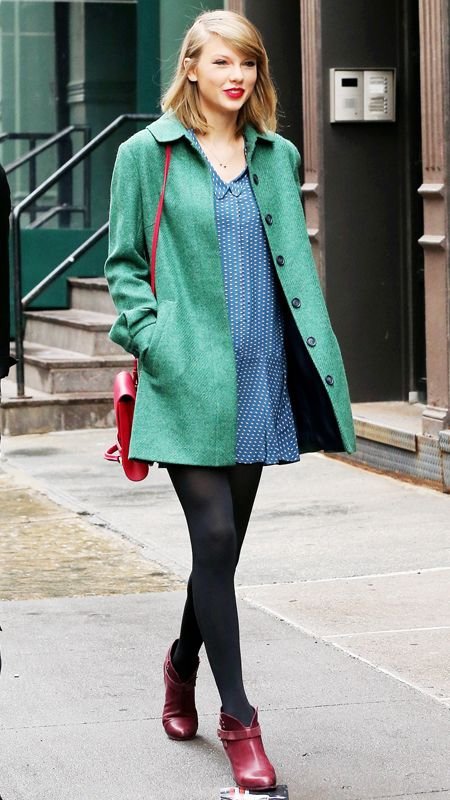 I love that Taylor's not afraid of mixing different colors together! The red, black, burgundy, blue and green look wonderful in this outfit.
---
8

Prepster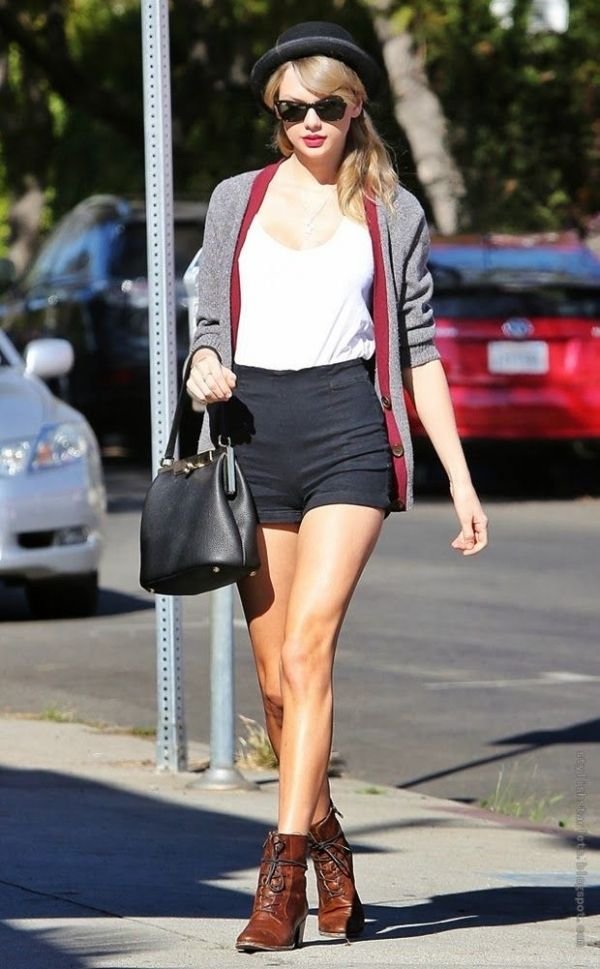 Taylor's always had a preppy wardrobe! I love the cardigan and hat.
---
9

Floral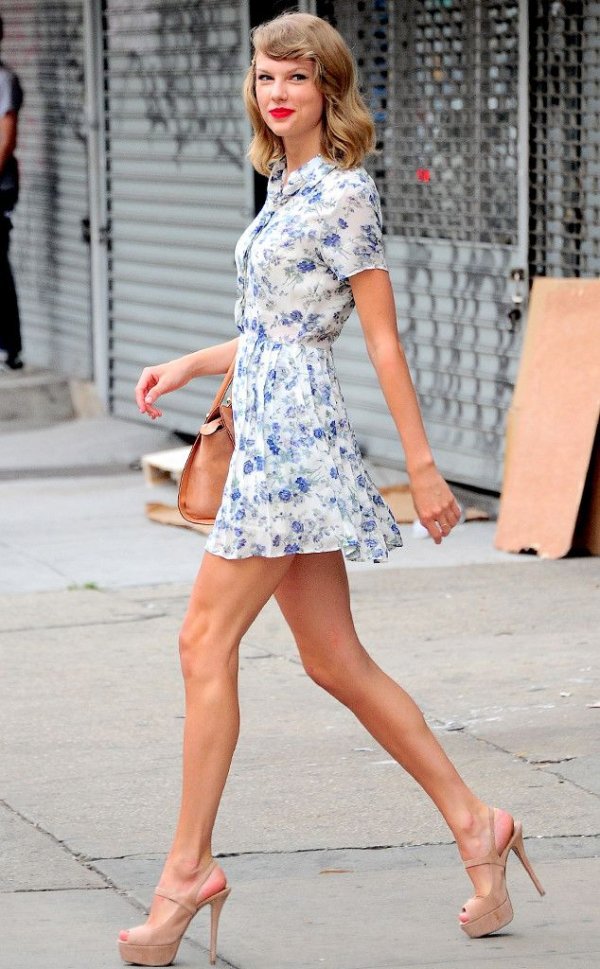 Anyone noticing a floral trend? This mini is perfect for walking around the city in the warm weather!
---
10

Girly with Edge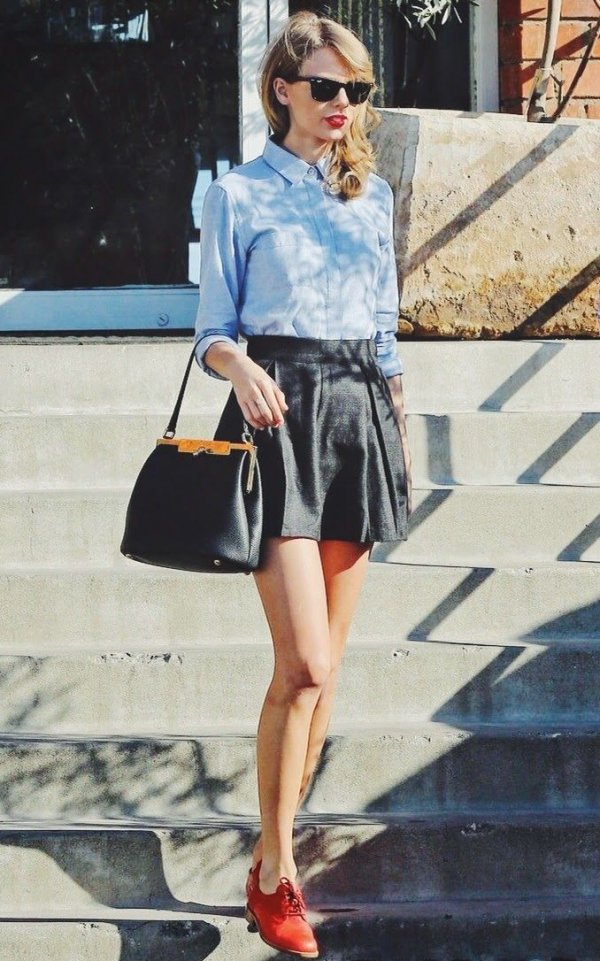 An easy way to add some edge to your girly outfit is to add a leather skirt or some big shades!
---
11

Black on Black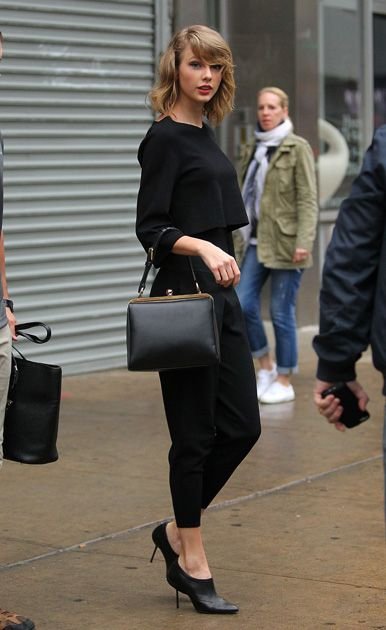 All-black ensembles are my favorite because they're so timeless and will always look good! I mean, just look at how good Taylor looks!
---
12

Casually Layered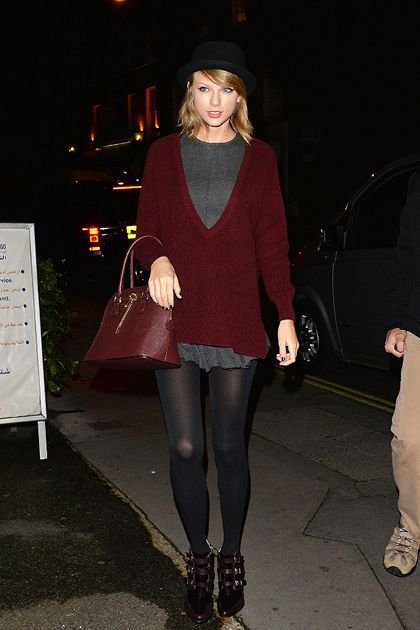 Taylor looks great with a v neck sweater layered over a grey dress!
---
13

Shirt/dress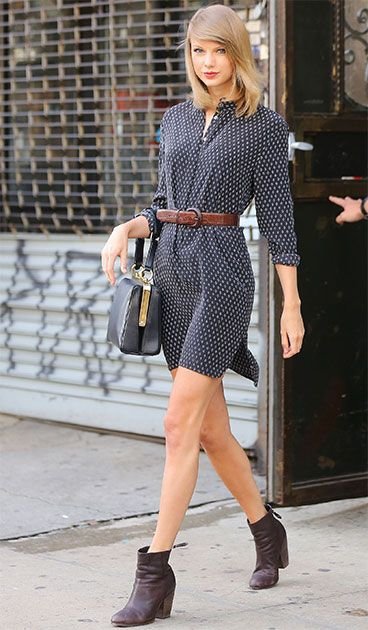 Get an oversized shirt dress, belt it, and BAM. You can recreate the look!
---
14

Pretty in Pink
Must I even explain? This pale pink combo is super girly and chic.
---
15

Stripes and Denim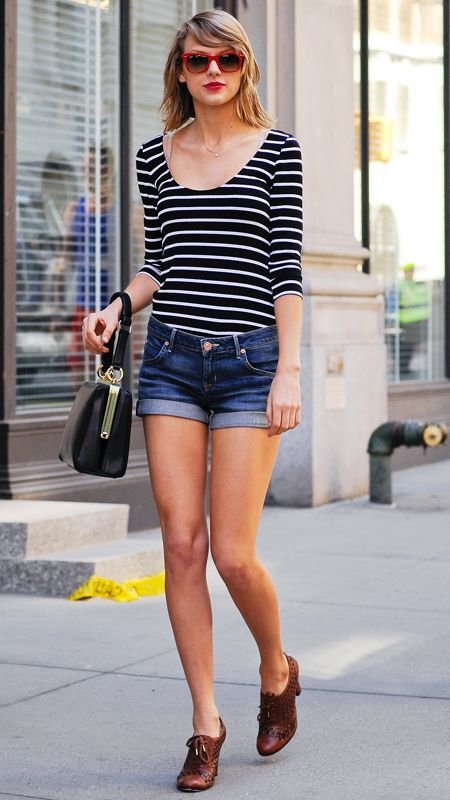 Stripes and denim always pair so well together!
---
16

Trendy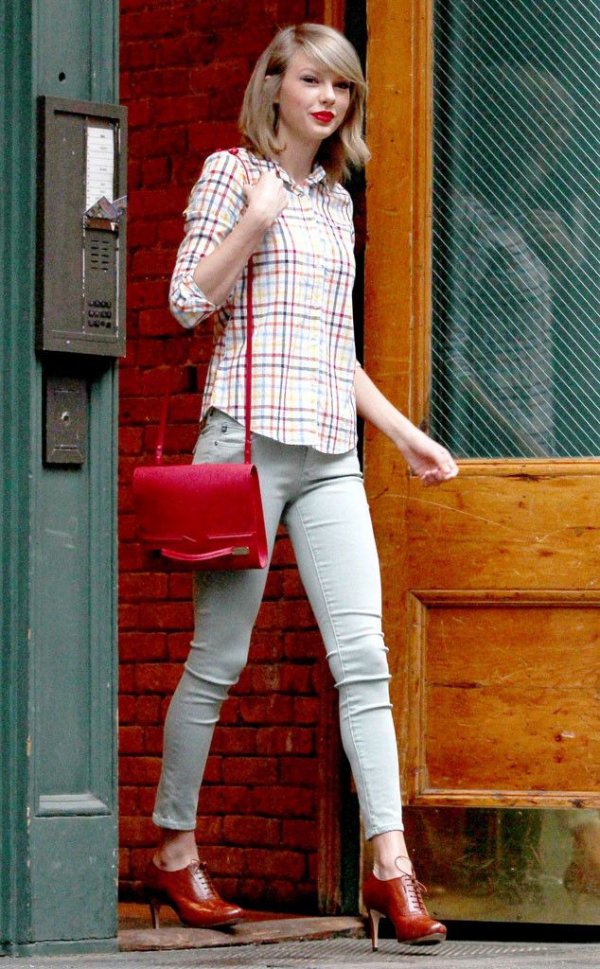 Plaid shirt, skinny jeans, and red heels = great outfit!
---
17

Lace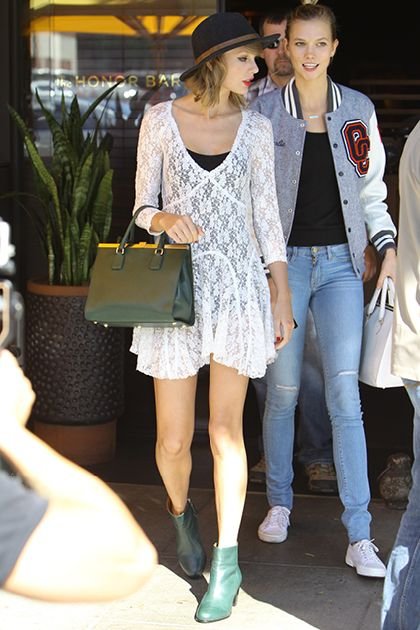 You can never go wrong with lace, right ladies? Throw it over something and add some color to your outfit with your shoes!
---
18

Polka-dot Two Piece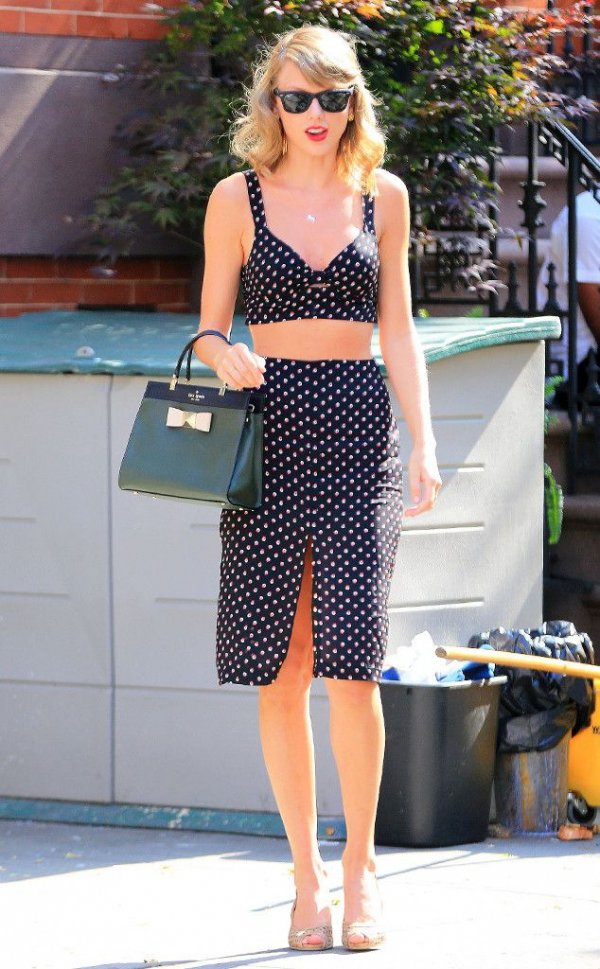 Although Taylor loves mixing prints, matching them is always cute and stylish. This polka-dot two piece is adorable!
---
19

Chambray Dress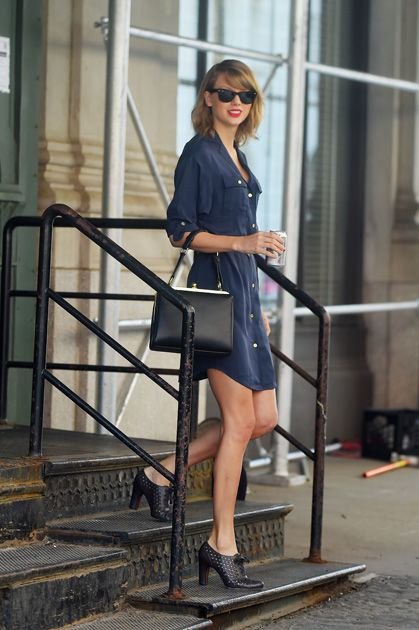 To recreate this look, try an oversized chambray shirt/dress and pair it with some cute heels/wedges!
---
20

Preppy on the Go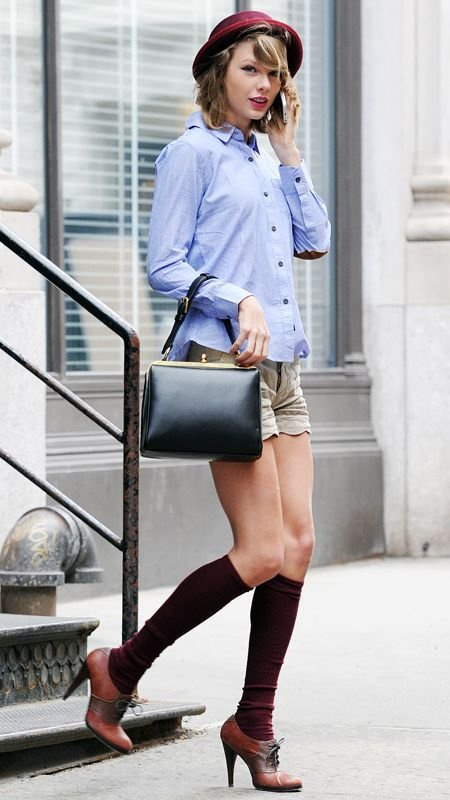 This looks like an outfit out of Gossip Girl!
---
21

Business Casual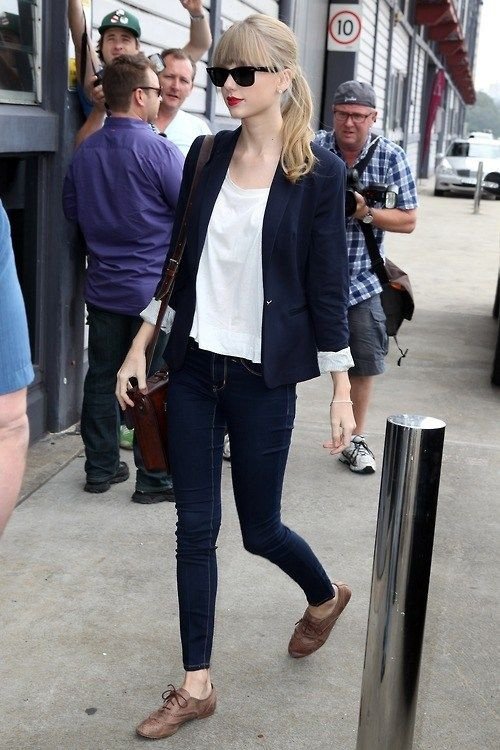 Adding a blazer over a simple tee + jeans combo is the perfect way to add some sophistication.
---
22

Rainy Day Attire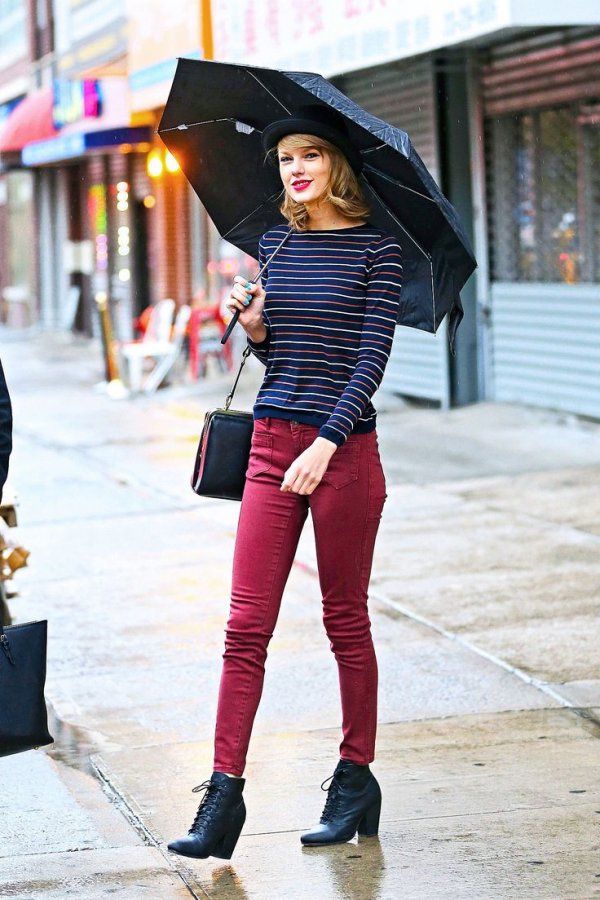 When it's raining out, all you want is to look and feel cozy. This outfit shows comfort and style!
---
23

Little Black Dress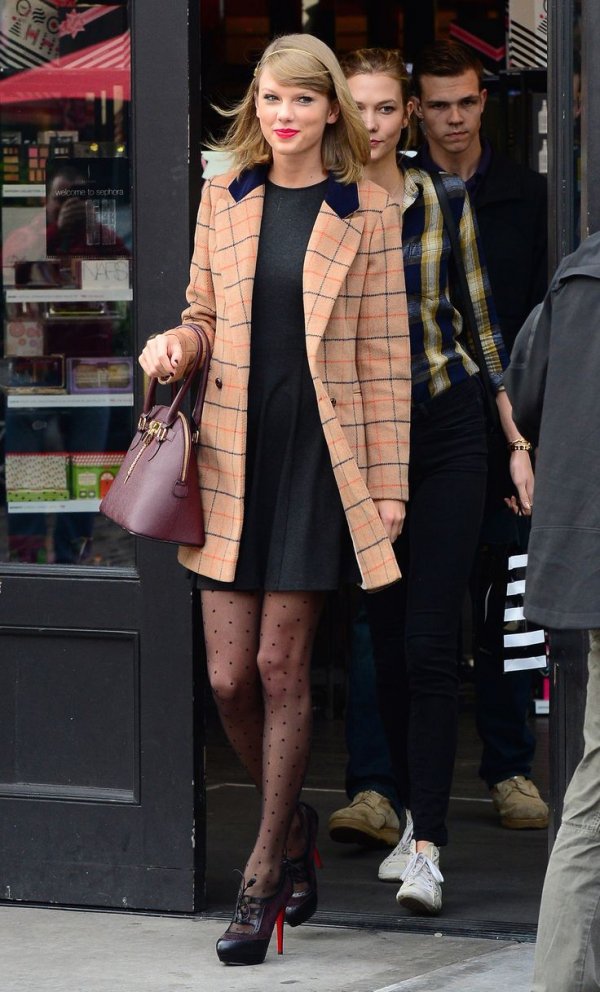 Taylor put a twist on the classic little black dress and added some polka-dot stockings, oxford heels and a plaid jacket!
---
24

Retro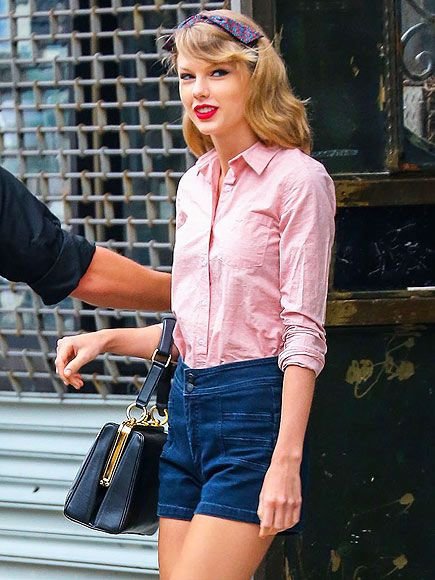 How does she manage to look so fab?!
---
25

Retro Cool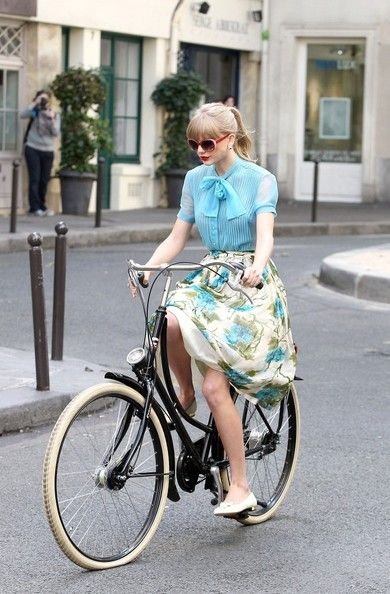 Here's another retro take. You would think this is for a photoshoot but nope, this is just Taylor's awesome wardrobe. I love the retro vibe!
---
26

Pastels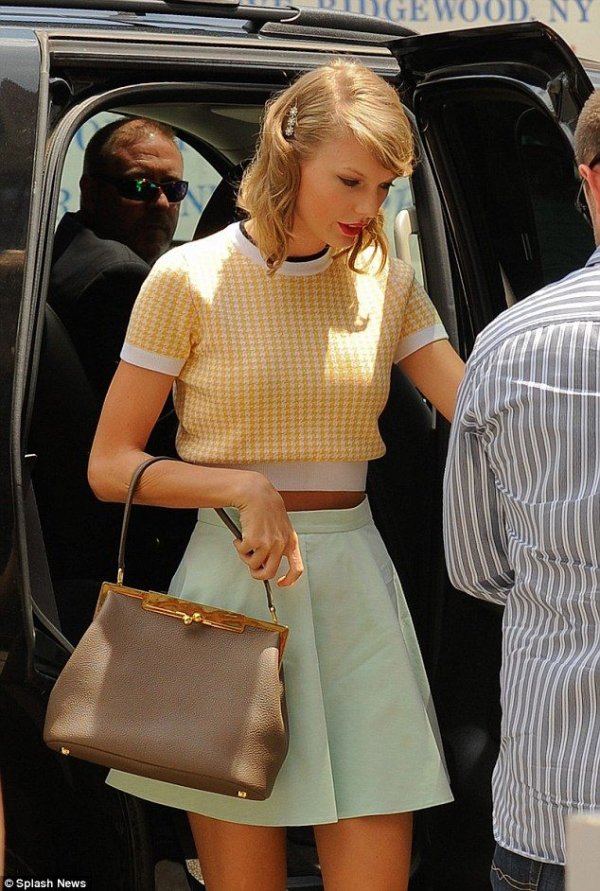 I've always been such a fan of pairing yellow and turquoise together!
---
27

Floral Romper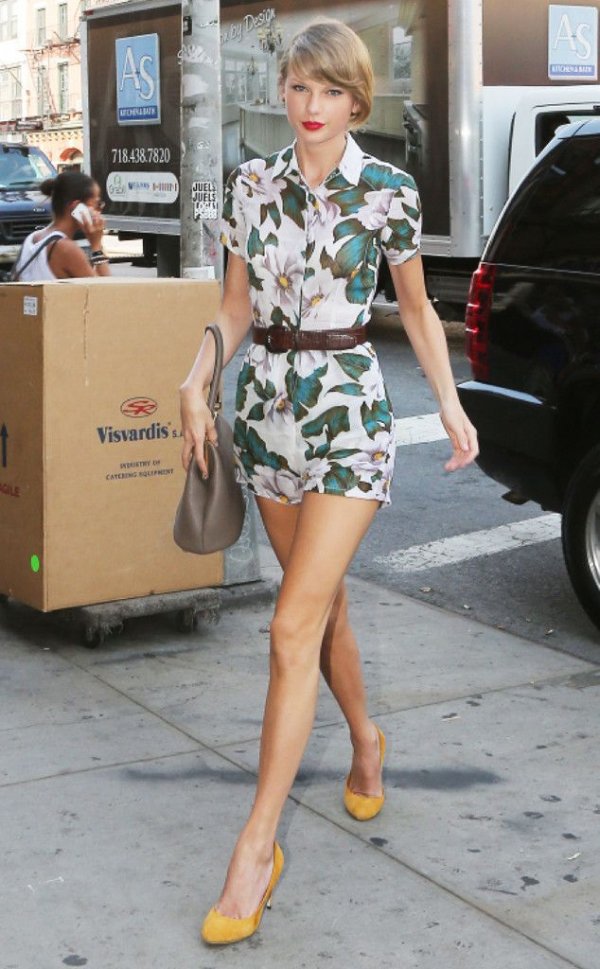 I'm obsessed with all things floral which leads me to being obsessed with A LOT of Taylor's outfits. This romper is gorgeous and the added belt is such a cute accent!
---
28

Concert Graphic Tee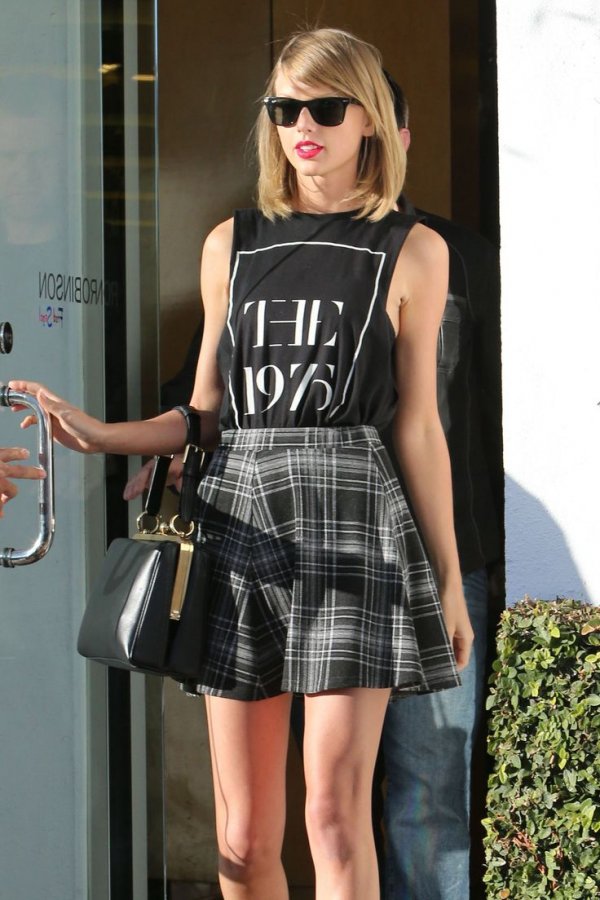 Must I even explain why this outfit made the list? What's cooler than The 1975 tees?
---
29

Preppy Chic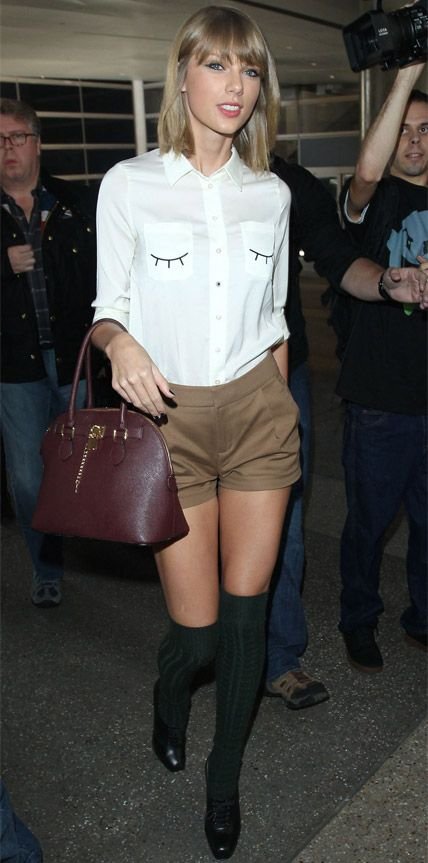 Taylor's the queen of preppy chic! This outfit has all the preppy must-haves: collared shirt, knee-high socks, and tailored shorts.
---
30

Stars on Stars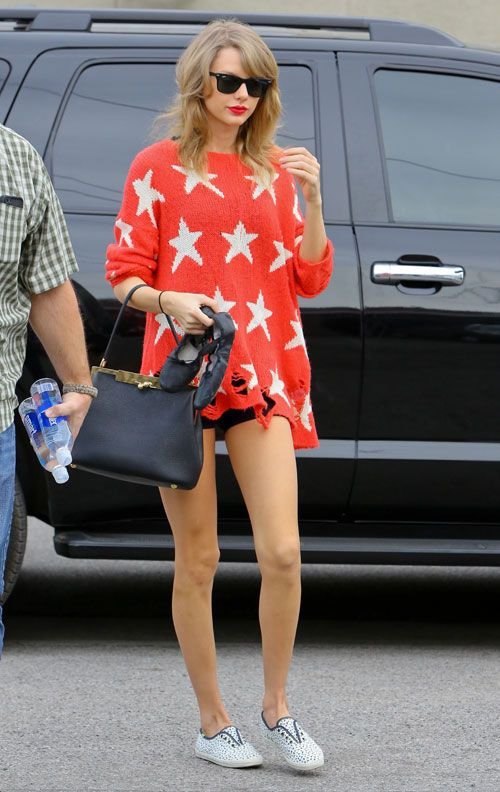 This is the perfect outfit to go run errands in or just take a stroll around the city with your friends.
---
31

Mesh + Floral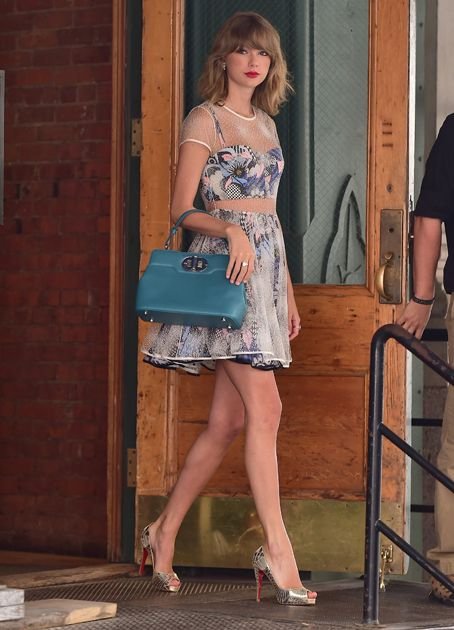 The matching floral set would already have been cute on its own but with the mesh over it, Taylor added some edge!
---
32

Polka-dots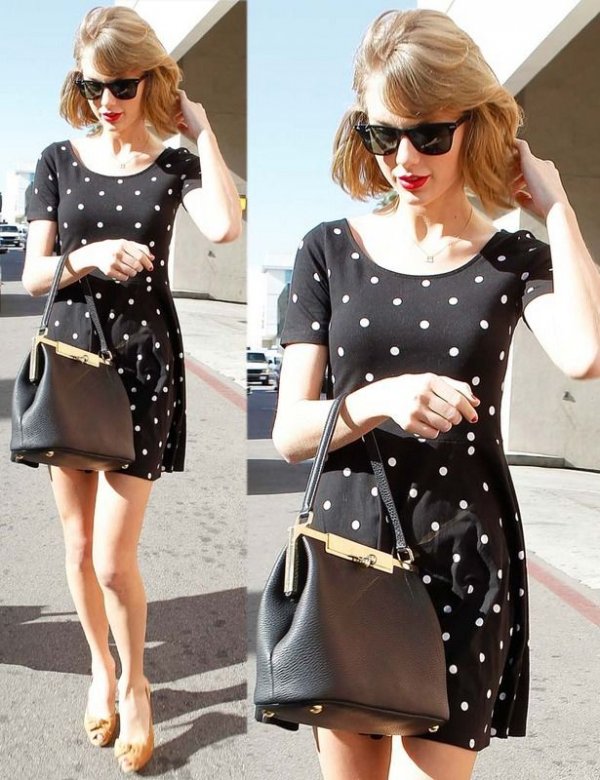 Polka-dots are such a fun pattern to wear! In this case, it spruced up an all-black ensemble!
---
33

Casually Cool
Here, she kept things cozy, casual, and cute! Trifecta.
---
34

Preppy in Plaid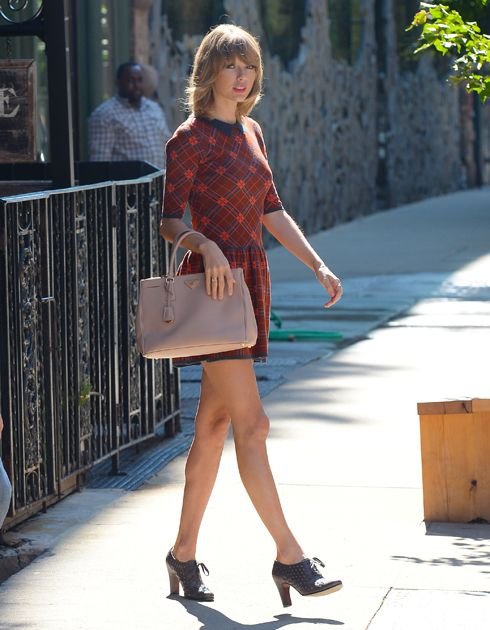 A plaid dress paired with some oxford heels looks perfect!
---
35

Pastels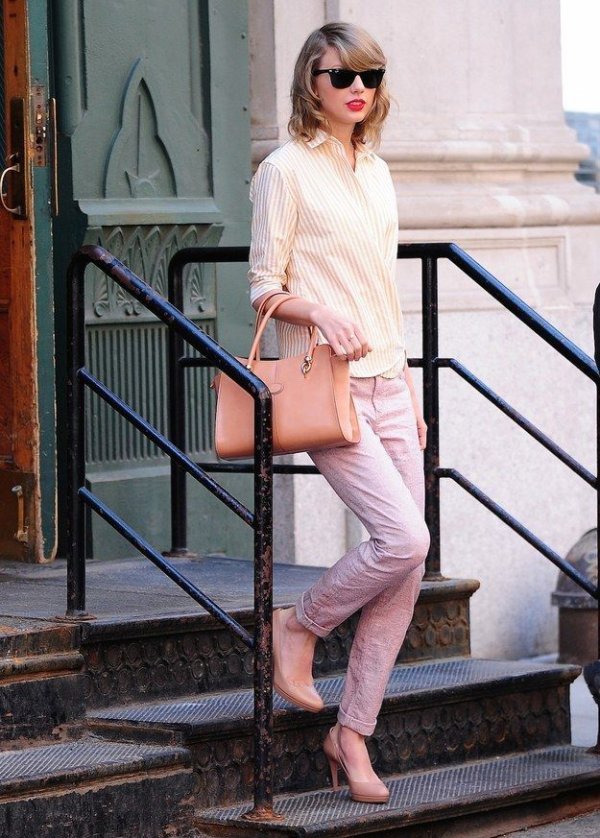 If she isn't wearing colorful prints, Taylor's usually wearing light pastels like these!
---
36

Grey Set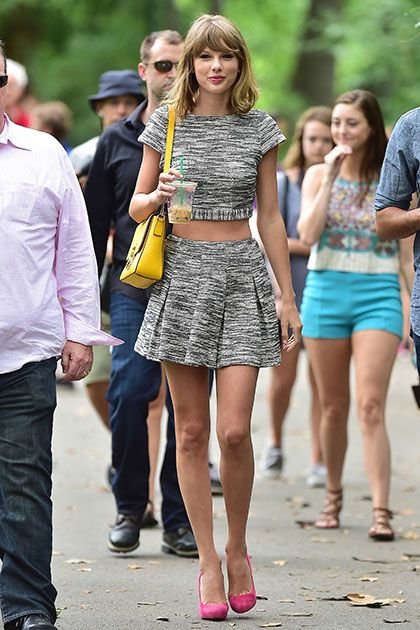 While strolling around Central Park in NYC, Taylor wore a matching grey set and added a pop of color with yellow purse and pink heels!
---
37

Menswear-inspired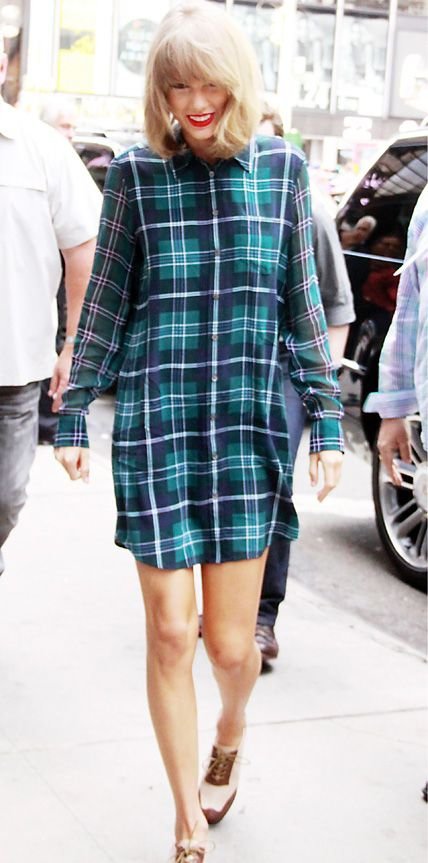 Taylor put a twist on a classic menswear look: She paired an oversized plaid shirt with some oxford flats and red lips!
---
38

Varsity Cool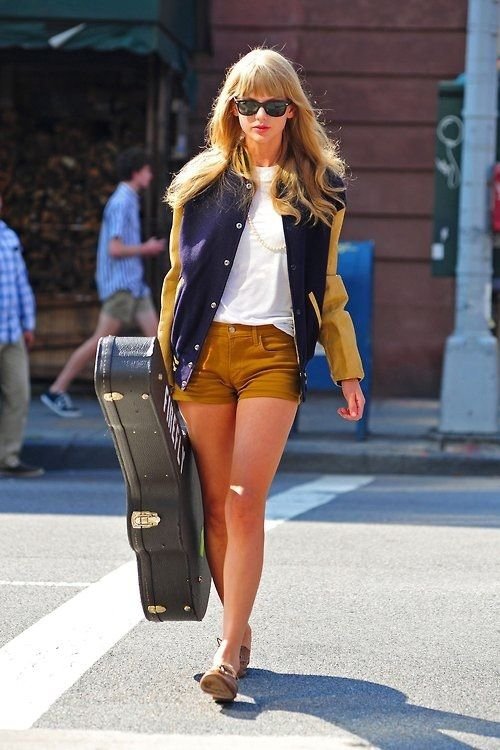 She looks like she's stepping right out of a movie set! The varsity jacket adds an instant cool vibe and the guitar in hand totally completes the look.
---
39

Purple and Blue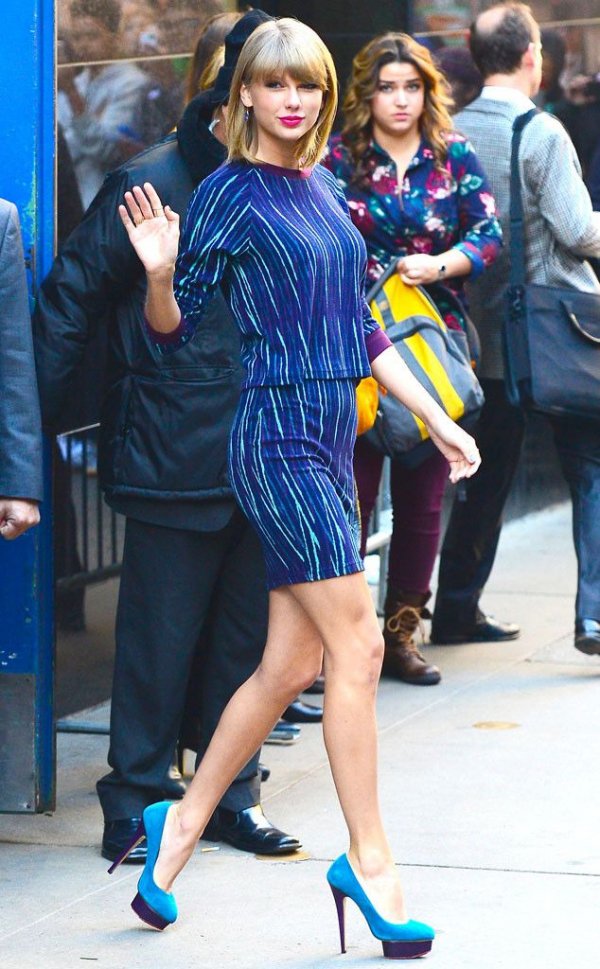 Taylor wore purple and blue from head to toe during a promo stop and looked gorgeous! Would you wear this?
---
40

Breezy Beauty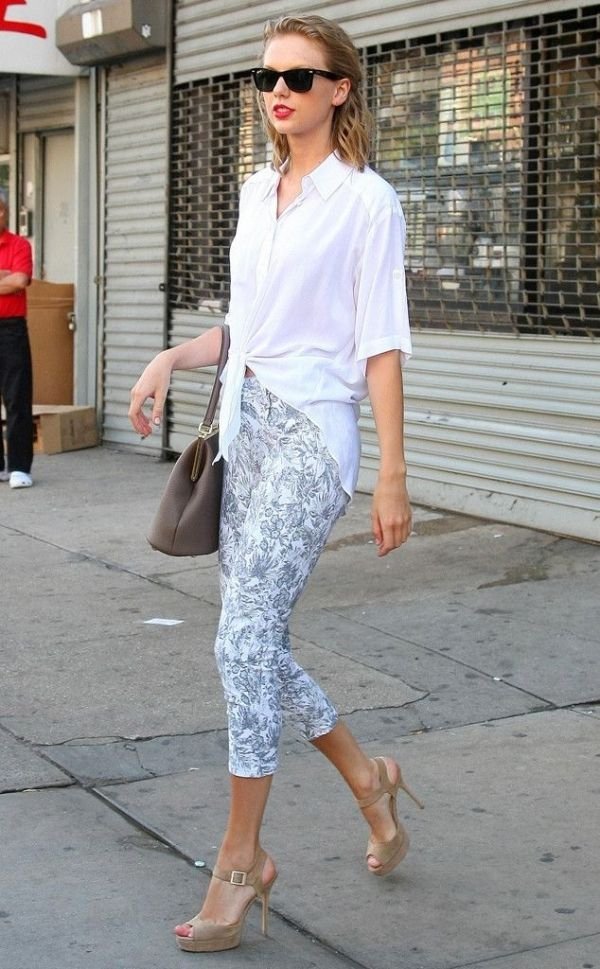 Taylor looks effortlessly cool in this outfit! A breezy white blouse paired with white patterned pants is all it takes. I love the bold red lip - it really takes the outfit to the next level!
Of the list, which look was your favorite? Share your thoughts in the comments!
More
Comments
Popular
Recent