There are so many awesome street style looks from Ashley Olsen that would be perfect to recreate this summer. It's no surprise that Ashley's become a fashion/style icon. She always looks amazing, even on her most casual of days. Check out some of my absolute favorite street style looks from Ashley Olsen and then let me know which ones you'll be recreating! If you have any style tips or ideas, be sure to leave them in a comment.
1

Leather Statement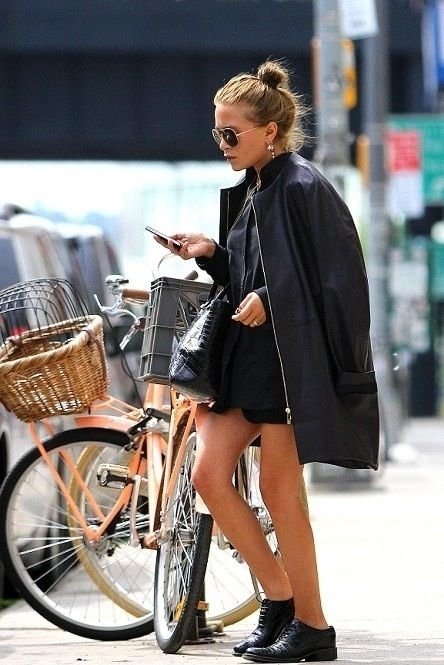 Leather is definitely a statement piece and a must-have item in every girl's closet. I think it's a great addition to any outfit and will leave you looking effortlessly cool. You don't have to drape yourself in leather - just have one piece, the focal point of your outfit. You can choose between a leather jacket, skirt, or leggings! This is just one of the cool street style looks from Ashley Olsen.
2

Casual Chic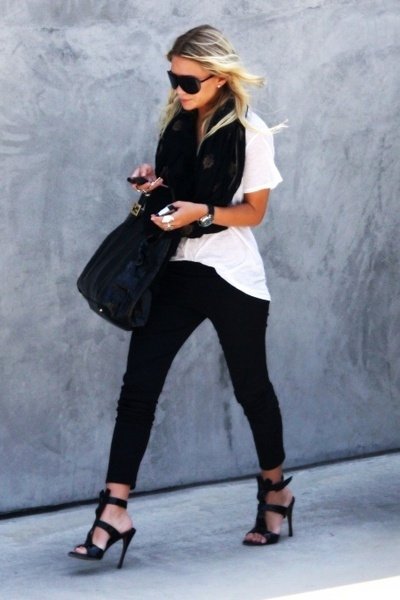 If you're looking for a outfit to run errands in, meet up with your gal pals for lunch in, or anything else, this is it. Simply pair a flowy white tee with some black skinnies! For shoes, wear some strappy heels. That's what'll make this outfit chic and stylish.
3

Grunge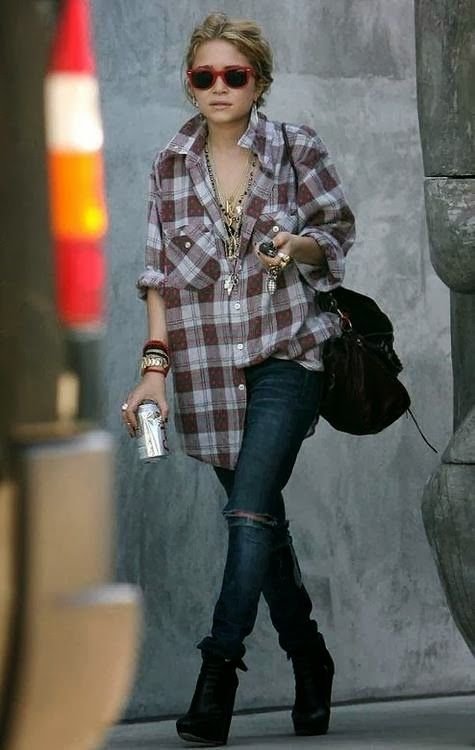 I love that Ashley's style is constantly changing. She wears whatever she feels like wearing and that's awesome. For a grunge or a rocker-chic look, recreate this! Rock some ripped or distressed skinny jeans with an oversized plaid button-up. For shoes, I'd go with combat boots. I really like the idea of adding a bunch of necklaces and bracelets, because that adds a bohemian vibe to your already edgy look.
4

Harem Pants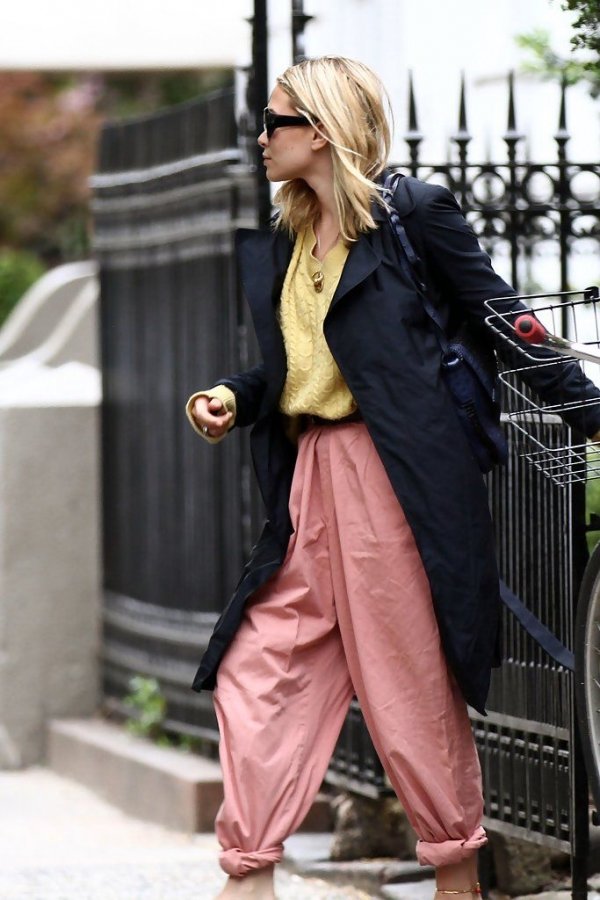 I personally don't think I can pull off harem pants but that doesn't stop me from being obsessed with them! I think it's such a statement piece and the outfit possibilities are endless. Since it's summertime, feel free to swap the long sleeved sweater and coat in this look for a basic white tee. If you keep the shirt really simple, you can accessorize with other colors!
5

Denim + Maxi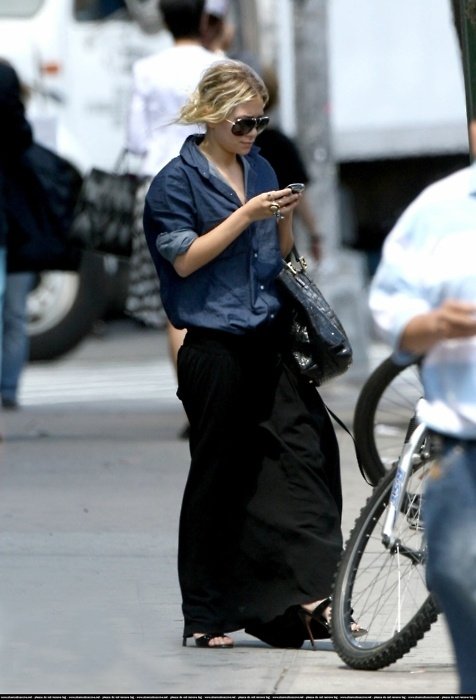 There's nothing more classic than a cute top with a maxi skirt. This is such a bohemian look and you can pull it off for any occasion, depending on what you wear with it! Keep it cool with a denim button-down like Ashley's, or get a little dressy with a cute tank and a cropped denim jacket.
6

Business Chic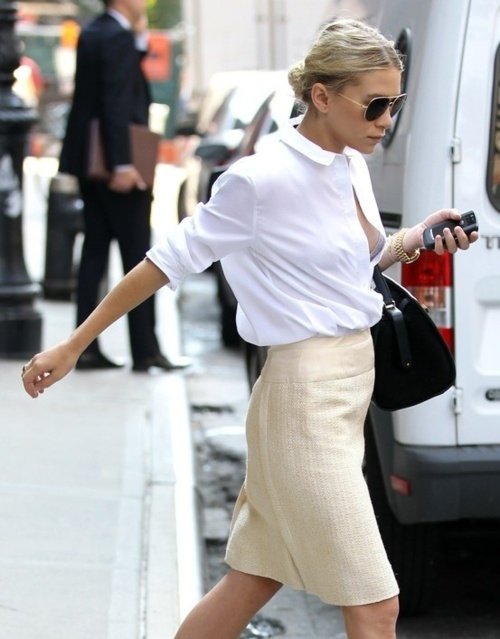 No one does business chic like Ashley does! It's a cute look for running errands and then doubles as your "ready to take over the world" look in your office. This outfit is fairly simple to recreate. Of course, a pencil skirt is a must-have! Tuck your blouse into it and you're good to go. You can also experiment with fun colors and prints on your skirt to spice things up! Flats or pumps are both acceptable with this look!
7

Graphic Tee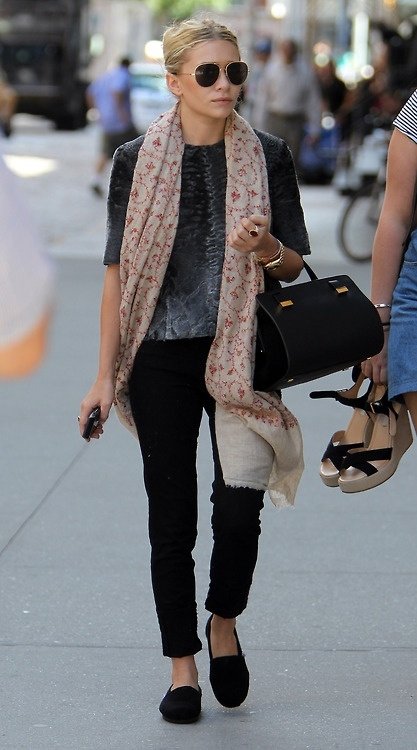 A fun way to add some pizzazz to an otherwise bland outfit is to add a graphic tee! Whether it be a logo of your favorite band or just a fun print, it definitely goes a long way. To recreate this look, tuck your graphic tee into your black ankle-length pants. For shoes, flats will do! Adding a fun scarf will earn you some serious style points.
Well, there you have it! These are just seven out of many awesome street style looks from Ashley Olsen to recreate. She's definitely become a style icon and if you want to dress like her, don't forget to check out her clothing line, Elizabeth & James! Of the list, which look is your favorite? Which will you be recreating this summer?