There are so many awesome street style looks from Lucy Hale. She's become quite the style icon on and off the red carpets! She always manages to look super stylish while wearing pieces we might already have in our closets too. Check out some of the cool street style looks from Lucy Hale and then let me know which ones you're planning on recreating.
---
1

Dress + Leather Jacket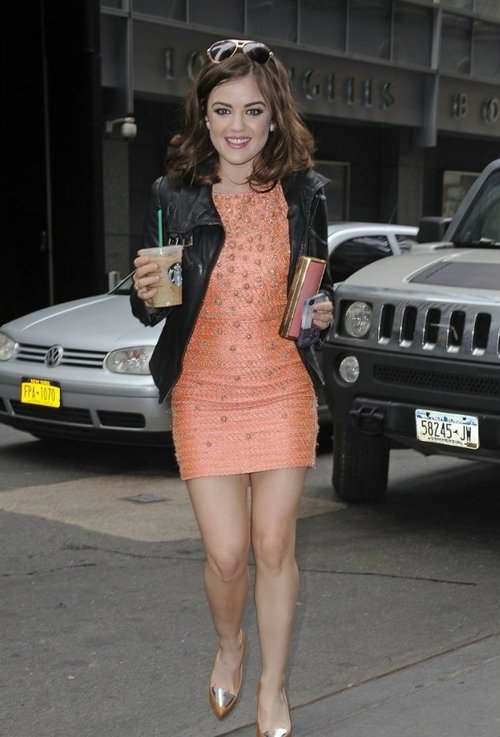 I love that Lucy always adds a touch of edginess to her girly outfits. To achieve this look, simply throw your leather jacket on over your dress. It instantly adds a 'rocker' vibe and is totally cool for the summer. For shoes, you can still wear your heels or opt for some combat boots. This is just one of the many street style looks from Lucy Hale that's worth recreating this summer.
2

Casual/girly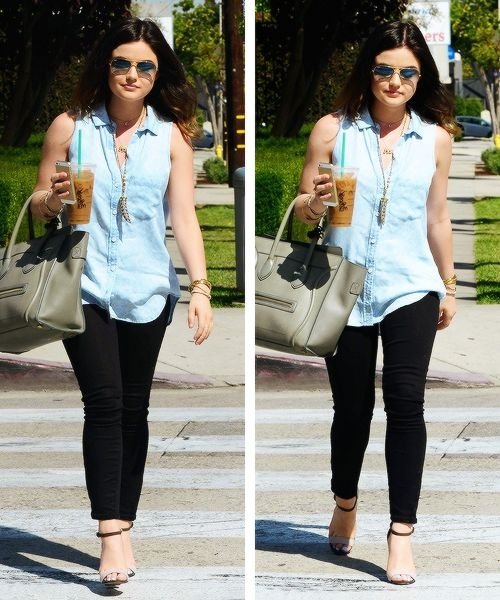 Just because you're out running errands doesn't mean you can't look fabulous doing so. For a casual look, wear some black skinny jeans and pair it with a fun colored blouse. A statement necklace would be a great addition! For shoes, flats or heels would look great.
---
3

Signature Hat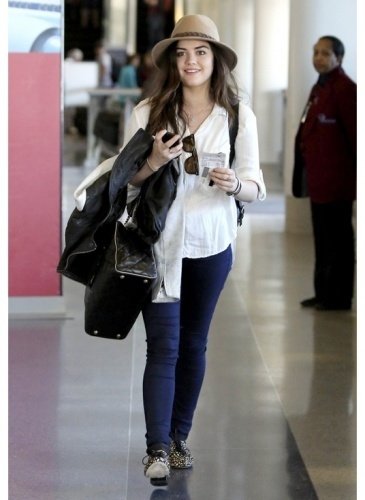 This summer, try finding a signature piece in your wardrobe. For Lucy, that's a hat. She's always wearing them with her outfits and they always look so awesome!
---
4

Preppy Chic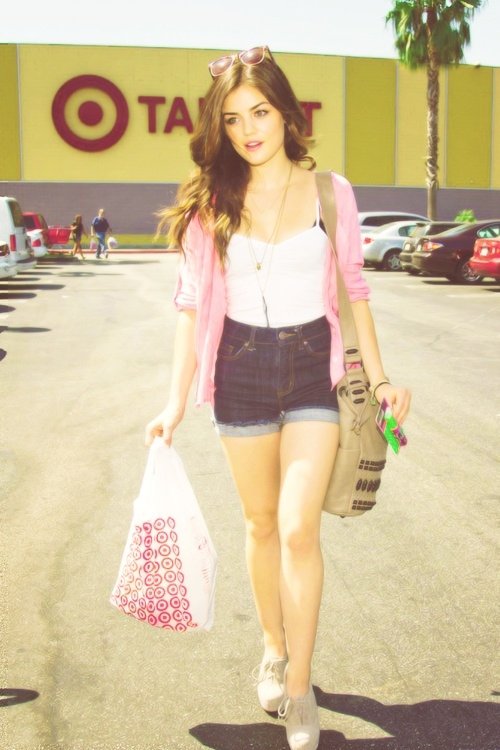 There are so many easy ways to look preppy chic this summer. Pair your high-waisted shorts with a cute tank top. For shoes, oxford flats would look great. You can find some cute and affordable ones on wetseal.com. For additional 'preppiness' adding a pink cardigan or some sunglasses would complete the look.
---
5

Boho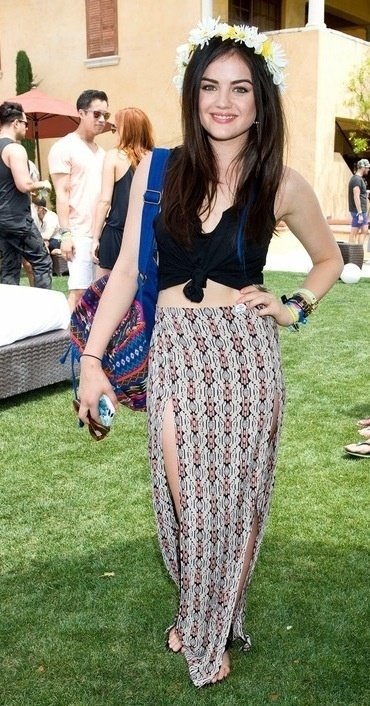 No one does boho-chic like Lucy does. For the Coachella music festival earlier this year, she sported a comfy and stylish outfit. To recreate this look, find a cute patterned maxi skirt from forever21.com. You can pair it with a black or white crop top! For shoes, sandals would work best. Or, you could even try hemp barefoot sandals! Don't forget to throw on your floral crown to top it all off.
---
6

Graphic Tee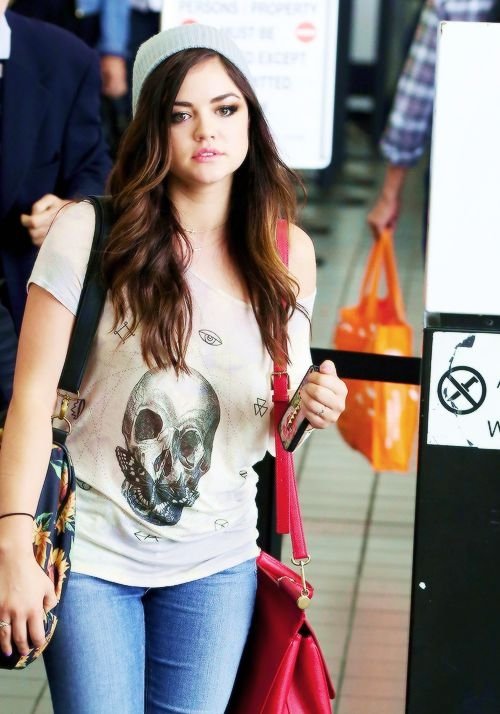 Graphic tees are a must-have item this summer. The awesome thing about them is that you can pair them with just about anything. You can wear your graphic tee with some skinny jeans, a skirt, shorts, etc. The possibilities for styling them are endless! It's also a great way to be expressive in your outfit. I'm always wearing band t-shirts to represent my taste and support!
---
7

Summer Chic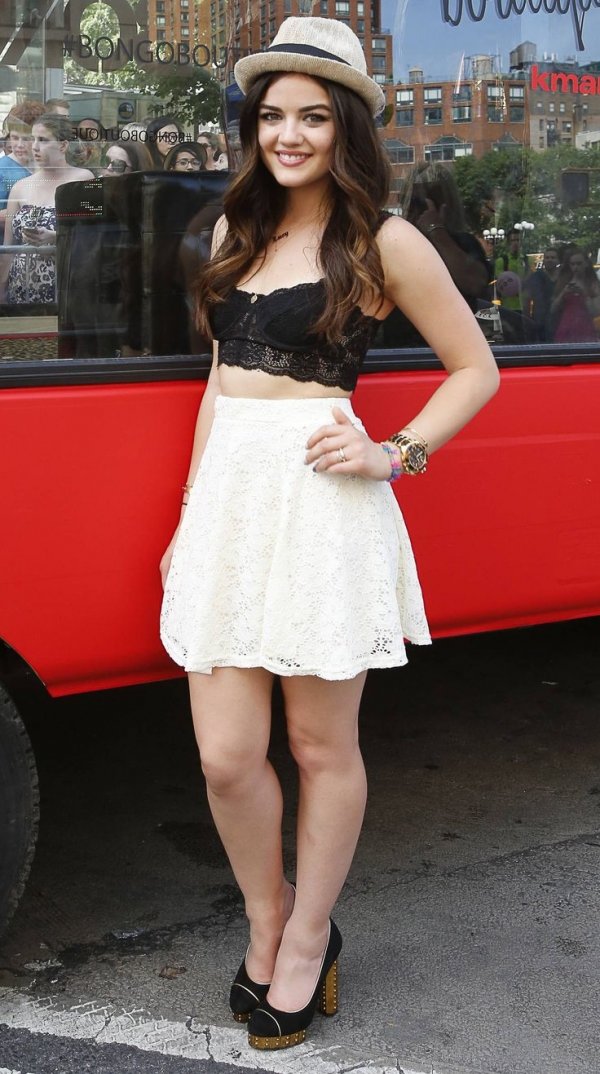 The best way to take on the summer is with a simple, but totally girly outfit! To recreate this look, pair a black lace bustier (which you can find on hm.com) with a white lace skirt (also available on hm.com). Keep the accessories to a minimum because these pieces are already enough of a statement. For shoes, you can choose between some flats or if you want to take the outfit to the next level, some pumps!
Well, there you have it. These are just seven out of many awesome street style looks from Lucy Hale. She's definitely become the fashion inspiration over the years! Her style has evolved with her career and I love the direction that it's going on. Of the list, which look is your favorite? Which look will you be recreating this summer?
---
Comments
Popular
Related
Recent