There are so many fantastic street style looks from Emma Watson. She's become such a fashionista and a major style icon. I love every single one of her red carpet looks and I love that her fashion still translates so nicely in her every day looks. She's definitely one who chooses comfort over style, but even on her most casual days, she looks amazing. Check out some of my favorite street style looks from Emma Watson and then let me know which looks are your favorites.
---
1

Overalls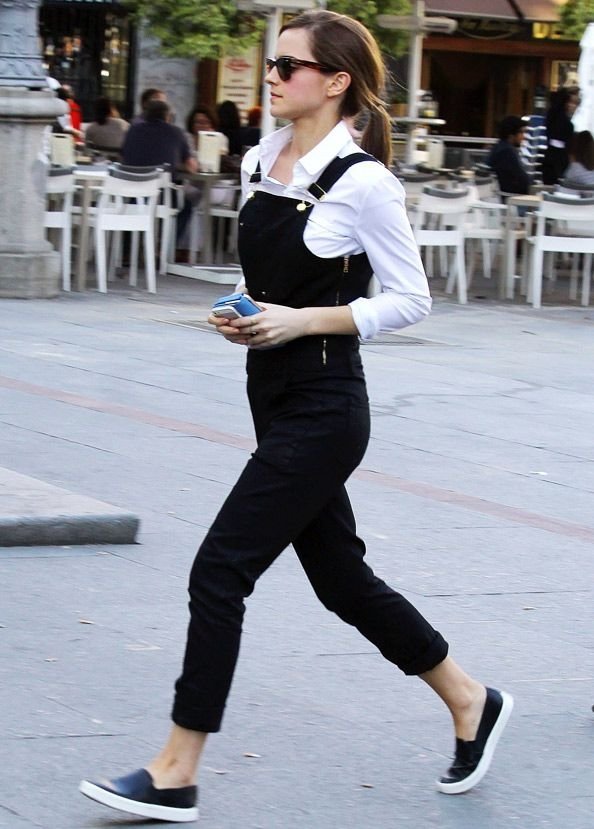 In case you haven't noticed, the overalls trend is SO on right now. I have no doubt that we'll be seeing them all over the place this spring/summer. Honestly though, I think it's such a cute trend and I'm glad it's back! Emma always looks really sleek and pairs her colors really nicely. A classic black and white ensemble can never go wrong. This is just one of many awesome street style looks from Emma Watson.
---
2

Casual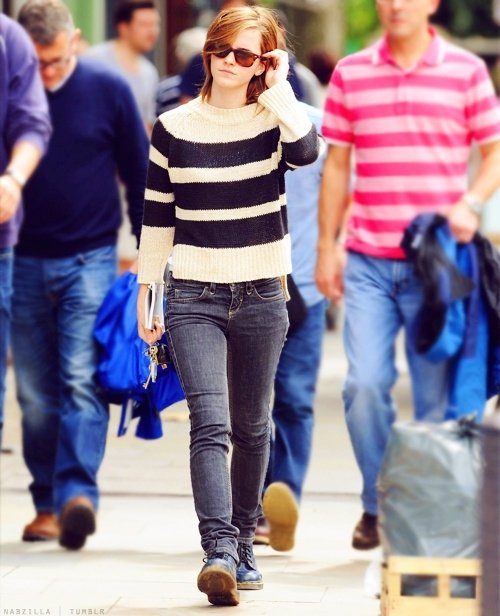 Emma's all about keeping her style comfortable. Instead of heels, she always opts for flats or boots. I love that about her because I'm the same way! For a casual look, Emma usually goes for some skinny jeans, and throws a sweater on top. It's comfy and casual, but at the same time, very stylish.
---
3

Collared Shirt + Sweater
The weather may be getting too hot for this layered look, but I do love it nonetheless. To recreate it, wear a collared shirt underneath an oversized sweater. I love it when the collared shirt matches the color of the sweater! It makes the outfit feel very coordinated and put-together.
---
4

Animal Prints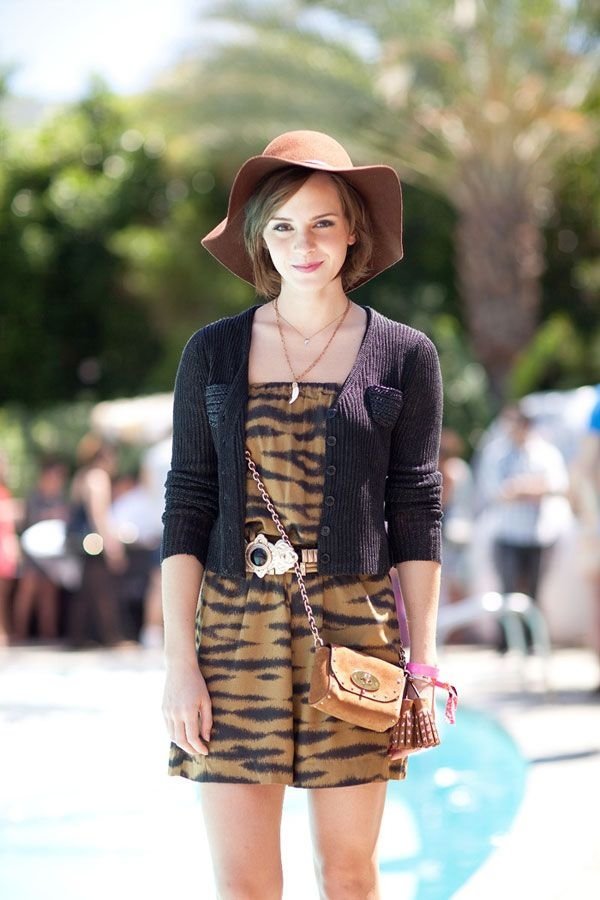 Emma's all about experimenting and wearing fun patterns. A great go-to this spring/summer is to grab your favorite animal-print dress and throw on a floppy hat! It'll give you this effortless boho-chic vibe everyone will love. What animal print do you obsess over?
---
5

Black and White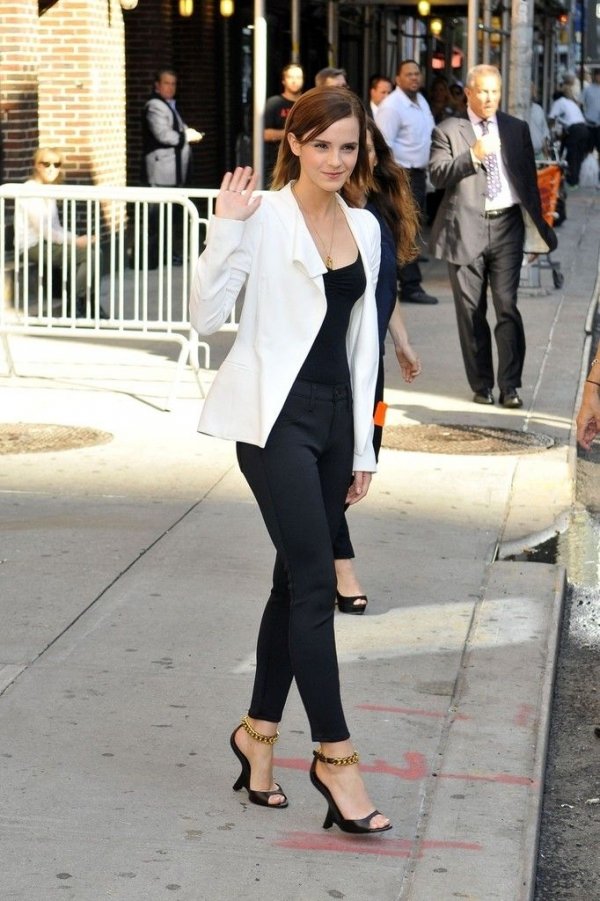 I'm a huge fan of all-black/all-white ensembles. So, naturally, I'm a fan of black and white outfits. Black is very slimming and sleek, so don't be afraid to wear black on black! If you want to add that pop of color, just throw a white blazer on top. The white is perfect for spring/summer and it'll keep you looking fabulous.
---
6

Summer-friendly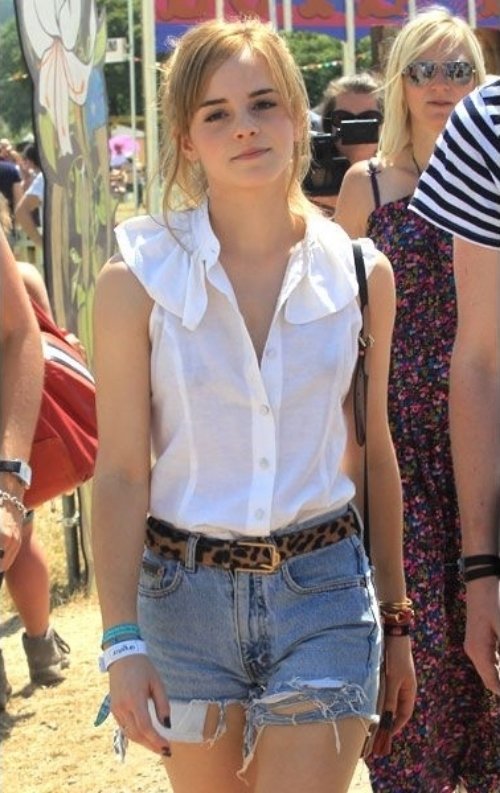 The weather's getting warmer and that means it's time to get the denim cutoffs out of your closet. There are so many upcoming festivals and carnivals, and Emma knows exactly how to dress for them. Instead of the usual crop top/graphic tee, swap it for a sleeveless button-up with cute ruffles on its collar. It'll definitely add some pizzazz to your outfit!
7

Mens-wear Inspired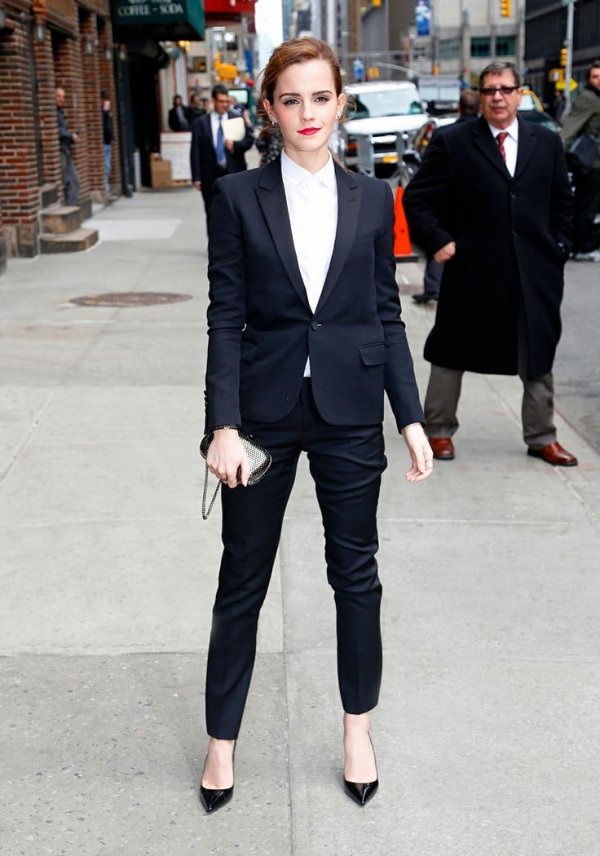 Personally, I don't think I could pull this off but Emma sure makes me wish I could. She looks fierce in a full suit. Since the suit is already such a fashion statement, I like that she keeps the accessories to a minimum. Honestly, a bold red lip is all you need to complete a look. What do you think, would you rock a full suit?
Well, there you have it! These are just seven out of many awesome street style looks from Emma Watson. She's become quite the fashion icon, never afraid of any taking any fashion risks. I can't wait to see her future styles! Of the list, which look is your favorite?
---
Comments
Popular
Related
Recent