Katy Perry belongs to the rare species of women who can play both naughty and nice and if you dare to disagree, check her out portraying both the evil queen and sweet Snow White flawlessly in this new holiday campaign for ghd's Scarlet collection.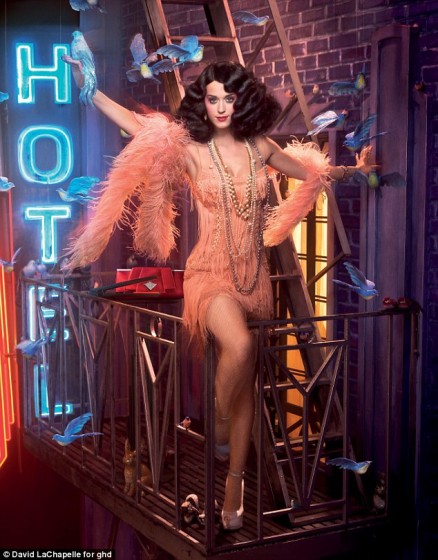 I LOVE the fact that the photographer David LaChapelle did not taken the traditional Snow White route with the big white puffy dress and other such fluff. Instead, we have a flapper girl Snow White right from the 1920's wearing a gorgeous peach John Galliano dress, a feather boa (fun!), a finger-waved bob and layers of chains. Don't miss the adorable blue songbirds. It's flirty, pretty and very Katy!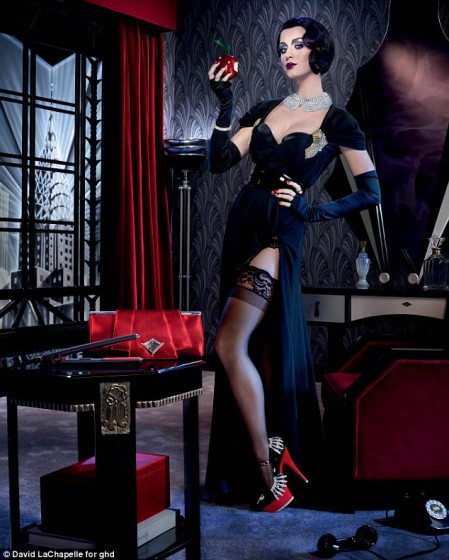 And then of course we have Katy Perry as the evil queen in thigh high stockings, fingerless gloves, a sexy-as-hell gown, sinful heels, a sleeker bob and of course the infamous poisoned apple. Now if the real evil queen looked like that, she would never have to worry about Snow White. Again, very Katy!
I love Katy, I love the New York backdrop and of course, I love the hair! ghd's Scarlet collection is supposed to art deco inspired and I certainly get that from these pictures. You can now check out the Scarlet collection and buy it at ghdhair.com.So, which Katy do you prefer, naughty or nice?
---
Popular
Related
Recent