Most Recent Celebrity Moms
From pregnancy announcement to baby bump pictures to maternity styles to post baby bodies to first pictures of their babies, seems like we just can't get enough of celebrity moms and their little bundles of joy. So here I am with the latest happenings in the lives of Hollywood's Most Recent Celebrity Moms...
---
1

Selma Blair Welcomes Son

After going past her due date by more than two weeks, the fabulous Selma Blair and boyfriend Jason Bleick have finally welcomed a baby boy, who goes by the name of Arthur Saint Bleick. The name is a little old school but I like it (considering some other celebrity baby names out there). Btw, if there was a contest for best maternity style, Selma would definitely be in the top three. Have you seen some of the dresses she's worn in the recent past? Gorgeous! Here's an example: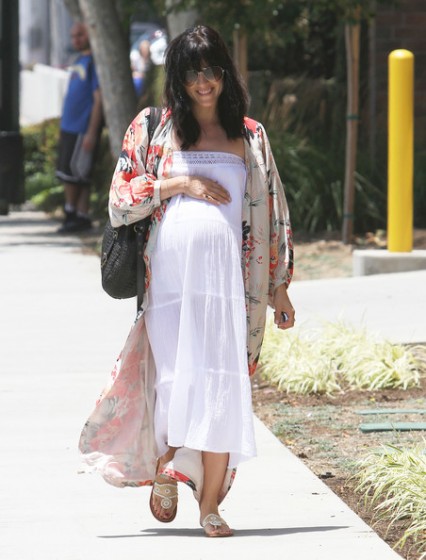 Photo Credit: zimbio.com
---
2

It's a Boy for Jenna Fischer

One of my favorite most recent celebrity moms, the ever adorable Jenna Fischer revealed on The Tonight Show that she and hubby Lee Kirk are having a baby boy! For those curious, her pregnancy cravings consist of macaroni and cheese, Lucky Charms and more recently, strawberries. And while she has apparently had an easy pregnancy (read: no morning sickness), she has also been discovering and learning to accept cellulite. Cellulite or not, I think she looked absolutely lovely at the LA premiere of her new film, A Little Help.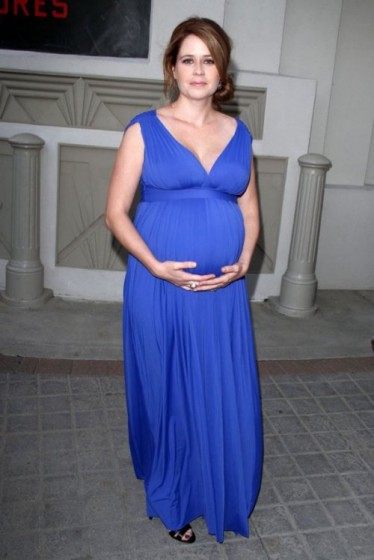 Photo Credit: celebritybabyscoop.com
---
3

Meet Bear Blu Jarecki

No, that's not gibberish. That would be the name of Alicia Silverstone and hubby Christopher Jarecki's 11 week old baby boy! Alicia has confirmed that he will be raised vegan just like mama bear. Apparently, she didn't leave her house at all for 6 weeks after his birth because she wanted to "soak in every moment of his scrumptiousness." I don't blame her! Look at the little guy with his faux mohawk: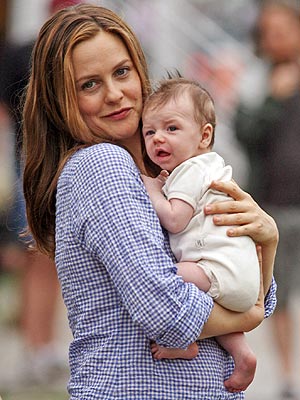 Photo Credit: celebritybabies.people.com
---
4

Leo's Day out

Penelope Cruz gets my vote for the hottest most recent celebrity moms! Have you seen her post baby bod? Phew! Here's a cute (albeit unclear) photo of Penelope, cutie Leo and Eva Longoria taken on an afternoon stroll out in Spain along with husband Javier Bardem and Cruz's brother Eduardo. What a good looking bunch that is!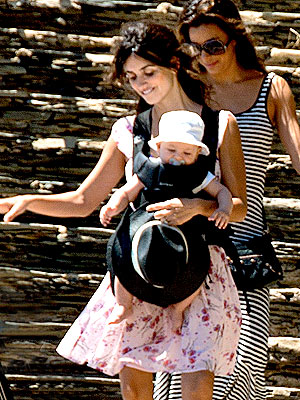 Photo Credit: usmagazine.com
---
5

Miranda Kerr is a Supermom

A 14 hour long flight with an infant doesn't sound easy at all but the gorgeous Miranda Kerr somehow managed to look as pretty as a peach even after that. This is apparently little Flynn's first visit to Australia! Look at him in his little onesie! Only a cutie like that could steal the spotlight from someone like Miranda.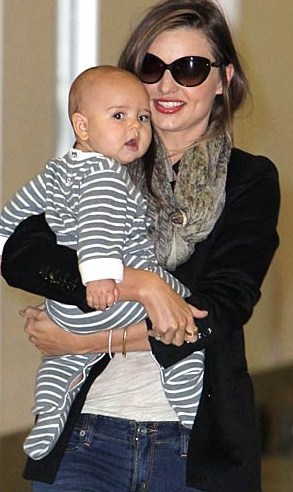 Photo Credit: omg.yahoo.com
---
6

Meet Harper Seven Beckham

And joining the league of unique *ahem* baby names is little Harper Seven Beckham. Harper I can deal with but Seven? Yes, I know it was David's number with Manchester United and the England team but do you really have to name your baby that? Anyhoo, here are two adorable pictures of little Harper with mom while they snooze and dad while they rub noses. Aww!
Photo Credit: celebritybabies.people.com
---
7

Jessica Alba's Baby Shower

What better way to celebrate a Sunday afternoon than with some close friends and sweet tea! Jessica Alba's "French Country" baby shower was fabulous in every way with watermelon-shiso sweet tea, strawberry spa water and peach bellinis and some delicious French food. A lot of the guests made donations to Alba's favorite organization, baby2baby.org and walked home with a gift bag filled with Lia Sophia jewelry, Drybar gift cards, a Juicy Couture scarf and O.N.E coconut water all tucked into a Coach purse. And yes, Jessica looked très adorable. Sounds like a perfect Sunday to me!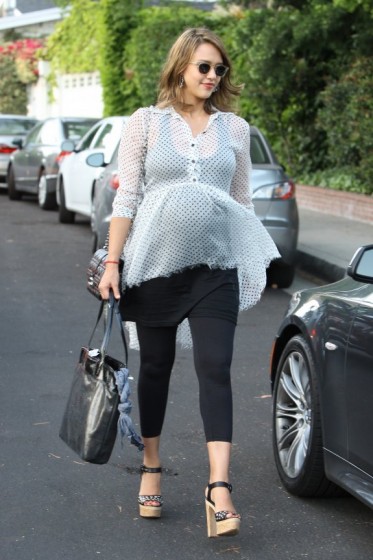 Photo Credit: celebritybabyscoop.com
Isn't it fun to peek into the lives of the Most Recent Celebrity Moms? I sure thought so! Do let me know if I've missed out on a juicy tidbit or an adorable picture of any recent celebrity moms!
More
---
Comments
Popular
Recent