There are so many celebrities who are cat ladies. I mean, seriously, these celebs make sure to travel with their cats and give them such fabulous lives. I'm pretty sure half of these cats have been to multiple countries that I can only dream of going to. Check out some of the celebrities who are cat ladies:
---
1

Taylor Swift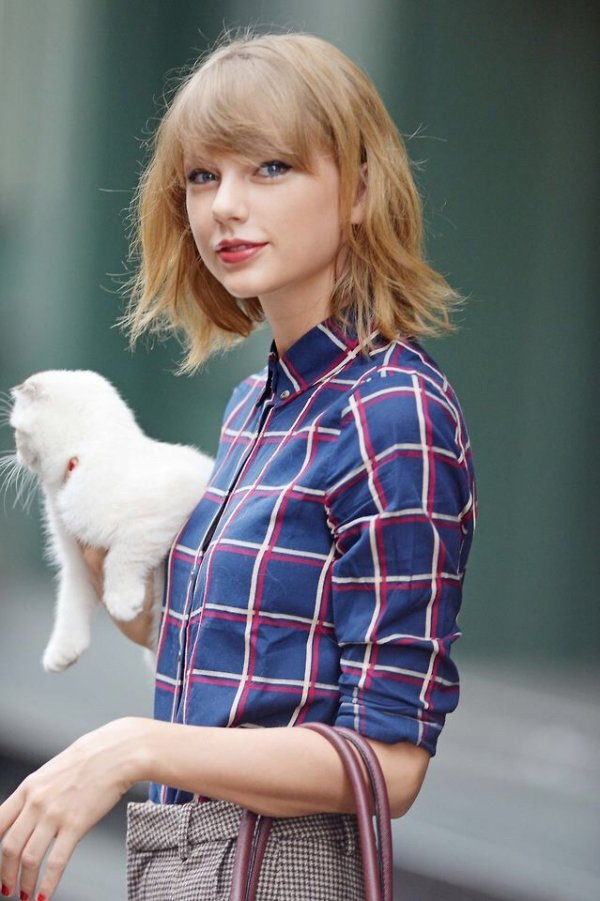 It's no secret that Taylor's a cat lady. She has two kitties, Meredith and Olivia Benson (both named after her favorite TV characters) and they go everywhere with her! The two cats even have Instagram accounts and I'm pretty sure they have a lot more followers than any of us. Taylor's constantly posting photos of the two cats on her Instagram account! She's just one of many celebrities who are cat ladies.
---
2

Katy Perry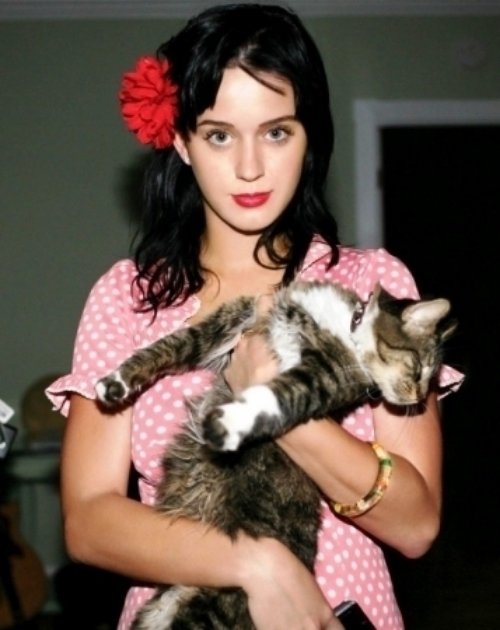 Katy Perry loves cats so much that she named one of her cats Kitty Purry. Clever, huh? "I am obsessed with cats. I'm kind of trying to make that cat-lady personality cool," she said. "Cats are like, 'You have to earn my affection.' And I really associate myself with that. People have to earn my affection, but when I give it, it's going to be good." That's actually a really awesome reason to love cats.
3

Kristen Stewart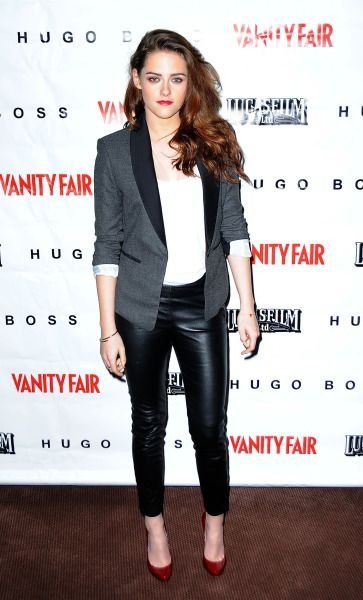 Twilight's Kristen Stewart has admitted to being "obsessed" with her cat, nicknamed Jella. She also told opened up to People magazine and said, "I'm going to be a crazy cat lady one day, I'm sure." There's no problem with that, Kristen!
---
4

Jenna Fischer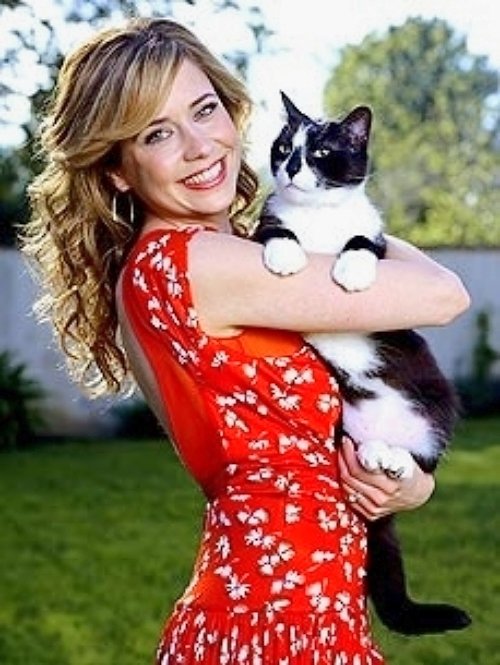 The Office's Jenna Fischer actually covered Natural Cat magazine in 2009. Yup, that's how you know you're a major cat lady. The magazine said she dished "on rising to stardom with her cat in tow" in their cover story.
---
5

Mandy Moore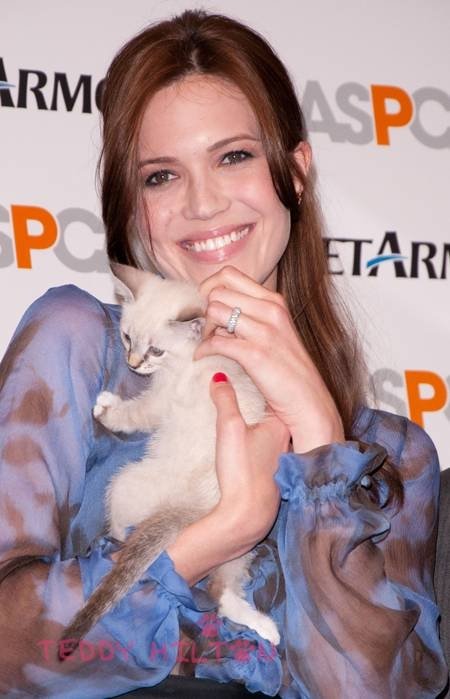 Mandy's definitely a cat lady. She describes herself as a cat advocate, owns multiple cats, and even voices a cat on Disney Junior's Sherriff Callie's Wild West. Is this "crazy cat lady" territory? It seems pretty close to it! She just can't enough of them!
---
6

Evan Rachel Wood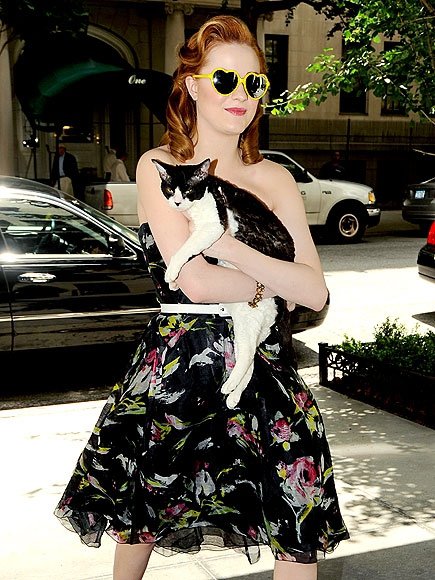 Evan usually takes her cat with her when she travels because she hates being apart from him but after certain events, she might be traveling alone for a while! "I put him in the bag on the plane, and then I fall asleep, and then I always get woken up by a flight attendant with my cat in their arms, looking at me because he's gotten out and is running through the aisles," she said in 2011. "He's the worst traveler ever. I have to leave him at home now." Poor kitty! But hey, I'm sure he prefers his home anyway.
---
7

Nicole Richie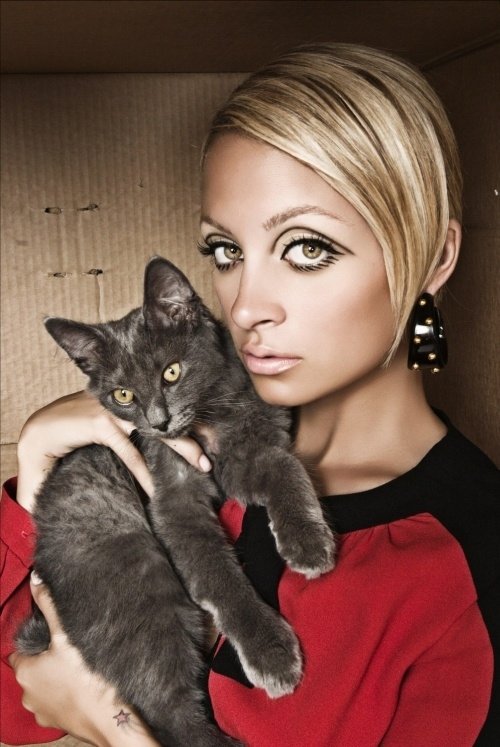 The self-proclaimed "huge pet person" actually attracted an entire pack of strays once! Tabby (Tabitha Jones Madden) started hanging around the house and Nicole couldn't resist taking her in. The only downside? Tabby started bringing around the whole neighborhood! "I think cats have big mouths," Richie joked. "She spread the word and then came back with a black cat and an orange cat. I was like, 'Oh, no, no, no – this isn't happening!' So then I stopped [feeding them all], and then she started coming back [alone]."
Well, there you have it. These are just nine out of many celebrities who are practically, well, crazy cat ladies! Can you think of anyone else to add to the list?
---
Comments
Popular
Related
Recent