We are all used to seeing youthful celebs in makeup adverts – whether it's an anti-aging cream or a youth serum, it seems there is no shortage of famous faces willing to promote it. But have you ever noticed that some stars don't seem to age at all? Check out these youthful celebs to see what I mean…
---
1

Halle Berry…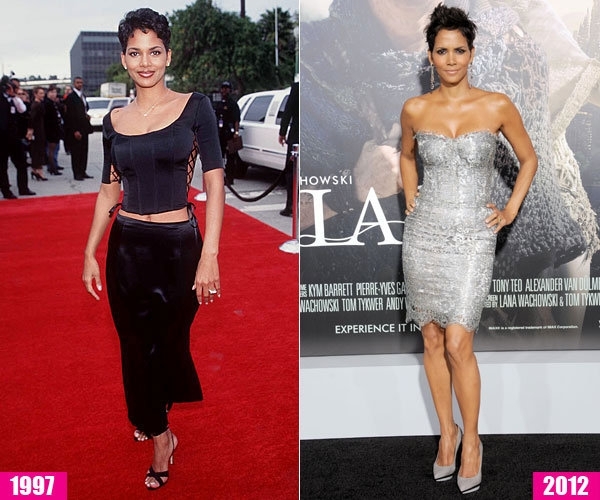 On the right is Halle last year, aged 46. On the left, Halle back in 1997. While her style might have improved drastically as the years went by, Halle herself hasn't aged a day – and how amazing does she look in that silver minidress?! She's one of the ultimate youthful celebs. It's no wonder she was picked to play a Bond girl…
---
2

Sandra Bullock…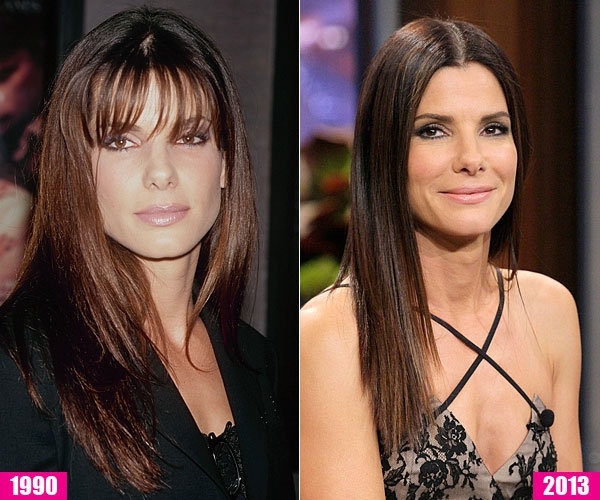 On the left is Sandra back in 1990, around 23 years ago now. On the right, Sandra earlier this year, promoting her new film. Can this woman do no wrong?! Despite her manic film career and a very public divorce she'd probably rather forget, Sandra still looks amazing. I definitely want her secret!
---
3

Jennifer Aniston…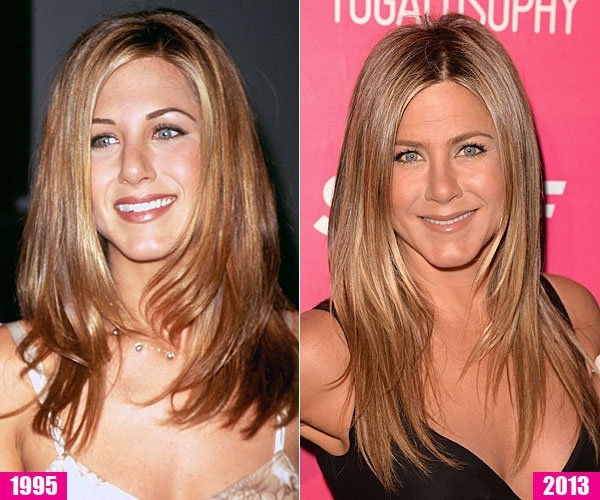 You can hardly tell the difference between the Jens of 1995 and 2013 – she has the same layered hair, sparkly eyes and even the same dress sense. Wow. Jen puts her lack of aging down to yoga, which is probably the best ever incentive to roll out the yoga mat.
---
4

Angelina Jolie…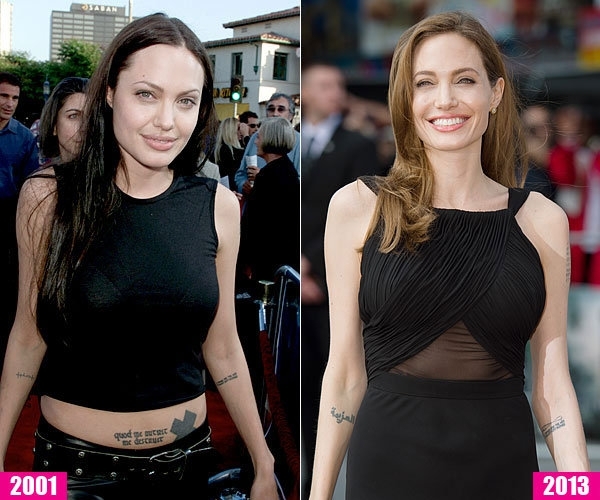 It seems Brad Pitt might have a thing for women who don't age – girlfriend Angelina Jolie doesn't look like she aged a day between 2001 and 2013 either. Her new lighter hair and elegant style are super-flattering, but Angie still has those tattoos and that penchant for black clothing. She's even got six children, and a stressful job as a Goodwill Ambassador. Amazing.
---
5

Charlize Theron…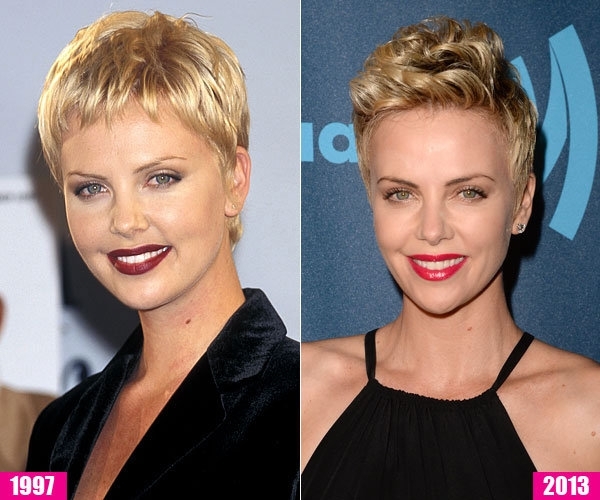 Charlize is proof that if you find a look that really flatters you, you should stick to it. There's 16 years between Charlize on the left and Charlize on the right, but you'd be forgiven for thinking they were taken in the same week. From the bold lips to the blonde cropped hair, she totally owns this look.
---
6

Cindy Crawford…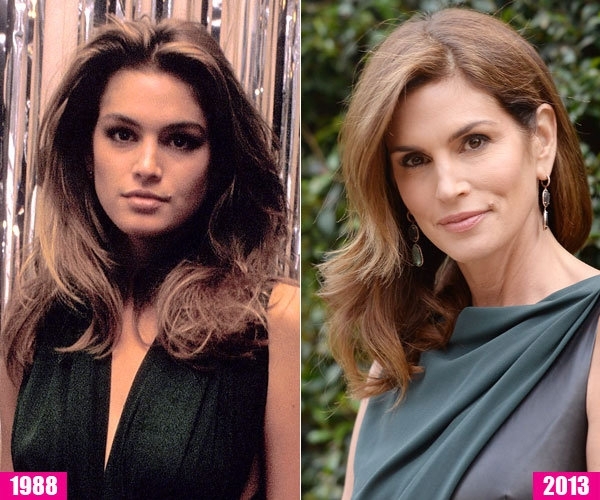 Cover up the dates, and ask the people around you to guess when these were taken. I bet nobody guesses 25 years apart! Yep, the beautiful Cindy Crawford doesn't appear to have aged a day, and the only telltale sign is the poor image quality on the left. I totally love younger-Cindy's big hair and nude lip, too!
7

Naomi Campbell…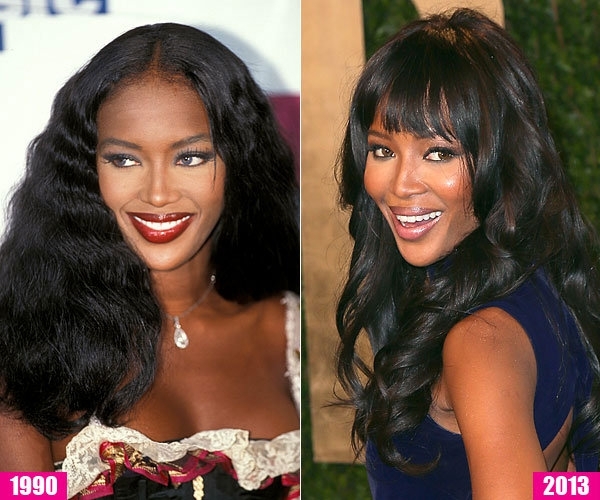 Well, she is a supermodel! Naomi looks just as good in 2013 as she did in 1990 – maybe better, with the addition of that gorgeous and so-stylish fringe. While Naomi may be surrounded by amazing makeup artists, she also regularly jets around the world for shoots, and has had a stressful few years with numerous court cases against her. There is hope for us frequent fliers, then!
---
8

Kate Moss…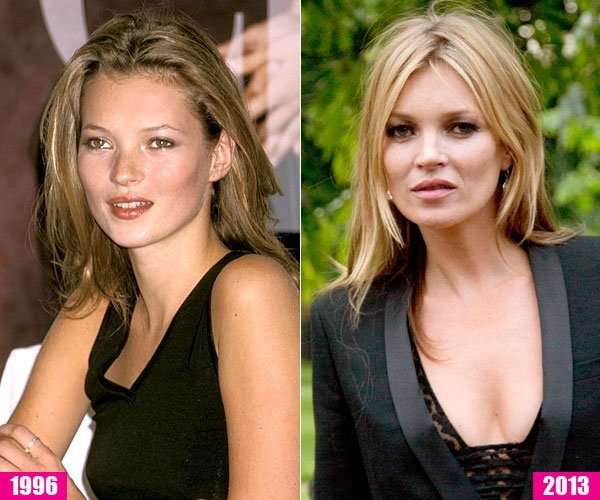 It was revealed this week that Kate Moss has used a body double for an advertising campaign for the first time ever – and you have to wonder why, when she looks this good! Kate is Queen of the casual rock look, with bedhead hair and flirty eyes, and you'd never guess that the picture on the left was taken back in 1996. Amazing.
---
9

Heidi Klum…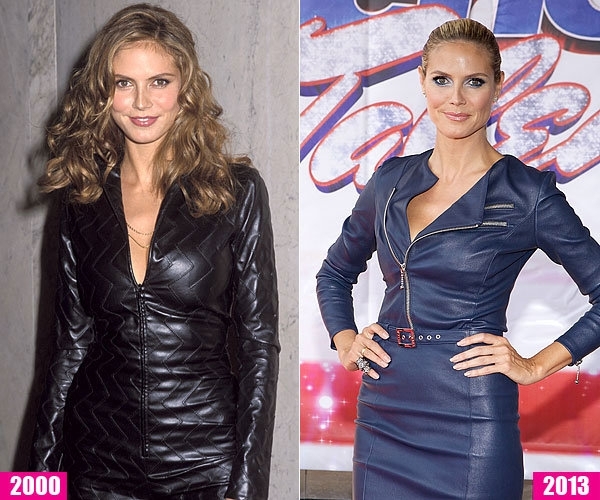 Heidi might be ruler of the youthful celebs! On the left, she was showing off a tight leather outfit back in 2000. On the right, she's also showing off a tight leather outfit, despite being 13 years older. And she looks amazing in both. Hats off!
---
10

Elijah Wood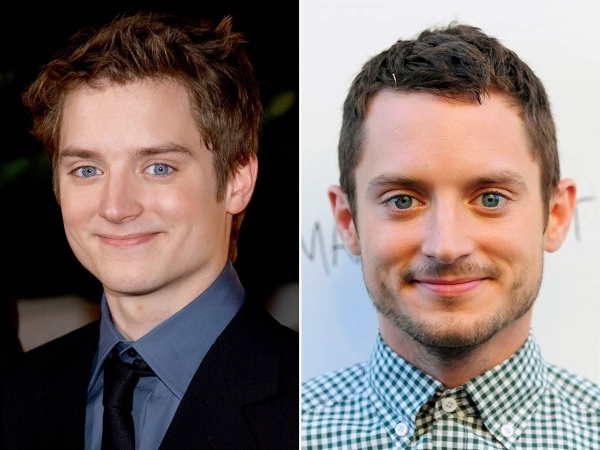 Elijah Wood seems to never age but this isn't just because he's kind of short! Other than a different haircut, Elijah doesn't look different at 31 than he did when he was in The Lord of The Rings Trilogy. I wonder what his secret is, because he has pretty much the exact same face that he's had for years!
---
11

Pharrell Williams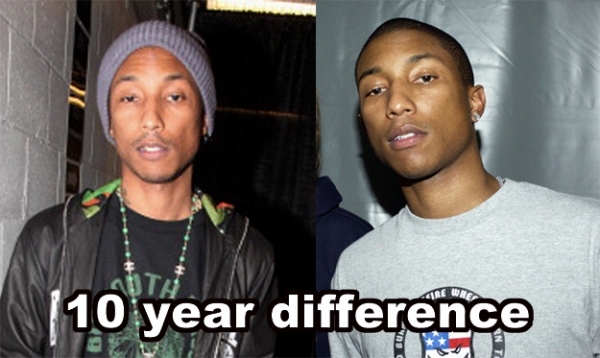 Although Pharrell reinvents his image constantly, there's one thing that never changes - his youthful face. It doesn't matter what he's doing, he always looks just as young as he did years ago when he first made his mark in music. It doesn't seem like dressing himself up like he's aging will make any difference because he always seems to look exactly the same.
---
12

Will Smith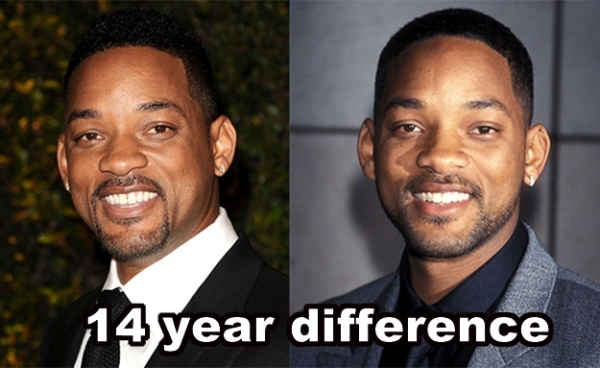 Other than the graying of his hair and beard, Will looks pretty much the same as when he was in The Fresh Prince of Bel-Air. Of course we all know he's aged and become a bit more mature than he used to be, but looking at his face you'd have no idea! No matter how many years pass, he'll always have his baby face.
---
13

Gwen Stefani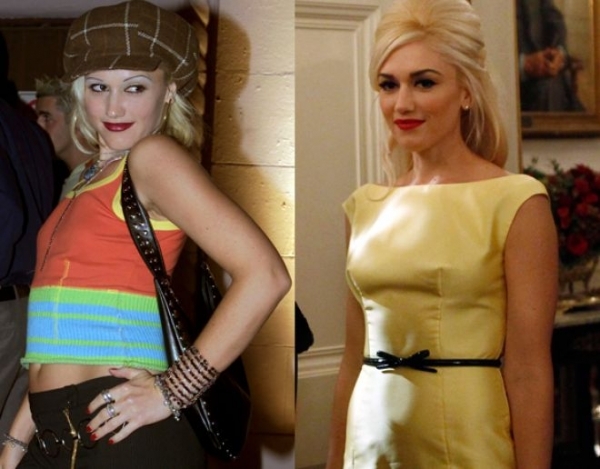 We all know that Gwen has done a lot of growing up throughout the years. She's no longer the girl that is dyeing her hair blue and pink while dressing in wild clothes. Instead she's a mature mother who has an awesome fashion line, but her face hasn't changed one bit! OK, maybe she's not wearing all the makeup she used to wear, but she still looks the same age.
---
14

Julia Stiles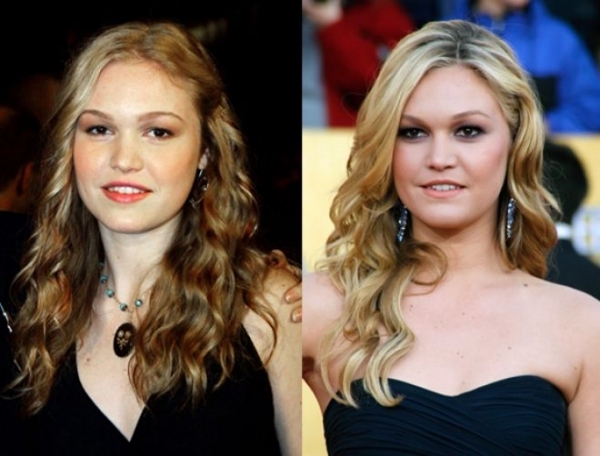 Normally 10 years can age a person significantly, but there's a 10 year difference between these two picture of Miss Julia Stiles. Most people would love to look the same at 30 as they did at 20, but not all people are as lucky as Julia. Not only is she gorgeous, but she hasn't lost her young look even though she has taken on much more mature roles.
---
15

Jessica Alba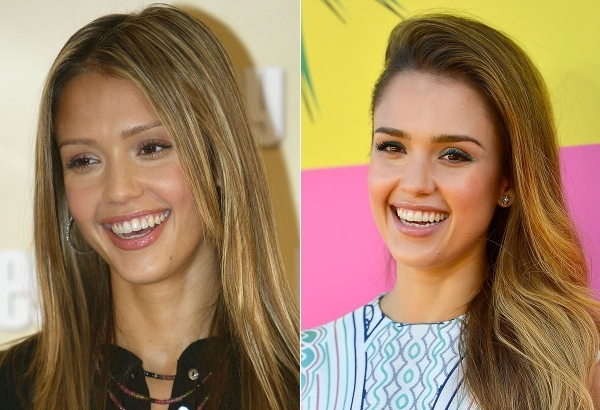 Here's another gorgeous woman who looks exactly the same as she did 10 years ago! While she may look a little bit more mature in the way she does her makeup and the way she dresses, she overall looks the same. Jessica looks like she'll never age! I'm sure we'd all love to have luck like that.
We definitely need to start quizzing this lot on their beauty secrets – have they found the fountain of youth?! Have you spotted any youthful celebs who just don't seem to be aging? Leave a comment, I'd love to check them out!
---
Comments
Popular
Related
Recent