Here's Our Baby Name Suggestions for Kim + Kanye's New Baby ...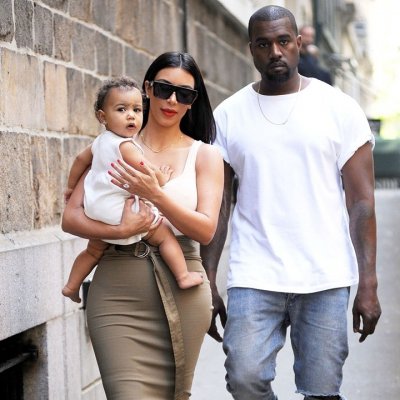 Whether it's a boy or a girl, you just know Kim and Kanye will choose something unique, fun, and interesting for baby #2! After a morning's worth of deliberation and deep thought, here are a few suggestions (and guesses) of baby names for wee Baby West.
While I doubt Brad and Angelina would never choose "Brangelina" as a baby name, Kimye actually has kind of a nice ring to it, don't you think?
Some families name all their children with the same first initial, but maybe Kim and Kanye will choose directional names for their brood? South West conjures up images of beautiful sunsets, perhaps a little girl with a boho spirit or a little boy with a passion for the outdoors?
Kim and Kanye might choose one of these names for the new baby, boy or girl, as a show of support for Bruce/Caitlyn Jenner, currently in the media spotlight for her gender transition. I think it would be so sweet!
This power couple has never made it a secret that they think very highly of themselves, so I could see them naming their new baby after one of them. Why not?
I have a feeling this classic little girl's name is about to make a much-deserved comeback, and Kim's long been an admirer of the Duchess of Cambridge, so she might decide to name her newest baby Charlotte, too.
Last fall, Kim developed a white-hot passion for the luxe designs of Natalia Alaverdian, so if the baby is a girl, she might choose to name her after this up-and-coming fashion icon.
7.

Two (or Some Iteration)
I could see Kim and Kanye naming their baby after his or her place in the family line-up, especially if it's a gorgeous-sounding translation of the word, like Twee (Afrikaans and Dutch) or Dalawa (Filipino).
After Kanye's multiple awards-show faux pas, they may decide to name the new baby after another musician they might have offended. Both are fab names on their own, so why not?
Whether the child is a boy or a girl, either of these names might work, and both have an emotional meaning - they're Kanye's parents' names. Doesn't Donda have a beautiful sound to it?
Those are my baby name ideas and suggestions... what do you think they'll name the new baby?
{{#comments_count}} Show Commnents ({{comments_count}}) {{/comments_count}}